Golden's 11th Annual Senator For A Day Contest Kicks Off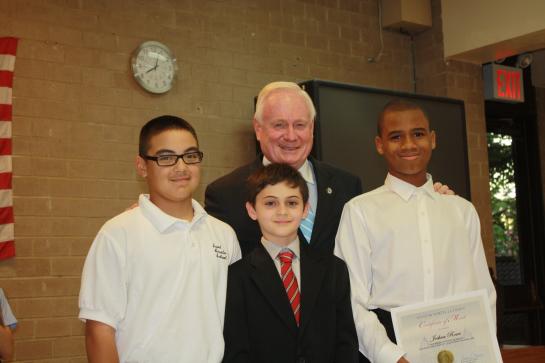 Senator Marty Golden's "Senator for a Day" essay contest is kicking off its 11th year. He's inviting every middle school student enrolled in a 22nd Senate District middle school to participate
by writing an essay on what they would do if they were a senator.
According to Golden's Facebook page:
The essay must be no more than 250-words and begin with the phrase, "If I Were A State Senator For a Day". Throughout the essay, students should write about the issues they see facing the community. The winning essays will be judged on content and creativity.
Last year's winners hailed from schools in Midwood and Bay Ridge. This year, I have a feeling that Bensonhurst will take it home.
"There is great talent in the classrooms of my district, and I invite the students to write an essay and tell me what they would seek to accomplish as a State Senator," writes Golden. "As our middle school students are being educated in school, they also travel, shop and frequent our parks. They see some of the issues I do, and some different, but through this contest, they can be assured that I will continue to work to improve the quality of life of our neighborhood. I look forward to reading the essays and this contest."
Contest finalists will be invited to attend a ceremony where they will read their essays to a panel of judges. Then, the winner of the contest will be invited  to spend the day in the in Albany.
Teachers interested in submitting student essays must do so by Monday, March 18. Submissions may be mailed to: Senator Marty Golden c/o Senator For A Day Contest, 7408-5th Avenue, Brooklyn, New York 11209.
Good luck teachers and students. If you happen to win and visit the State Capital, I'm sure I can help you think of some great legislation to pass while you're there.