Golden Draws Feminist Ire For Seminar Teaching Women To "Walk Up And Down A Stair Elegantly"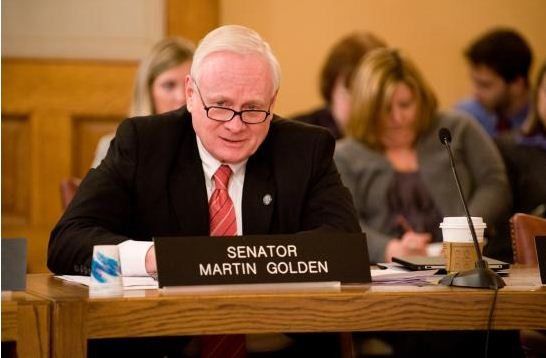 State Senator Marty Golden will hold a class for professional women on
"Posture, Deportment, and the Feminine Presence"
in the workplace, angering women's rights advocates who think women would be better served with good policy, not antiquated etiquette.
The taxpayer funded-event has caused controversy after Golden's website promised to teach attendees how to "Sit, stand, and walk like a model" and how to "walk up and down a stair elegantly."
"In these economic times, when so many people are out of work, and graduating with advanced degrees to set themselves apart in the workplace, events such as these are also important," spokesman John Quaglione told City & State.
However, at least one feminist blogger is upset, especially in light of the senator's vote against the Fair Pay Act, legislation designed to close the wage gap between male and female workers.
"The actual issues women face aren't addressed by special classes on 'the art of feminine presence' and how to 'walk up and down a stair elegantly," writes Jill Filipovic, a blogger for Feministe. "Our political leaders should be focusing on necessary policy changes to make sure that all women are paid fairly and are able to succeed professionally… A 1950s-style etiquette class focusing on feminine charms rather than actual business acumen is insulting, regressive and wasteful."
Democrat Andrew Gounardes, who is running to replace Golden this November, issued a press release criticizing the Senator's priorities. "Somehow, in the year 2012, there are still women across New York who earn less than men do for the same work. It's sad. It's wrong. And it's time for every one of us to stop looking the other way and to start doing something about it," Gounardes said.
Golden has since removed references to how to "Sit, Stand and Walk Like a Model" and how to "walk up and down a stair elegantly" from the event listing on his website.
– Justin Santoro