Going Back To Move Forward – Myrtle Avenue's 6th Annual Black Artstory Month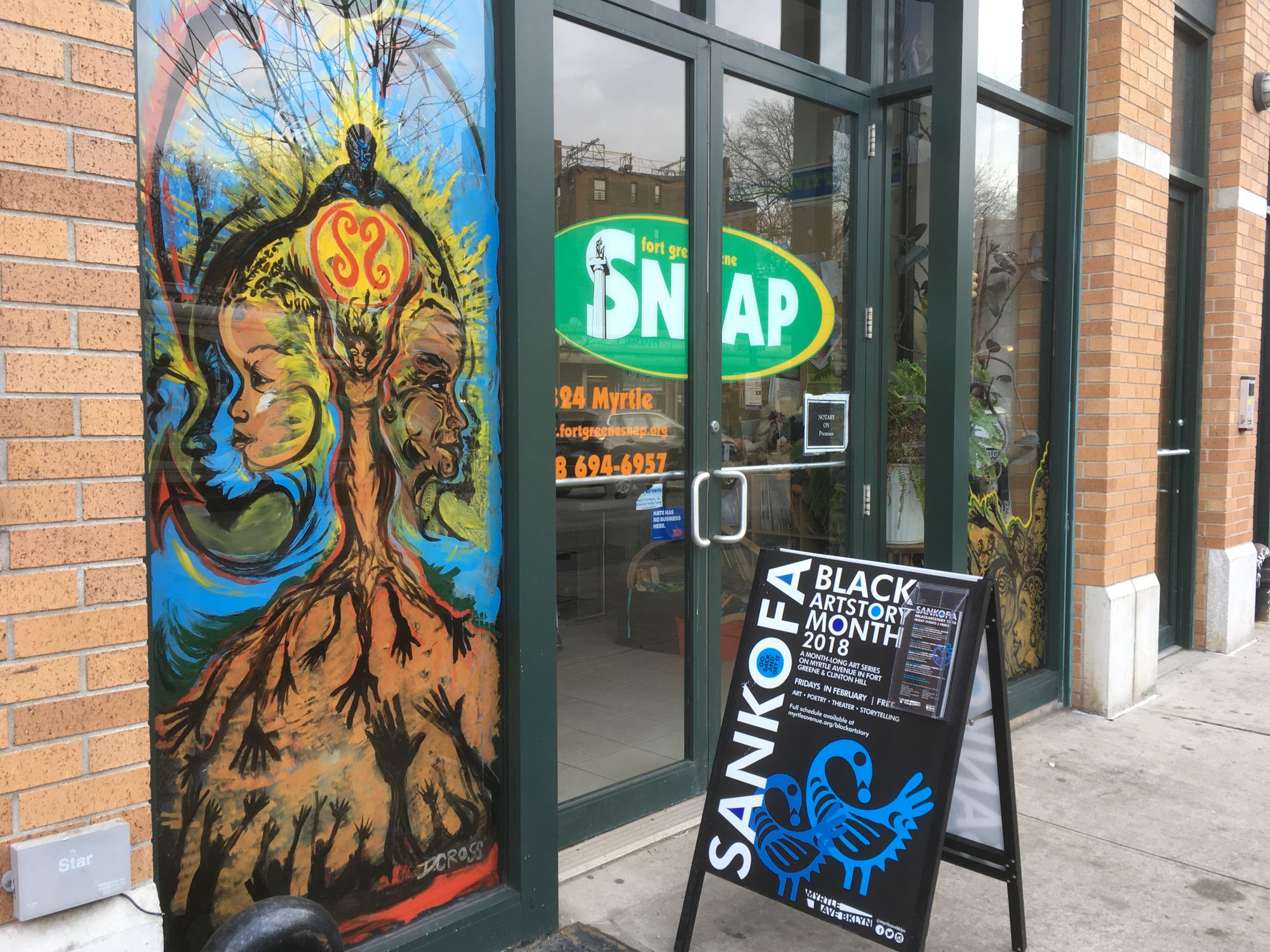 FORT GREENE/CLINTON HILL – Sometimes you need to go back in order to move forward.
That is the theme of this year's Black Artstory Month, which will be taking place along Myrtle Avenue, between Washington Park and Classon Avenues. Since 2012, the annual art and cultural event has been celebrating Black history and culture through visual and performance art being shown at various businesses along the busy street. Started by the Myrtle Avenue Brooklyn Partnership (MARP), it provides a theme each year for its artists, and this year, Sankofa is the focus.
"It means 'to go back and get it'", says this year's curator, Ramona Candy, who chose the theme. "We can learn a lot by going back. If you don't know where you come from, you can't know where you're going."
Sankofa comes from the Akan tribe in Ghana, and is represented by an abstract image of a bird with its head turned around to get an egg. Candy believes this theme is much needed.
"There's a lack of respect these days," she says. "There's been an omission of our history. If we only knew our history, then we can move forward."
With that theme in mind, Myrtle Avenue Brooklyn Partnership made a call for local artists at the beginning of January, to create sketches to go into the windows of six of Myrtle Avenue's storefront businesses. The curators, Candy and Suhaly Bautista-Carolina, then paired the submissions to the participating businesses. From there, the artists spent January working on their visual artwork.
"A lot of the artists are emerging," Bautista-Carolina says. "I see it as a launching pad for them."
Among those artists are Jazmine Hayes and Steven Mosley, both of whom have done work for previous Artstory Months. Last year, Mosley did work for The Owl & The Pussycat's window, while this year he is at Peck's.
"I love that it's on windows," he says. "It makes art accessible. When people see a mural on a busy street, they stop and interact with it."
In accordance with the Sankofa theme, Mosley did a portrait of a man in a sea storm, appearing to be floating lifeless, yet he is swimming and moving forward. The waves represent a divine force keeping the man afloat. It is meant to be a link between the middle passage, where millions of Africans died during the transportation between Africa and the New World, and last year's major hurricanes, that affected the African diaspora in the Caribbean.
"It's not a story of tragedy," Mosley explains. "It means they can keep swimming. Black people in the Americas are super resilient."
As for Jazmine Hayes, she is returning to Ray's Barber Shop where she was last year. The self-described "interdisciplinary" artist, Hayes tends to do a lot of work regarding hair, with this year's painting being of twins with their heads back-to-back. Braids decorate each twin's hair.
"Being black, I feel our history is constantly erased," she says. "Braids symbolize the remnants of Africa in Black culture. It's the one thing that has not been erased from our culture."
The barbers at Ray's love having Jazmine back for the second time. They also enjoy taking part in Artstory Month.
"It's part of our culture," says one barber named C. "This is a Black barbershop and we've been here for 60 years, and we share with the community."
Scoobie, another barber agrees. "It's really expressive, and it follows the heritage and history of African Americans, and it is not far from what we do here."
Another business taking part this year is Leisure Life at 559 Myrtle Avenue. However, instead of visual artwork, the retail clothing store is hosting a poetry reading on Friday, February 9
th
from 7 pm – 9 pm. Roberto Carlos Garcia, Keisha-Gaye Anderson, Sokunthary Svay, and Randall Horton will share poetry that inspires them as well as their own work.
"It's a good way to connect with the neighborhood as a business owner," Charnier Corey, the owner of Leisure Life, says.
Myrtle Avenue Brooklyn Partnership
began Black Artstory Month in 2012 in order to elevate African-American history and share the stories of so many of the artists that lived and worked in Fort Greene and Clinton Hill. It was suggested by then-staff member, Meredith Phillips Almeida, now executive director of Myrtle Avenue Brooklyn Partnership.
That is what makes Ramona Candy delighted to take part in the Artstory. Besides being a curator, she will be showcasing her 20 collage sketches of people who have made unique contributions to Black culture at Local's on Friday, February 16
th
.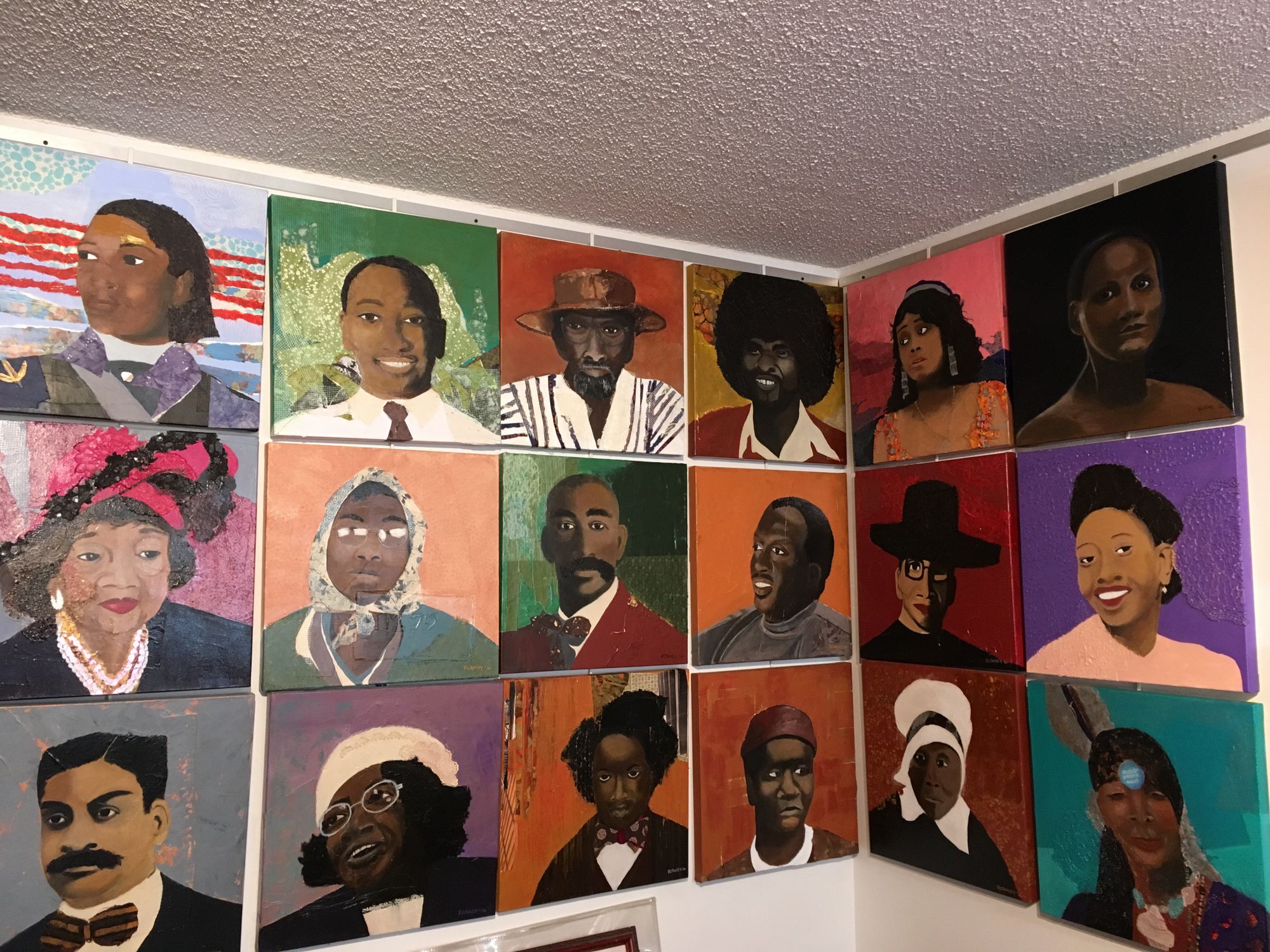 "I think it's a great way to celebrate Black History Month," she says. "MARP is so specifically and really very well prepared for it."
"I hope it [Black Artstory Month] never ends," Bautista-Carolina says. "As long as MARP exists, I hope it continues to go on."
Steven Mosley agrees.
"Myrtle has always been a diverse, culturally rich neighborhood," he says. "This rallies to get people to tell our stories and sharing them."
"We get to show the pride of who we are, and tell our stories. No one else is going to tell it," adds Jazmine Hayes.