Giving Back: Neighbors Help Fight Hunger At Two Empty Bowls Events Next Week
BED-STUY/BAY RIDGE –  When Harvest Henderson joined the nonprofit ceramics studio, Artshack in Bed-Stuy, two years ago, she had in mind for the community studio take part in the grassroots fundraising event Empty Bowls. It was something she had always wanted to do, ever since her high school ceramics teacher in Minnesota exposed her to it nearly 20 years ago.
"It's a fun, festive event," Henderson says, "And it was really eye-opening for me to see that artists can do something tangible to affect something as often abstract as hunger and poverty."
Empty Bowls is an annual event, usually held twice a year, in which potters and ceramic artists come together to create all sorts of bowls to sell in order to raise money for local organizations dedicated to addressing food insecurity in their neighborhoods. It started in the early 1990s by an artist-educator couple, John Hartom and Lisa Blackburn, and their high school students in Michigan. From there, word spread quickly about artists using their talents to fight local hunger. Today, Empty Bowls is well-known among potters and ceramic artists nationwide.
"The bowl that every participant gets to keep is an original artwork, but also a reminder that many people face empty bowls every day because they don't have enough to eat," Henderson says.
When she brought up the idea to Artshack's founders, Dany Rose and McKendree Key, they were thrilled.
"I had heard of it," Rose says. "It fits because it makes so much sense. Plus we are a community studio, we want to support our community. We like to support other nonprofits in the neighborhood. It's an important cause."
Entrusted with the project, Henderson scheduled the fundraiser for Saturday, November 17th, which happens to be during National Homelessness and Hunger Awareness Week.
As for where the proceeds from selling the numerous bowls will go, a friend of Henderson's recommended St. John's Bread and Life, a Bed-Stuy nonprofit that works to address hunger and poverty issues.
"It is great for people in the community," Executive Director Sister Caroline Tweedy says. "It gives us visibility in what we do."
What St. John's does is a long list of services to those in need. They give out 3,000 meals a day, have immigration programs, a stand-alone medical clinic, job counseling and other services. They also have a food pantry, which is open five days a week, and even allows users to shop online.
According to Tweedy, the need for St. John's services has increased significantly each year.
"We've had an 18% increase since last year," she says. "The largest increase is in the food pantry. There are more older people than we have seen before. Gentrification is pushing people out. A number have to go into shelters. We also have working poor families, immigrant families, people who've fallen on hard times."
"When you lose hope, you lose a sense of who you are. We at St. John's want to companion with you."
Meanwhile, on the other side of Brooklyn, in Bay Ridge, artists and potters are getting ready for their holiday Empty Bowls fundraiser, which also falls on Saturday, November 17th.
Potter and retired art teacher, Ed Huml, and his wife, Deirdre Laughton, are the organizers. Together with a fellow local artist, Danielle Bullock, they have raised thousands for the food pantry at the Fourth Avenue Presbyterian Church in northern Bay Ridge since 2012.
"It's a program that potters have been doing for a number of years," Huml explains from his studio in the basement of his home. "When you're looking around the neighborhood and you see who does Meals on Wheels, it's like, really? What can I do? I ain't Bill Gates, so this seemed like the perfect fit."
Through the church's CSA program, Huml and Bullock teamed up with Pastor David Sigmon, who's been running its pantry for nearly 10 years.
"People started asking for help," Sigmon says of the pantry's origins. "We started collections. Empty Bowls really helps, it just allows us to always have a supply."
Like St. John's Bread and Life, he also has seen more people coming to the pantry, which usually sees 30 a week.
"There's been an increase in the past five years," he says. "We get homeless or near homeless, senior citizens. There are people with full-time jobs that don't pay enough. No matter your ethnic or religious background, you're welcome to a bag of food."
Each bag has a total of $20 worth of food. To equal that amount, Huml and Bullock sell each bowl for $25.
"They're handmade bowls, so $25 is a good deal," Bullock says. "Usually these bowls come to $50 to $100 elsewhere, depending on how big they are."
The idea usually is to make soup bowls for these events, but Bullock has seen big salad bowls be made. She and Huml aren't the only ones who bring bowls to the table, so to speak. They get donations from such ceramic studios as Gasworks in Park Slope, and Mud Matters in Manhattan. These are events that many in Bay Ridge look forward to.
"People buy them in tons," Bullock says. "It definitely helps the community. It is not an art thing. There are people who need help, living on the edge of insecurity. Who can live that way?"
At the same time, Empty Bowls is an opportunity for artists to come together for a good cause.
"It's not just a sale," Bullock explains. "It's a symbolic get-together for artists."
Huml agrees.
"As an artist, it's great," he says. "You get to give it to the people. It goes to a good cause. It's a very joyful experience."
Back in Bed-Stuy, Henderson is excited for Artshack's first Empty Bowls event. Tickets are on sale on Eventbrite, starting at $35, which covers 10 hot meals at St. John's. Open donations are accepted as well, and the event will feature a raffle for prizes.
"It's exciting to see the word getting out," she says. "There's this idea of the starving artist, that artists have limited resources or power, and this proves to be untrue. That's what I got from this event in high school and am trying to carry forward now. Empty Bowls is a way we can give our time and creativity in order to help neighbors who are struggling."
Don't expect the bowls at both Bay Ridge and Bed-Stuy to be simple. Many artists indulge in their creativity by giving the bowls delightful colors, patterns and textures. Some of the bowls are of various shapes and sizes. Ed Huml has no limits to his bowl ideas.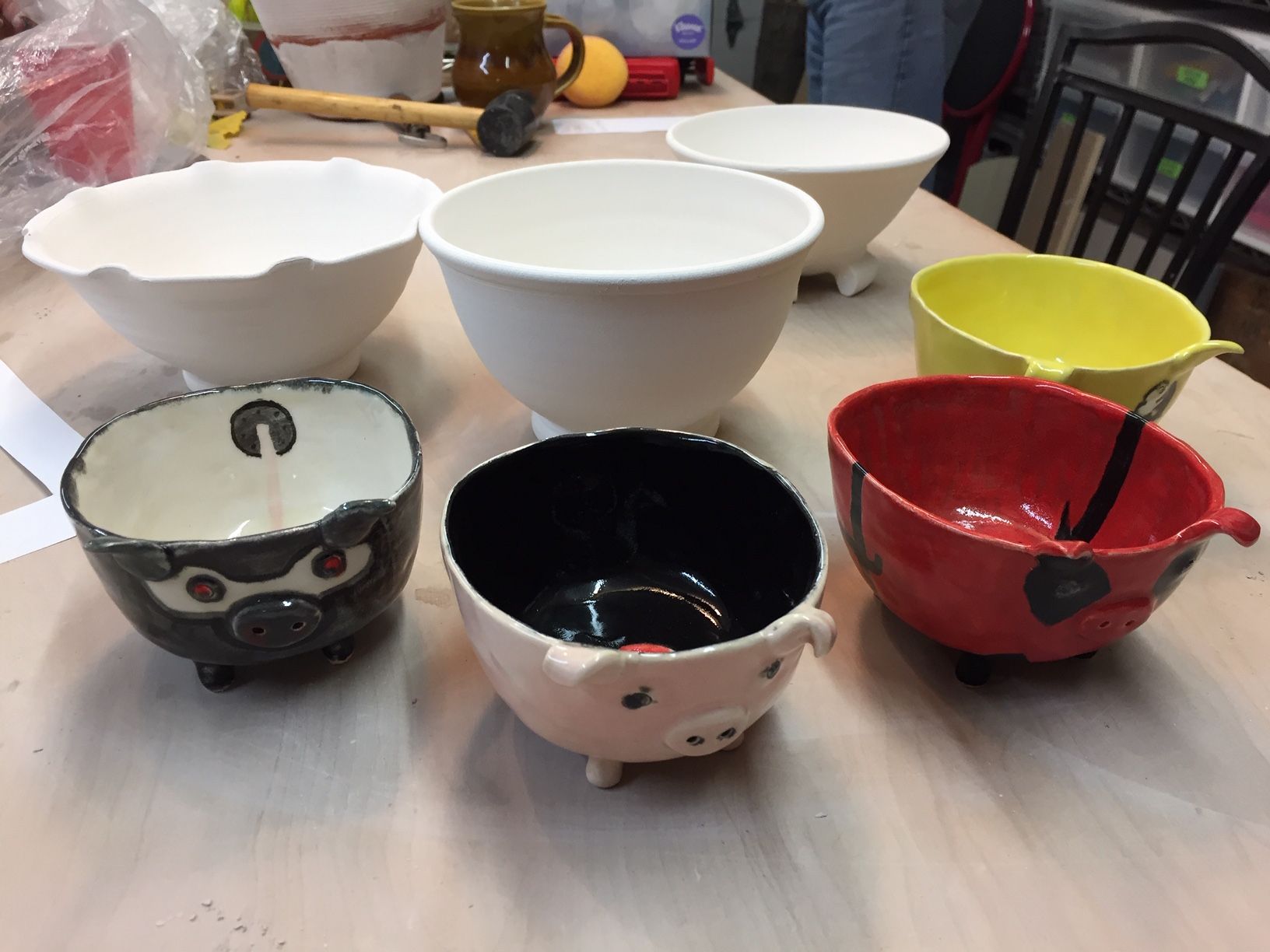 "I make whatever the heck I feel like!" he laughs.
Henderson hopes for Empty Bowls to be a regular event at Artshack. Huml is planning to keep helping Bay Ridge until he, "kicks the bucket", he says with a smile.
One person in particular who is looking forward to Artshack's first event is Paula Carethers. She was one of those Michigan high school students that took part in the very first Empty Bowls event. As it grew nationwide, she was once part of its nonprofit board. These days, she is an urban planner living in Prospect Heights with her family. She learned about this event when Henderson posted on an online group for parents in the neighborhood.
"It's wonderful, using art as a vehicle is nice," Carethers says. "It is nice to see that the message has lived on."