Get Your Spring On! Join The Daffodil Dig This Sunday, November 9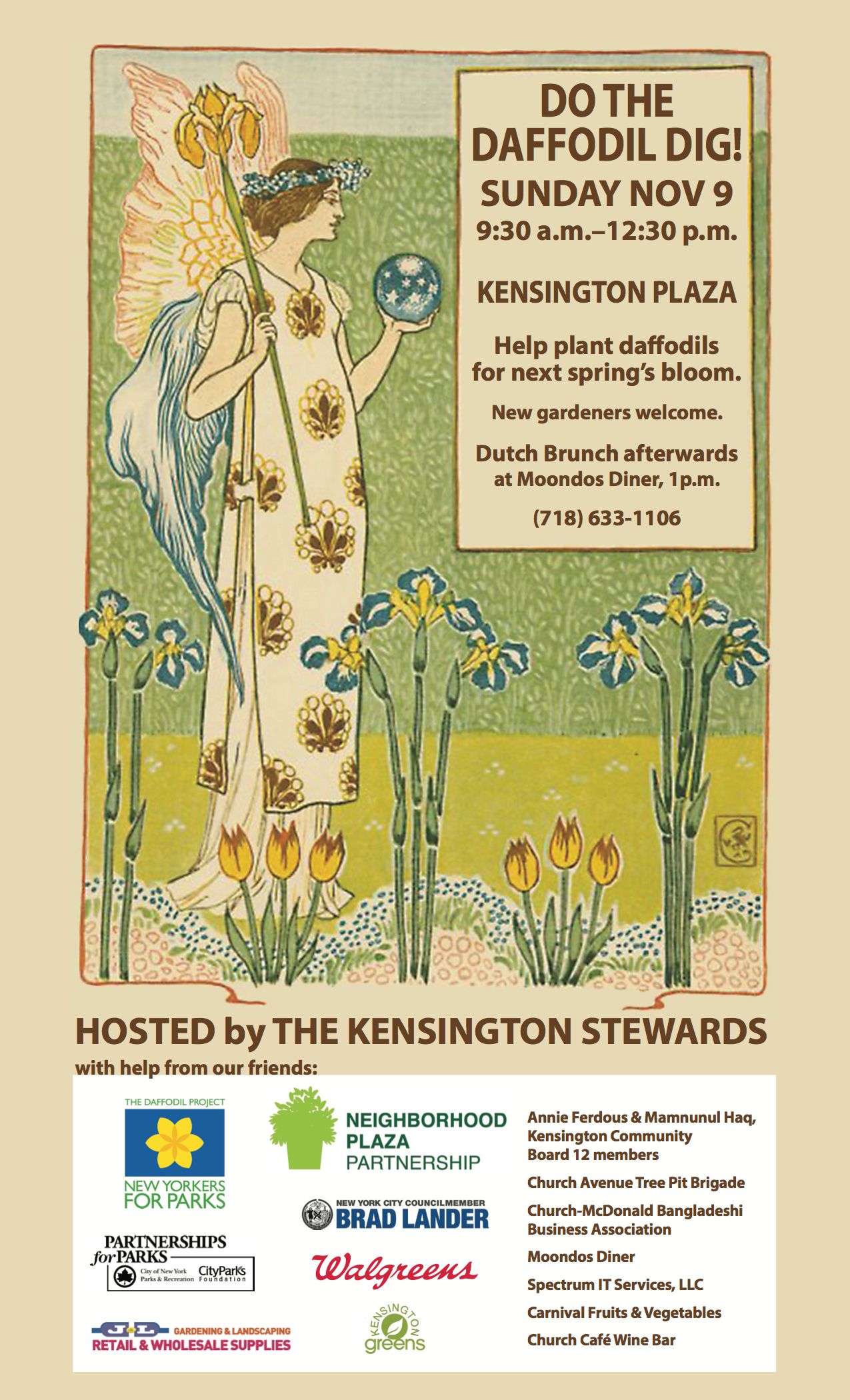 With more than 1,000 daffodil bulbs to plant in Church Avenue's tree pits, from McDonald Avenue to Ocean Parkway, the Kensington Stewards are hosting a Sunday morning "Daffodil Dig" to kick off their fall planting frenzy. Meet at the Kensington Plaza, Church Avenue and Beverley Road, in front of Walgreens next Sunday, November 9, from 9:30am to 12:30pm.
Lots of bulbs require many hands. We hope you'll donate yours for this neighborhood planting fête. Fresh fruit, bottled water and dates courtesy of  Carnival Produce at the Beverley Road intersection, Walgreens, and Shabzi Ghar (481 McDonald Avenue), will sustain you.
Then wash your hands and sit down for a Dutch Brunch with your neighbor/diggers at Moondos Grill (424 Church Ave. at E. 5 Street), starting at 1pm.
By mid-April, after a cold winter and a cool spring, expect those bulbs to have transformed Church Avenue into a river of yellow flowers, "tossing their heads in sprightly dance," to quote William Wordsworth, who nailed it centuries ago in his poem "The Daffodils." Not only will Church Avenue stock its usual cheap goods but come spring Kensington's high street will dazzle, decked out in "a host of golden daffodils…Fluttering and dancing in the breeze."
Now that the Neighborhood Plaza Partnership has taken on responsibility for the Plaza, the Kensington Stewards are reassessing their role. Long Kensington Plaza's clean-up crew, the stewards have no need to perform those duties since the Neighborhood Plaza Partnership brought in the ACE NEW YORK men to handle maintenance seven days/week. ACE is sweeping up the litter on Church Avenue, too, from Ocean Parkway to Story Street four days a week.
Moving on, the Kensington Stewards are currently brainstorming ideas for new activities and green-up projects. Please help envision Kensington Plaza's future. Contribute your wishes, thoughts, ideas, and labor. Send them to Bridget Elder, the stewards' coordinator, at evergreen827@aol.com. Look for announcements of upcoming powwows and visioning sessions this winter. These will be posted on our KensingtonBK site, the KWT listserv, neighborhood Facebook pages, and KarmaBrooklyn.
Since 9/11, Dutch bulb growers have donated five million daffodil bulbs for planting in New York City's public spaces as a living remembrance of that event. Called "The Daffodil Project," the bulbs are given yearly to New Yorkers For Parks which organizes distribution citywide. Any community group can sign up for the free bulbs, which are handed out in early October at the marquee parks in each borough. So far over 100,000 school kids, civic organization members and other volunteers have helped put these bulbs to bed.
Bulb planting will not end on Sunday. The Church Avenue Tree Pit Brigade will meet every Thursday morning at 9:30am on Church Avenue until all 1,000 bulbs are dug in. If you're interested in volunteering, sign up at the Daffodil Dig on Sunday, or just show up.