Get Your Fall Veggies At Wednesday's Bartel-Pritchard Market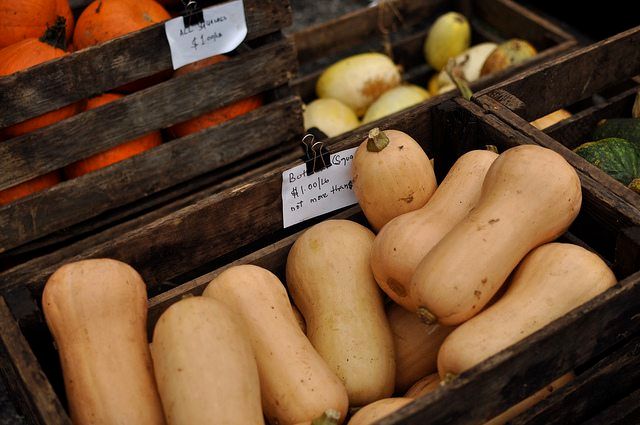 There's so much produce to love in the fall, as you'll discover at the Wednesday Bartel-Pritchard Square Greenmarket. Jerusalem artichokes, leeks, cabbages, a dizzying array of potatoes, cauliflower, kale, carrots, fresh herbs and yes, leafy green vegetables are still bountiful at this seasonal farmers market.
One of the primary reasons to embrace the fall is the arrival of Butternut squash. Shapely and attractive, this winter squash is easy to carry home because your local farmers know your neighborhood. The varieties they sell don't require a car to carry home! Butternut squash is high in Vitamins A, C, B6 (to name a just a few), rich in beta carotene and can be stored for a long period of time if kept cool and dry, meaning away from your heater or your sunny window.
One of our favorite ways to enjoy this sensational squash is the recipe for Butternut Squash Gnocchi from Tables of Tuscan Women by Anne Bianchi.
Butternut Squash Gnocchi
Ingredients:
* 3 pounds butternut squash, peeled, seeded and cubed
1 cup water
1 teaspoon salt
*4 eggs, lightly beaten
1 cup flour (or as much as necessary to create a thick dough)
*2 pounds tomatoes, peeled (or one 35-ounce can tomatoes, drained) and chopped
*3 leaves fresh basil
*2 cloves garlic, crushed
4 tablespoons extra-virgin olive oil
Parmigiano Reggiano cheese, grated
*Indicates ingredients available seasonally at your neighborhood Greenmarket
Instructions:
1. Cook the cubed squash in 1 cup water until soft enough to mash, drain and pass through a food mill or blend in a food processor.
2. Add the salt, eggs and flour and work with your hands until a ball of dough is formed.
3. Roll the dough on a floured surface into a series of long cylinders, approximately 1 inch in width; cut each cylinder into individual cork-size gnocchi, approximately 1 inch in length.
4. For the sauce heat the oil in a large skillet; cook the garlic until golden. Add the tomatoes and the basil, cover and cook for 20 minutes.
5. Meanwhile cook the gnocchi in plenty of salted boiling water; drop them one by one into the water. They are cooked when they float to the surface, approximately 6 minutes.
6. Remove with a slotted spoon and place in a serving bowl, alternating a layer of gnocchi with a layer of sauce topped with grated cheese. Serve hot!
The Bartel-Pritchard Square Greenmarket is open 8 am – 3 pm every Wednesday until November 27, 2013 and is located in Prospect Park at the 15th Street/Prospect Park West entrance. For more information, visit the greenmarket website.