Get Your Sweat On At Bikram Yoga Park Slope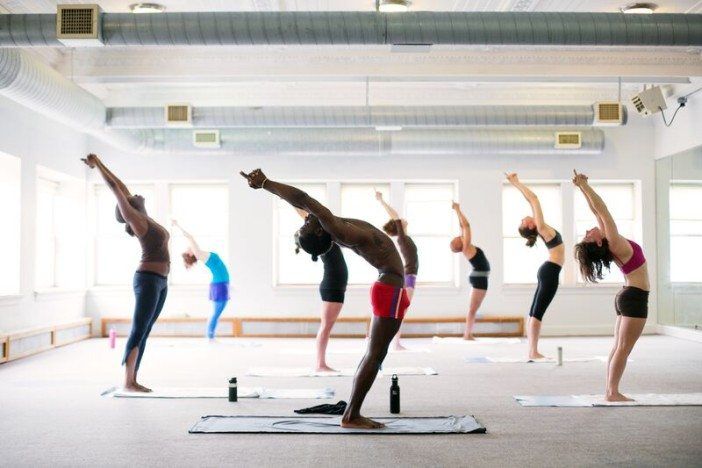 Enter any Bikram yoga studio in the world, and you'll find the same scripted class: a 90-minute sequence of 26 postures and two breathing exercises practiced in a scorching 100-plus degrees room, dubbed "Bikram's torture chamber." The sweaty series draws devotees and critics alike; supporters swear by its miraculous health benefits, while others knock the grueling regimen. Bikram Yoga Park Slope (BYPS) offers far more than the traditional Bikram series, however.
With two locations in South Slope and Prospect Lefferts Gardens, owners Jess and Roody Senecal foster a supportive and diverse yoga community, with a variety of classes, workshops, and volunteer programs that give members the chance to share their interests both on and off the mat. Teachers and students come together to get in the best shape of their lives while forging new friendships.
"My yoga studio is more than just a place to sweat, it's a center of belonging; a neighborhood community," says BYPS member Scott Ginsberg.
Jess and Roody were introduced to Bikram yoga in 2000 while living in the UK. It was love at first asana. Upon returning to the States with their 2-year-old in tow, Jess found refuge practicing in one of the few New York City Bikram studios open at the time, on Chambers Street in Manhattan. With dreams of creating their own yoga community and bringing Bikram to Brooklyn, the dynamic couple opened their first Park Slope location on Flatbush Avenue in 2003.
"We just felt more at home in the Slope," says Jess. "Most of my mommy friends lived here, and we felt embraced and supported by the community."
As the Flatbush Avenue studio thrived, the threat of an impending rent hike, coupled with the studio's cramped quarters, led Jess and Roody to open a second, more spacious South Slope venue in 2007. Housed in a former bank lobby on the corner of 15th Street and 5th Avenue, the studio is a charming blend of old and new Brooklyn — brightly painted walls, eccentric chandeliers, and community blackboards accent ornately detailed high ceilings, arched windows, Art-Deco style tiled showers, and hardwood floors.
The challenge of opening away from the bustle of central Park Slope required patience, but the studio grew alongside the neighborhood.
"South Slope has changed a lot since we opened our doors," says Jess. "More businesses have opened, and people are moving further out. Our space used to feel more on the outskirts, and now we're in the heart of a burgeoning community."
A microcosm of our diverse neighborhood, the BYPS community includes women and men of all ages, ethnicities, and fitness levels practicing (and sweating) together. The studio's team of talented teachers adds their unique expertise and personal flair to Bikram's universal "dialogue," challenging students to improve their practice both physically and spiritually. Students travel from all over Brooklyn to practice.
"I moved farther out in Brooklyn and tried a different studio, but I missed my yoga family and didn't feel as inspired and connected," says member Jill Stein. "BYPS is a special place."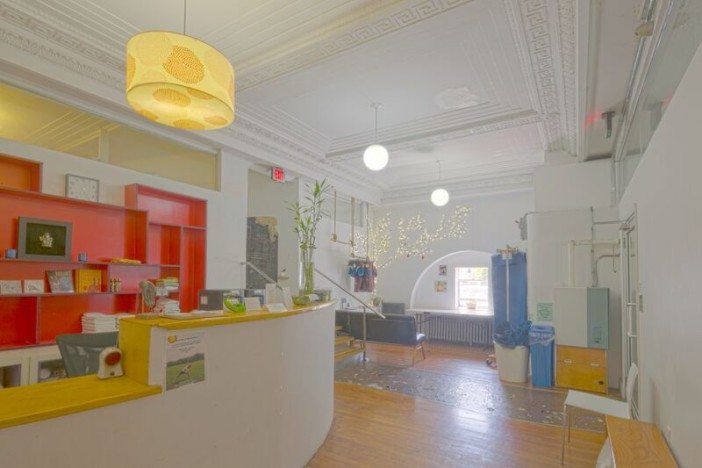 Since closing the Flatbush studio and opening a larger, more affordable location in Prospect Lefferts Gardens last August, Jess and Roody have added a variety of classes and community activities at both studios. Members looking to deepen their practice can attend posture clinics, intermediate classes, and core-strengthening sessions to music. Student-led workshops, ranging from acupuncture and fermentation to salsa dancing and aromatherapy, are held weekly.
"We are looking to incorporate more meditation, nutrition, and healing foods workshops to provide a more integrative approach to our students' health and well-being," says BYPS director of marketing, Carolyn Agis.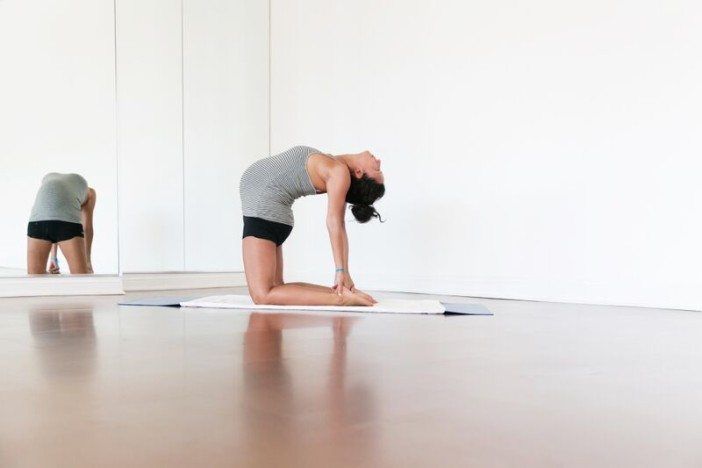 BYPS's interactive blog invites students to share their yoga experiences and showcase other talents. Writer Scott Ginsberg contributes a daily yoga meditation column, while PurlBKnit knitwear designer Brandi Harper shares recipes and cooking tips.
Jess and Roody are committed to providing a welcoming environment that celebrates the interests of their Brooklyn community, and understand some may be concerned considering recent news that has cast an unsavory light on the Bikram name. When asked about the recent sexual harassment allegations against founder Bikram Choudhury, Jess responds: "We believe in the series, and that is where our heart is. We have witnessed the yoga do magical things for hundreds of people, and we can't close the door to that."
"The most rewarding aspect of having a yoga studio in Brooklyn has been the amazing and diverse community of warm, loving, and passionate individuals that have called our studios home, and have enriched our lives on and off the mat," Roody adds.
To find out about rates, membership, classes and more at Bikram Yoga South Slope (555 5th Avenue) and Bikram Yoga Lefferts Avenue (507 Flatbush Avenue), visit their website, and follow them on Facebook and Twitter.
About the author: Emily Hannon is a health-supportive chef, restaurateur, yogini, freelance writer, and mama-to-be with extensive and varied experience in the culinary industry. She spent a decade running her own successful restaurant in St. John, USVI, graduated from the Natural Gourmet Institute, and created and co-founded Park Slope's Brooklyn Porridge Co.