Gerritsen Beach Blogger Faces Harrassment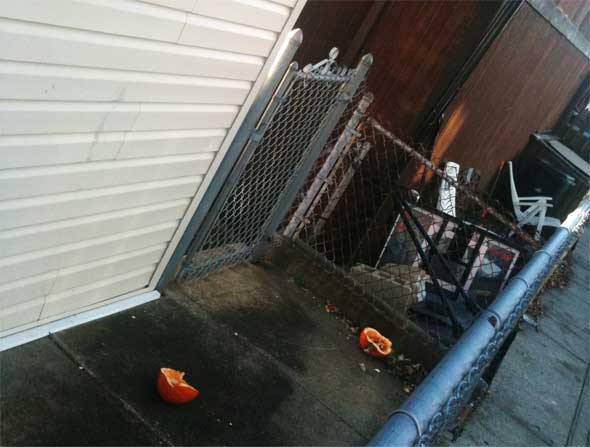 Upset residents of Gerritsen Beach are taking up arms – and pumpkins – against local blogger Daniel Cavanagh following his posts outing several teenaged hooligans terrorizing residents on Halloween.
At least one angry neighbor turned to property damage to settle scores, lobbing a pumpkin at the blogger's family's home over the weekend. The pumpkin cracked the house's vinyl siding when it was hit on Saturday night, around 10 p.m. Cavanagh said he filed a police report with the 61st Precinct.
That same night, an angry father of one of the teens Cavanagh exposed attempted to intimidate GerritsenBeach.net's blogger. Cavanagh was running a Rock Band karaoke night at the Tamaqua, a local bar. The father stood near the entrance, waiting for Cavanagh to finish up, the blogger told us. Bouncers protected him and eventually asked the father to leave.
Cavanagh also said his father has faced some harassment since the post went online, with parents shouting at him during the Gerritsen Beach Property Owners Association (GBPOA) meeting and complaining to him in private.
Some residents are miffed with Cavanagh after he wrote about the mayhem local teens wrought along Gerritsen Avenue on Halloween. His post included photos of some of the 50-plus teenagers throwing eggs, potatoes, rocks and even a hammer at cars, pedestrians, buses, NYPD and firemen. He also published screenshots of the teens' public Facebook pages, where they boasted about their misdeeds. Last week, Cavanagh was blasted by angry parents who alleged he is a pedophile "unscrewing" the community at a GBPOA meeting.
But Cavanagh isn't backing down. He said he'll continue to go about his "usual business," but will "look both ways" until things settle down. He also stands by his decision and won't be taking down the photos or Facebook photos, he told us.
"[Renee Sior-Cullen, the outraged mother who dominated the GBPOA meeting,] was screaming that we have to take care of our own," Cavanagh told Sheepshead Bites. "But taking care of our own isn't protecting the behavior of whoever did this. It's protecting our neighbors and community where our kids want to continue to live."