Georgia O'Keeffe Paintings Adorn Cymbrowitz Window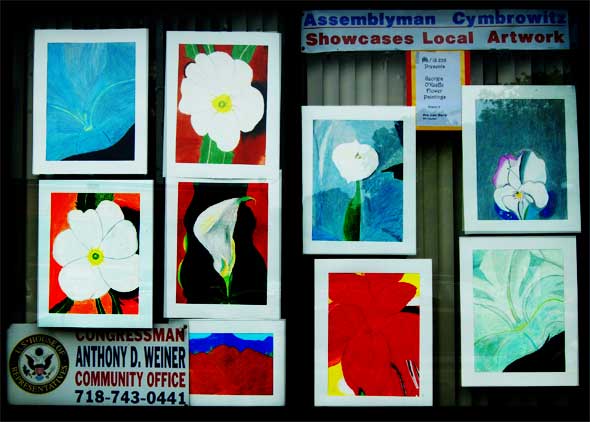 Over the years that Steven Cymbrowitz has been in the State Assembly, I must've walked past his 1800 Sheepshead Bay Road office hundreds – if not thousands – of times. And yet, a little piece of community culture that adorns his window always seems to go under my radar.
Since November 2003, Cymbrowitz has been using his storefront window as a "walk-by art gallery" for student artists. Every month during the school year, a new exhibit goes up by students in pre-kindergarten through eighth grade classes, all from local schools.
"Assemblyman Cymbrowitz believes that art is an important component of a student's education and every child should be encouraged to expresses themselves artistically," said Oswalt Heymann, the chief of staff for Cymbrowitz.
Each exhibit follows a theme given to the teacher about issues that would be of interest to children. This month's show came from eighth graders of Mrs. Davis' class at I.S. 238.
Now, if you're wondering how Georgia O'Keeffe is of interest to 14-year-olds, well, you'll understand when you're older…