Gentile Wants To Bring Back The B37 Bus Line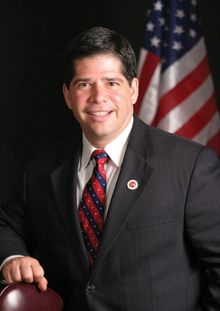 The B37 bus line, which ran from Bay Ridge to downtown Brooklyn, was eliminated three years ago. Councilman Vincent Gentile pledged to bring back the service when the MTA announced that it was being axed and now he is continuing that fight by organizing a petition, according to the Brooklyn Daily Eagle.
In his effort to get his petition off the ground and bring the B37 back to service, Gentile is teaming up with fellow Council Member Sara Gonzalez, Transport Workers Union Local 100 and other community organizations.
The restoration of the dormant B37 bus route isn't the only thing the petition calls for. Included is the restoration of station booths along the N/R lines and the installation of elevators in the subways.
"The MTA has received $40 million more than it requested from Albany this year so now is the prime time to call on the governor and the MTA Board to use some of this money to restore services that were cut in 2010," the Daily Eagle reported Gentile saying. "The B37 was absolutely vital to this community. It was our neighborhood's connection to Sunset Park, Park Slope, Lutheran Hospital and downtown Brooklyn."
The MTA noted the discontinuation of the B37 was due to low ridership and close proximity to the R train. MTA spokeswoman Deirdre Parker defended the decision.
"Riders were not left stranded. The B70 was rerouted to replace the segment of the B37 south of Bay Ridge Avenue."
To sign the petition right now, Gentile has urged supporters to visit his office at 8705 Third Avenue while an online petition is being created.