Gentile And Quaglione Square Off In First Debate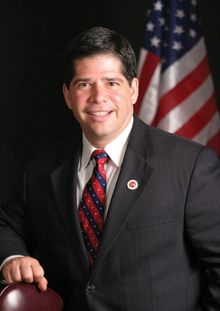 Councilman Vincent Gentile (D) faced off against challenger John Quaglione (R) in their first debate in the race for the 43rd District of the City Council, which covers Bensonhurst, Bay Ridge, Bath Beach and Dyker Heights. The Brooklyn Daily Eagle reports that the two candidates traded barbs over who had the best ability to bring back money to improve the neighborhoods best.
According to the Daily Eagle, Quaglione's main attack point was his belief that Gentile failed to deliver funding for the district, while Gentile provided a different story:
Quaglione, a first-time candidate, repeatedly charged that Gentile, a 10-year-veteran of the City Council, has failed to secure adequate funding for the district for such things as parks, libraries and schools. The challenger also suggested that the incumbent doesn't have any real clout in city government, despite his long tenure, and that this hurts the district's residents.
Gentile countered that contrary to Quaglione's statement, he has delivered big-time for the district. He said he has brought back tens of millions of dollars to the middle class communities he represents, including $13 million for parks, $11 million for libraries and $8 million for hospitals. And he has brought back much of those funds during the city's tough economic times, he said…
Quaglione remained adamant that Gentile had failed to bring tax dollars to the district.
"Every other neighborhood in the city of New York is getting more of our tax dollars than we are. We are at the bottom of the totem pole when it comes to city funding. We deserve better. I am running to change that," Quaglione said.
In response, Gentile pointed to his efforts to increase sanitation pickups, bring an eco dock to the 69th Street pier, convincing the mayor to bring ferry service in light of R train construction work and bringing greenmarkets to the area.
"That's leadership, my friends!" Gentile countered.
Also present at the debate was Patrick Dwyer, running on the Green Party ticket. The Daily Eagle reported on Dwyer's pitch but noted the lukewarm audience reaction to his presence:
A third party candidate, Patrick Dwyer, running on the Green Party line, also participated in the debate. "I've come here today to offer you a real alternative," he said, adding that senior care, affordable housing, and the climate crisis are issues he cares about.
But audience members appeared to regard the little-known Dwyer as if he was the undercard in a title boxing match. The Gentile-Quaglione matchup was what everyone came to see. The councilman and his challenger will debate each other four times this month.
As we noted in our previous report, there is no debate between the two scheduled in Bensonhurst.