Geico Van Making The Rounds In Southern Brooklyn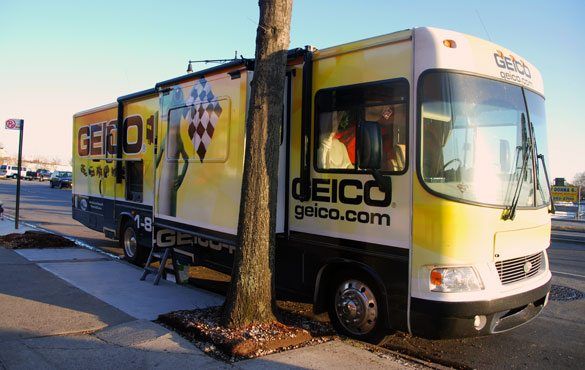 Sheepshead Bay's streets look like some sort of zombie movie, with junked cars scattered about, half up on curves or even burned out in the middle of the street. Some are victims of the flood's salty waters, which got into vehicles' wiring or fried other parts of the machinery. Others burned after faulty attempts to jump start dead vehicles.
The number of cars Hurricane Sandy destroyed hasn't even begun to be quantified – but on our streets, it's a heckuva lot.
That's why Geico has deployed mobile catastrophe teams to expedite the claims process, including near-immediate visits by adjusters.
The one above was in front of Applebee's on Emmons Avenue last week, where we met Erik Leach, a marketing guy for the company. Here's what he had to say about what Geico's up to:
Most of our policyholders have been seen and settled their claim, however with the overwhelming damage and number of claims, there are still policyholders waiting, which is why we've deployed hundreds of claims adjusters from around the U.S. to help our NY adjusters settle claims as quickly as possible. We have mobile command centers set up throughout the hard hit areas, however those in the surrounding neighborhoods with no power, may not know we are here. That's why we have sent the RV into the communities to be visible to those in need. The residents here are waiting on signs and help to get life back to normal or as close to it as possible, and thats what we are here to offer. If someone still needs an adjuster, they can come to the RV with their claim number, and we can reassign their claim to one of our Catastrophe adjusters, who have been able to see policyholders within 24-48 hrs. The RV is parked to let South Brooklyn know, we are here and we can help. We also have bottled water we're handing out to anyone who needs it. GEICO is the number one auto insurer in NY, so when our policyholders need us, we are there in numbers.
Leach added that the vans will roam the neighborhood for several more weeks.