Garner Family, Former State Senate Candidate in Brooklyn Call on Pantaleo to Face Charges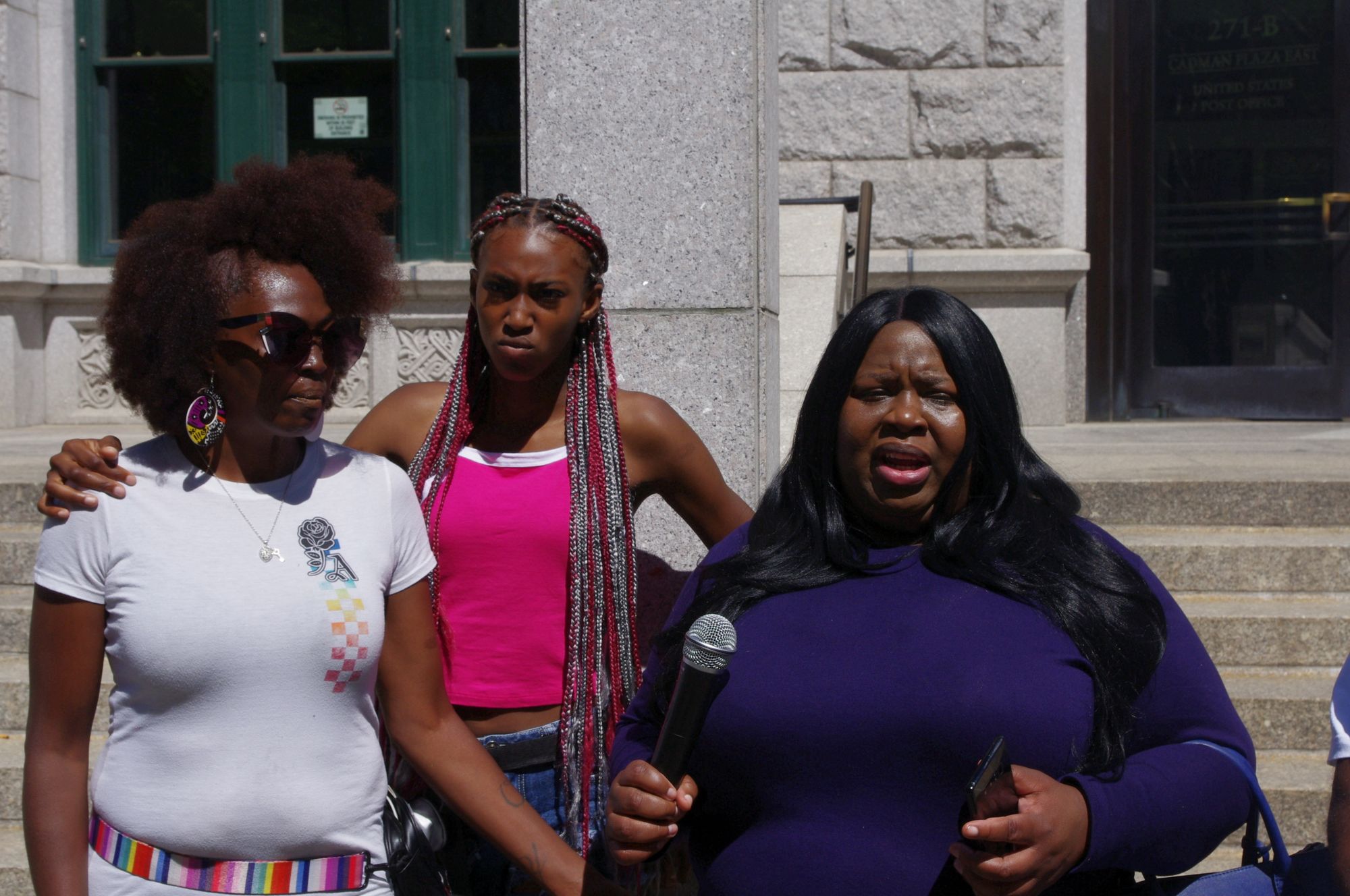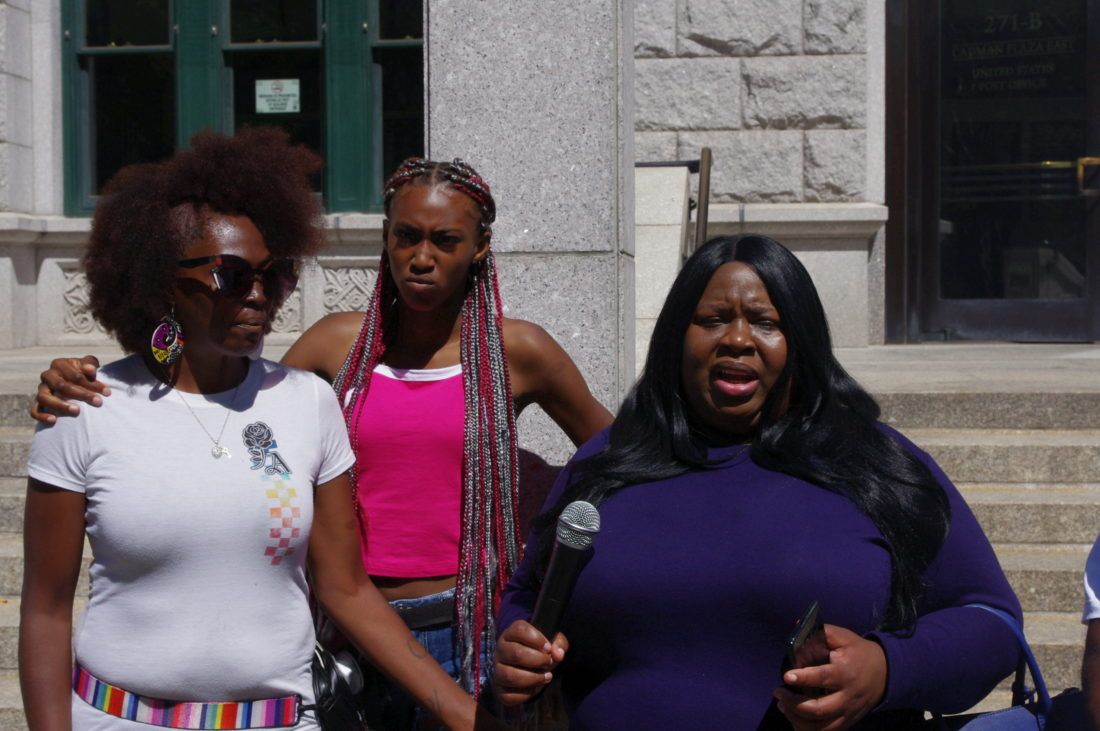 BROOKLYN HEIGHTS—Family members of Eric Garner and a former state senate candidate on Monday called on the man who killed Garner five years ago to face civil rights violations.
The demonstration, held outside the Department of Justice's Eastern District offices, came two days ahead of the 5th anniversary of when officer Daniel Panteleo, who is still on the police force, used an NYPD-banned chokehold on the asthmatic Garner, killing him on Staten Island after he suspected Garner of selling loose cigarettes.
In 2014, a grand jury decided not to indict Panteleo. The defense's argument has been that Garner died due to his poor health, not due to Pantaleo's actions, and that Pantaleo did not put Garner in a chokehold
Wednesday marks the deadline when the window to charge Pantaleo with civil rights violations closes, due the the statute of limitations. The high-profile incident, which was captured on video, spurred widespread outcry. The police commissioner is now mulling whether to keep Panteleo on the force.
"We are here today to demand justice for Eric Garner," said Jasmine Robinson, a legal secretary who in 2018 ran in the Democratic primary against Diane Sevino to represent the 23rd Senate District, which includes Sunset Park, Bay Ridge, Bath Beach, Brighton Beach and Coney Island. "It's been five years and he still has not received any justice. No one has been punished. There have been no repercussions for anyone."
"We are out here to implore the justice department to give this man and his family some long overdue justice," she added. "We have to shine a light on the fact that this brother has not received justice at all."
Robinson, who said Monday she is mulling a run for senate again, said she knew Garner, and told a story to a small group of protestors about him protecting her when she was about to be robbed on Staten Island.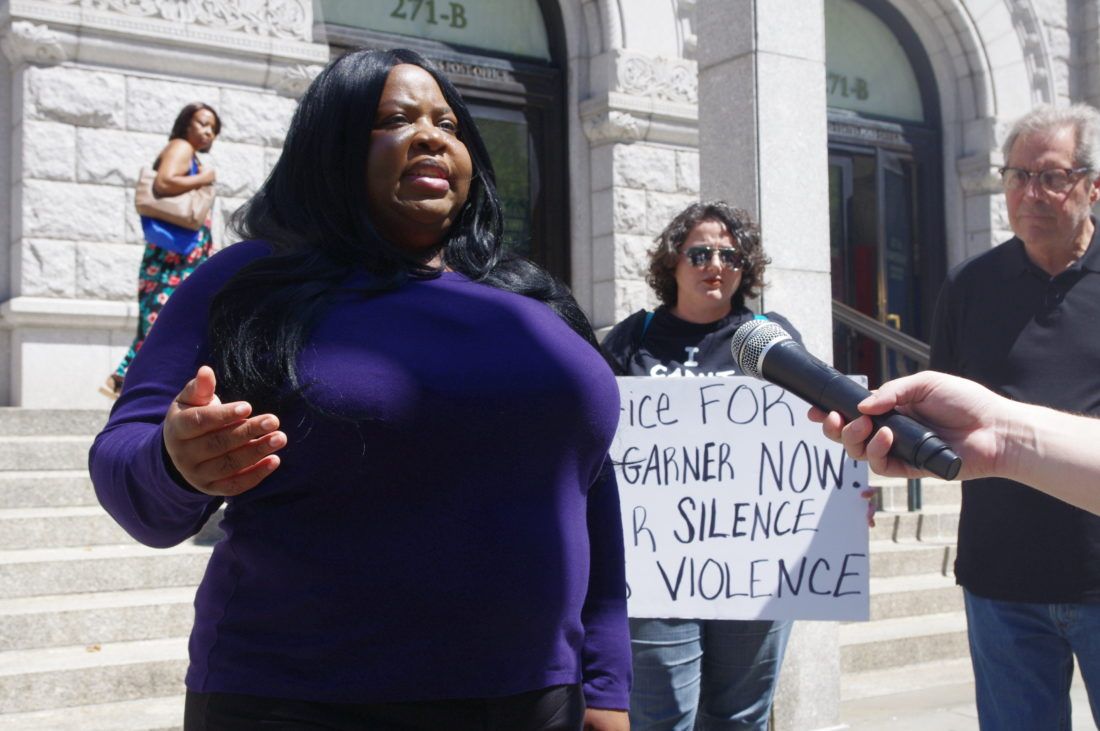 "I'm going to make sure that you're okay," she recalled Garner saying.
Jewel Miller, the mother of Garner's youngest daughter, Legacy, attended the demonstration, emphasizing she has continued to protest because of Legacy.
"We're just here for Eric Garner and more importantly we're here for Legacy. This is our plea here. If not for Eric Garner, do it for Legacy Garner," she said, before being brought to tears. "We need justice now. We are here with Legacy and the rest of the family to get justice. It's sad that we have to be out here today, five years after, and demand justice."
"And more importantly, the core of this is that this young baby has never had the opportunity to meet her father. That's not right," she continued. "Pantaleo and all the other people that were involved can see their loved ones. This young baby can only see her dad, and memories of her dad, on video."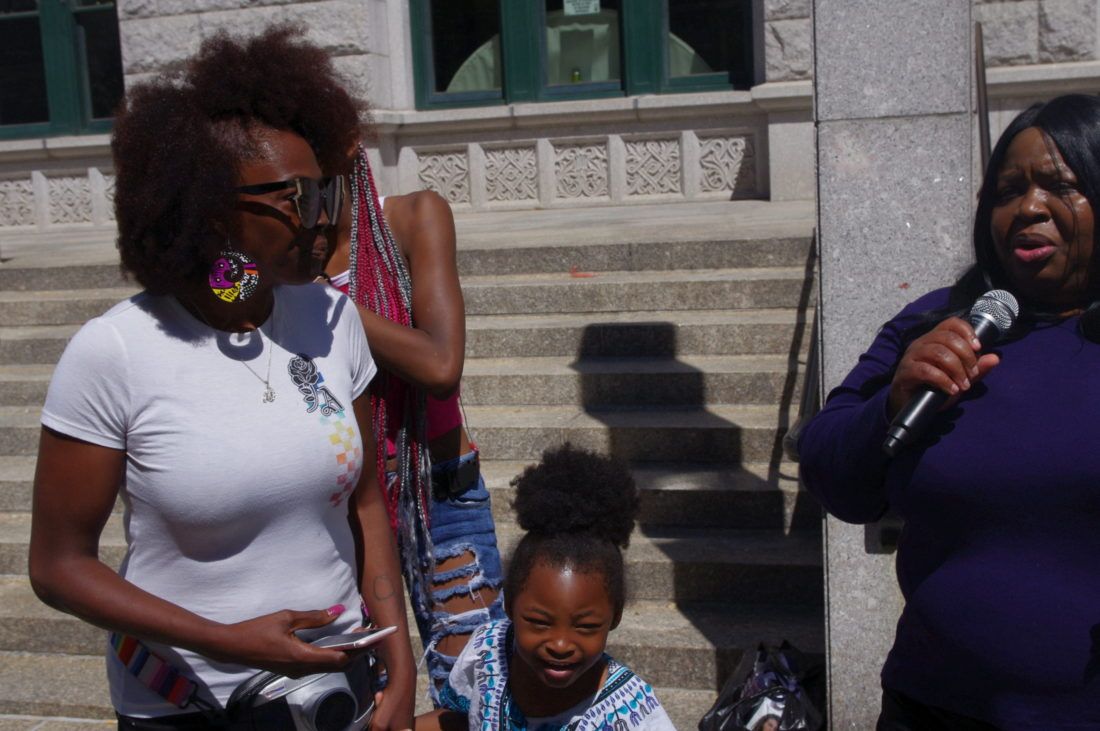 Ph-Je Bethea, Legacy's older sister, echoed Miller.
"Daniel Pantaleo was there for his daughter's first steps. He was there for all of those significant milestones," she said. "My little sister's father was not present due to the fact that he was brutally murdered, for accusations, for no apparent reason, because of the color of his skin."
"It's sad. That man has done nothing to nobody."
Christopher Espinoza, an activist in Queens who at the time of Garner's killing was on Staten Island, told Bklyner that "justice needs to be taken in the name of Eric Garner," because "it was clear as day what happened."
"He clearly stated, 'I cannot breathe,'" Espinoza said. "There were other officers on the scene, there was no reason to be so aggressive with him. He was not a threat."
"We were stunned when we saw the tape that everyone else has seen," Eric Shtob, a retired educator who lives in Brooklyn Heights, told Bklyner in an interview. "He was murdered by police and it's been five years of a charade of trying to bring justice and no justice has ever been brought."
"It was one of those situations where it took a few minutes to kill him," said Shtob's wife Sonia Collins, a retired computer programmer. "It wasn't a split-second decision or anything like that. It was cold-blooded. And okay, these things happen, I guess, but why hasn't there been any consequences?"
On Tuesday, several of Garner's family members will meet with federal prosecutors, after which the Eastern District of New York will hold a press conference.