Garbage Gazette: BIG Says Sanitation Neglects Sheepshead's Litter Baskets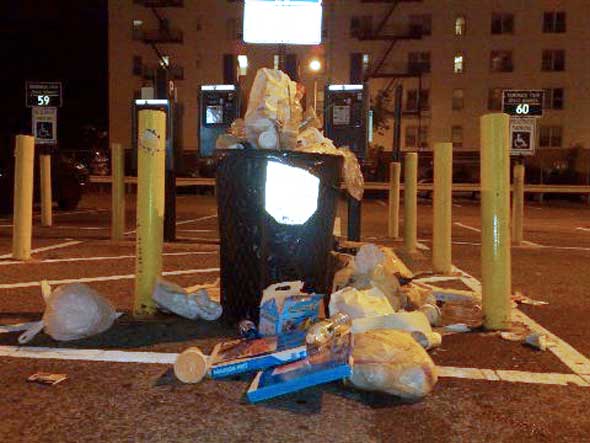 Sure, we used to write a lot about the neighborhood's ongoing garbage problems. But, last summer, after our posts and other media reports shamed the local Department of Sanitation garage into adding more pickups, the problem eased a bit, and we got off their backs. But, with summer here, and budget cuts presumably forcing reduced pickup schedules at corner litter baskets, the problem is back in full force. So we're bringing back the Garbage Gazette, our (unfortunately) frequent chronicling of overflowing litter baskets, dumping grounds and local sore spots.
To kick off the first Garbage Gazette of Summer 2011, we've got a photo taken last night and a letter from Steve Barrison, president of Bay Improvement Group.
Barrison writes:
Clearly we need more litter baskets in this lot than
just one!
Perhaps daily pickup, just like we also need along Sheepshead Bay Road our shopping main street and Emmons Avenue too. The pictures speak for themselves. This is directly across the street from Council member Nelson's office! Maybe he can get more pick ups and a few more litter baskets. This is only one and a half blocks from Assembly member Cymbrowitz's office too.
Hopefully, we can get attention to this on going problem in our area. The lack of sufficient baskets and daily pick up is appalling. In Carrol Gardens, thru Cobble Hill into Brooklyn heights along Smith Street for example there are four litter baskets(each corner) at every intersection and they are emptied 1-2x a day! They do not have sights like this along their busy
commercial strips
. We have them all the time. I see them at night around the community for more than ten years. This basic service must be addressed. And if people put household trash illegally into these baskets, or businesses do so(and we all know some do) then they must be caught and fined accordingly!
Praise to
Munchenette
for being the only merchant along Sheepshead Bay Road for many years now adopting the litter basket outside his store and keeping his storefront clean. If a few more merchants took some initiative and pride in the community in which they have set up businesses in, perhaps the Bay Road and other shopping strips would look cleaner. We can only hope others follow Munchinette and take a step to help the community by adopting a litter basket and keeping their store front clean and graffiti free! Thank you Munchinette.
What can you do? First of all, ask the businesses you shop at to help keep the neighborhood clean by joining Muchinette in the Adopt-a-Basket program. Then contact your local officials using the information below and tell them seven-day litter basket service needs to be restored:
Borough President Marty Markowitz
718-802-3700 – askmarty@brooklynbp.nyc.gov
State Senator Martin J. Golden
718-238-6044 – golden@senate.state.ny.us
State Senator Carl Kruger
718-743-8610 – kruger@senate.state.ny.us
State Assemblyman Steven Cymbrowitz
718-743-4078 – CymbroS@assembly.state.ny.us
State Assemblyman Alan Maisel
718-968-2770 – MaiselA@assembly.state.ny.us
State Assemblywoman Helene Weinstein
718-648-4700 – weinsth@assembly.state.ny.us
City Councilman Lewis A. Fidler
718-241-9330 – LFidler@council.nyc.gov
City Councilman Michael C. Nelson
718-368-9176 – nelson@council.nyc.ny.us
CB 15 Chairperson Theresa Scavo
718-332-3008 – BKLCB15@verizon.net
Sanitation Department's Overflowing Trash Bin Complaint Form.