Futuristic Coney Island Bathrooms On Hold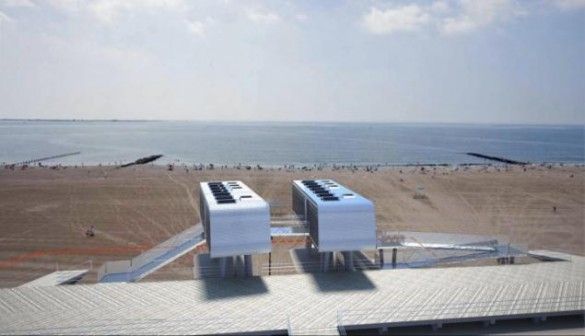 The planned $2 million futuristic steel bathroom stations set for the beaches of Southern Brooklyn have been delayed. The New York Daily News is reporting that the new bathrooms, which faced a torrent of criticism from residents of the Oceana condominiums (50 Oceana Drive West) will be put on hold until further notice.
When asked about exactly when the new bathrooms will be arriving, Arthur Pincus, a spokesman for the Parks Department, told the Daily News that, "I do not have a tentative new date."
This begs the question as to why the bathrooms, which feature modern amenities and were designed to handle extreme weather, are being delayed. Did the Parks Department bend to the will of the angry protests from Oceana residents who didn't want their luxury ocean views spoiled by the 12 foot high facilities? Right now, no one knows for sure because the Parks Department refused to elaborate on the delay.