Shipping Container Booths And Street Art At Smorgasburg Coney Island [Photos]
Foodies flocked to Smorgasburg's first ever Coney Island outpost this weekend, only to find that the grub was being served out of industrial-sized truck containers.
SG Blocks, a designer of container-based structures, sent us some cool photos of their recently completed and installed units at the hipster food extravaganza.
The company built 14 modern, colorful shipping containers designed to function as booths for a diverse selection of savory food vendors, frozen dessert vendors, and bars presented at the popular food market.
As we've reported, Coney Smorgasburg is part of Coney Art Walls, a public art wall project created by Thor Equities and curated by Jeffrey Deitch, featuring some of the world's most prominent street artists and more than 20 murals. The artwork, along with several musical performers, can be found interspersed with the pop-up village of containers.
"We see a great synergy between the spirit of the program in Coney Island and our product," said Paul Galvin, Chairman and CEO of SG Blocks. "We are happy to be working with such great companies as Thor Equities and Smorgasburg and to once again be using our containers to build an artistic, modern product."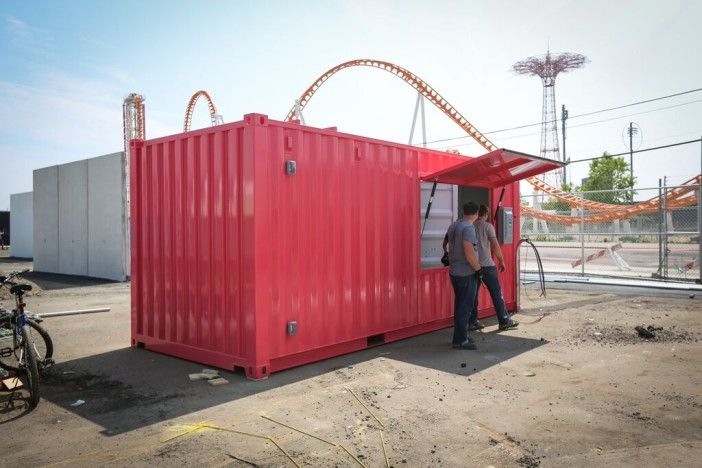 Aesthetics aside, there is also a practical reason to use shipping containers.
"Using our container-based product is more efficient for Smorgasburg and Thor Equities than traditional construction methods. We're helping to bring the food and drink market to life much more quickly for visitors to enjoy," said Galvin.
More photos of in-progress and completed murals, via Coney Art Walls:
The food festival and flea market, which kicked off Memorial Day weekend, will resume on Fridays through Sundays through June 22, and then every day until Labor Day 2015.