Fun City Bowl Erupts In Bloody Brawl Between Cops And Firefighters [Video]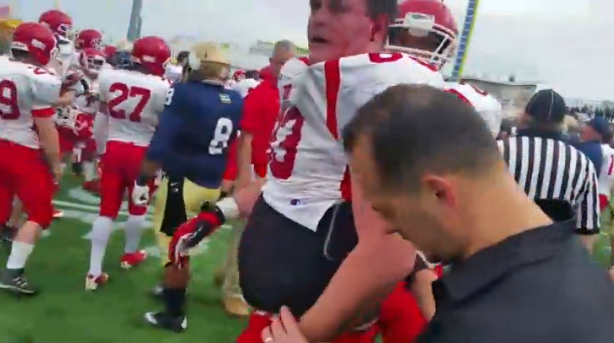 Who knew there was such bad blood between police and firefighters?
The NYPD and FDNY's annual Fun City Bowl charity game, held Sunday at MCU Park, turned into a bloody brawl on the field, NBC New York reports.
Footage taken on the field shows a scrum of players mixing it up near the sidelines. One member of the FDNY team emerged from the chaos with blood dripping from his left ear.
Freelance photographer Angel Zayas, who was on the field, said an argument between two players started the fight.
"I think one of the FDNY guys exchanged words with the NYPD player and then from there, I couldn't see what was happening, I just saw the crowds come around the player," he told the news station.
Soon after, another scuffle broke out between the teams, according to NBC. Players ran from the sidelines and started tackling each other in a chaotic melee.
The fighting took place in front of thousands of fans, many of them children. Zayas told NBC he heard someone tell the players: "Listen up. Don't embarrass yourselves, you hear me?"
The teams reportedly made up soon after the fight — exchanging handshakes and hugs. The game resumed and the NYPD went on to win 29 – 13, NBC reports. Money raised from the game benefits the NYPD Widows' & Children's Fund or the FDNY Fire Family Transport Foundation
In a statement to the news station, the NYPD said: ""Football is a competitive sport, whether it is the NFL Super Bowl or the annual NYPD-FDNY challenge. It is part of the spirit of the sport, but it all ends on the field."
NBC also noted this isn't the first time police and firefighters got into a brawl. At a charity hockey game last year, the two teams started fighting on the ice while fans chanted "PD sucks!"
However, footage of Sunday's brawl at MCU Park wasn't the only spectacular footage to come from the Fun City Bowl. The NYPD tweeted a video of members of the U.S. Army diving out of a helicopter above the field. What a view!