From The Southern Brooklyn Candidate Forum: Golden Only Has Time For Some Constituents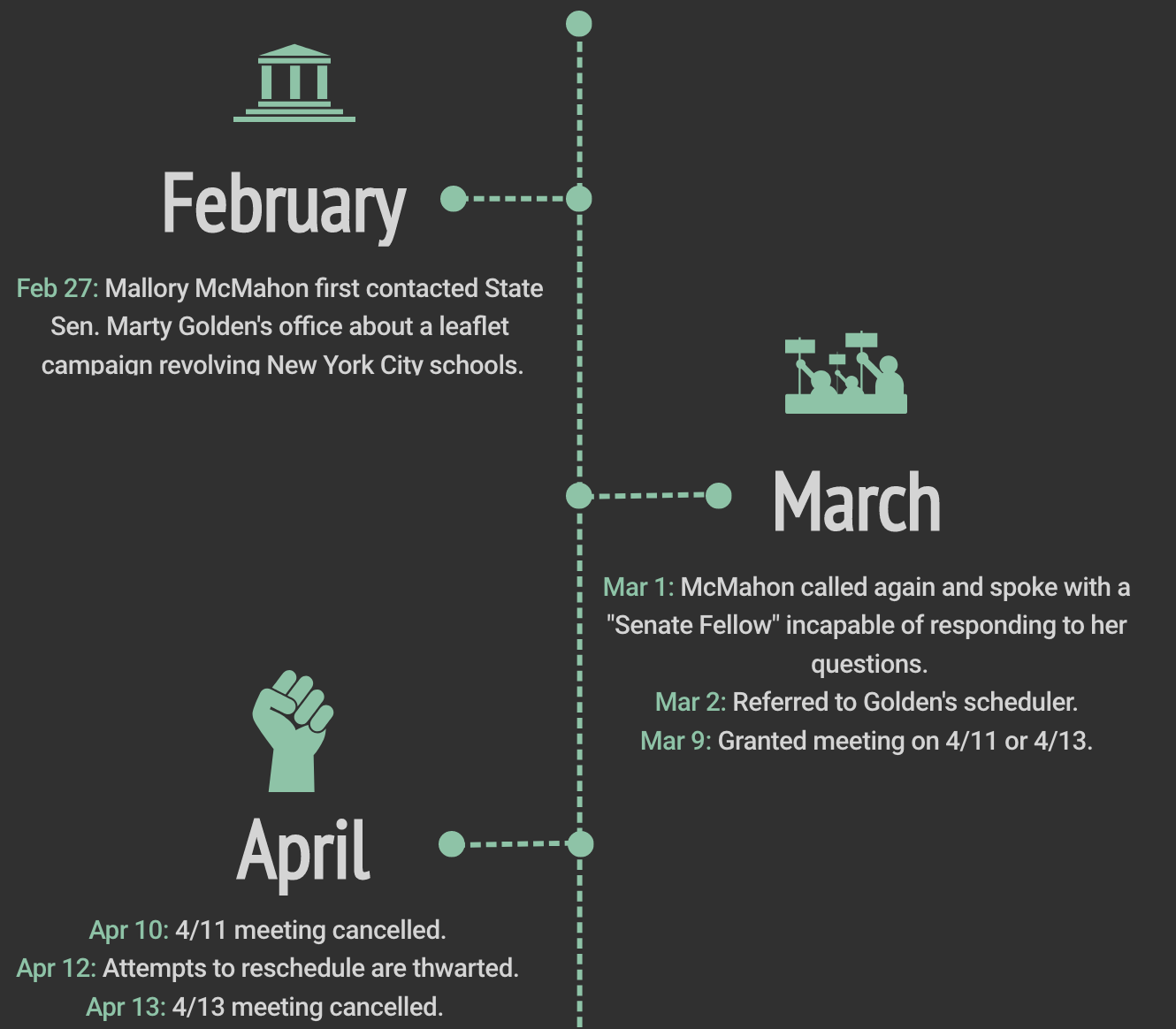 BAY RIDGE – Mallory McMahon has waited more than 200 days for a sit-down with her local state senator.
First, she called the Southern Brooklyn office several times before scribing an email of disappointment to other local officials. When that didn't work she alerted the press. That was in February, nearly 50 days after her first attempt at pinning down the lawmaker.
The two finally met on Wednesday, ending a 218-day standoff and likely creating a greater divide between Golden and some of his constituents.
"Mallory, I'm sorry, I'm too busy for you," responded Republican State Sen. Marty Golden about whether or not he'd meet with the constituent.
This after Golden agreed to meet with another constituent, from the audience, who also complained of not having access to the lawmaker. His reasoning: McMahon is a Democratic operative and has a political club registered with the state.
"She's here for her own issues," he said.
The exchange happened in front of about 50 people who came out to the Bay Ridge Inter-Agency Council on Aging Candidate's Forum showcasing Golden and his Democratic opponent Andrew Gounardes, Max Rose, Henry Bardel, Mathylde Frontus, Assemblywoman NicoleMalliotakis and Adam Baumel. Moderator Peter Killen called on McMahon to ask the final question of the senatorial series of the debate.
Naturally, the ridgite asked what each candidate would do to make themselves available to all constituents, having been shunned for the past 218 days. McMahon also asked Golden and Gounardes to commit to quarterly Town Halls.
"There's a part of me that is furious and there's a part of me that is relieved," McMahon said at confirming her efforts were stalled at the hand of her state senator and not a collaborative commandeering of his staff.
This isn't the first run-in between Golden and McMahon. The adjunct professor is a member of Fight Back Bay Ridge — a local civic group in Bay Ridge. The group registered weeks ago as an independent expenditure but does not consider themselves a political club and deny being aligned with any specific political official.
The group launched a couple of campaigns to protest Golden's legislative habits, including distributing recyclable totes at Supermarkets in April to denounce Golden's opposition to banning plastic bags. In August, at the district's Summer Stroll, members of the group passed out fans that read "Stop speeding in school zones Marty Golden" digging at the lawmaker's vehicular mishaps and his initial stance on speed cameras around schools.
Golden's senate seat looks increasingly vulnerable. Less than 24 hours before the forum, Gov. Andrew Cuomo dropped in on neighboring Bensonhurst to endorse the Senator's opponent.
In the end, Golden turned optimistic when Bklyner asked the senator if he thought there was a chance for a sit-down with McMahon in the future.
"There's always hope," he said.
Below is a timeline of what McMahon said happened since she first reached out to the senator: