Free Rent For Sex – What Could Possibly Go Wrong?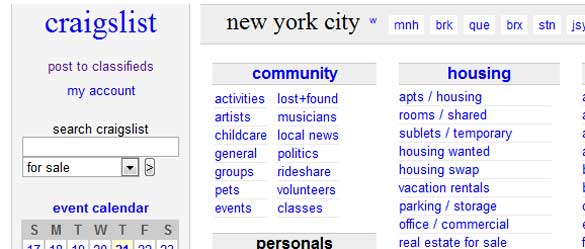 Here at Sheepshead Bites, we are inundated with a deluge of craigslist listings peppering our news alerts, and while most go straight to the trash, an occasional odd gem will pop up that we simply cannot ignore.
Today we stumbled across a listing from a self-described "all-american man" in his mid- to upper-40s, willing to provide a
free
room in his Coney Island Avenue apartment. All you have to do to claim this free room is A) be a woman, and B) share a physical relationship with this 5'8, 170-pound treasure of All-American manliness.
Now, now, ladies. Before you choke back your vomit at the thought of this well-intentioned altruism, know that Adonis here also has a heart as big as the gaping hole in his basic grammar education.
"i live alone and I'm tired of having to find someone for my physical needs. i'm willing to take care of your needs as well the apartment is clean nice and you get your own bedroom (other side of apartment) !! but i think that a few times a week we can ….."
Come on, creepy craigslist dude! Have you thought this through? You just want to skip the whole dating game, move a girl you barely know into your home and start a sexual relationship? Are you crazy? Well, obviously you are crazy, but seriously… have you thought this through?
Does the woman in question have to have nooky with you every time you want it? What if she says no? What if she moves in and you decide you don't like her anymore? Are you gonna kick her out after a week? There seem to be many holes (pun intended) in your grand scheme to override all the rules of courtship and decent society in an attempt to have a live-in sex partner.
Do yourself a favor: Take this ad down ASAP, give eHarmony another try, and never tell anyone you did this. Meanwhile, don't mind us as we laugh at you forever.