Free Outdoor Summer Concert Series Returns To Kingsborough Community College, Featuring Swing, Ragtime, Big Band & More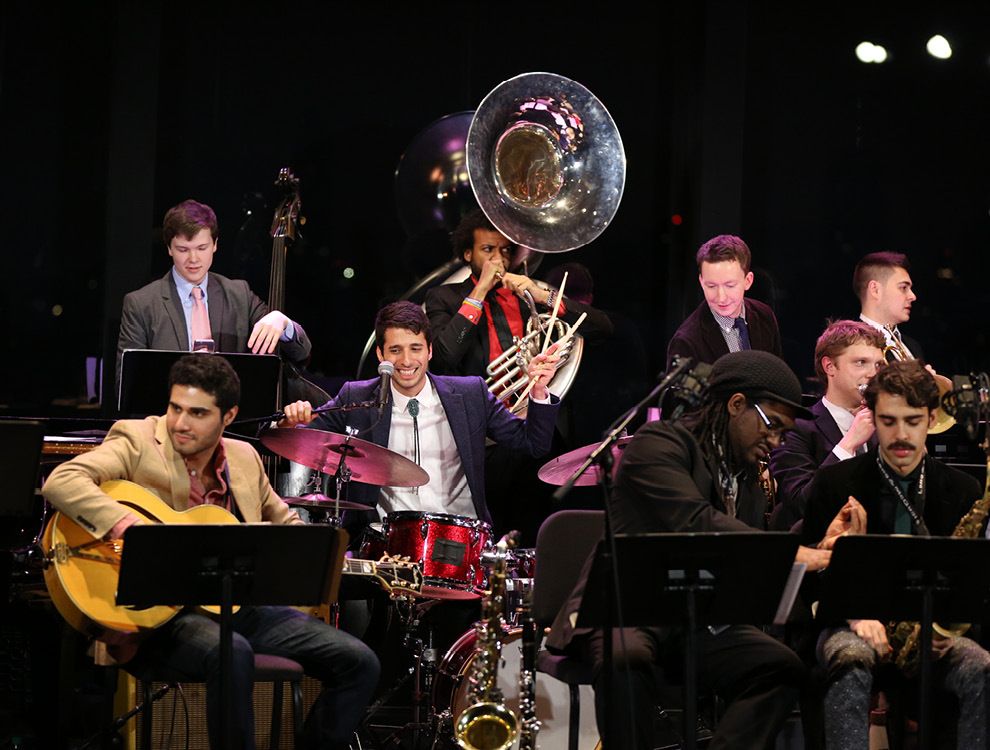 While we're still waiting (and waiting, and waiting) for an announcement on Coney Island's Seaside Summer Concert Series, that other great free music series in Southern Brooklyn will soon be underway.
Kicking off July 4, the annual Hot Summer Nights series produced by On Stage at Kingsborough (2001 Oriental Boulevard) will bring swing, ragtime, hot jazz and big band music to the waterfront.
All concerts are free and take place every Saturday evening in July at Kingsboough's bandshell, an outdoor venue where you can enjoy the ocean's breeze, picnic and boogie down.
Here's this year's lineup:
JULY 4, 8:00 PM
SWINGIN'' & SWAYIN'' ON THE 4TH OF JULY!
THE GEORGE GEE SWING ORCHESTRA
Featuring vocalists Hilary Gardner and John Dokes with special guest Lindy Hoppers
Get ready to jump, jive and wail to patriotic and all-American tunes with the George Gee Swing Orchestra. This swingin'' band has been together for over 30 years and deeply enjoys its hard-earned reputation as the swingin'-est, blowin'-est, heppest classic big band in New York City!
George Gee leads the house band at Swing 46 in Manhattan and made weekly appearances at the Rainbow Room and Edison Ballroom. The George Gee Swing Orchestra has dazzled audiences from Boston to Beverly Hills and from Zurich to Tokyo, including gigs at the "I Love Jazz" festival in Brazil and Lincoln Center's Midsummer Night's Swing festival.
JULY 11, 8:00 PM
FROM RAGTIME TO JAZZ!
WALDO'S GOTHAM CITY BAND

A recent sell out at Dizzy's Coca Cola Club at Jazz at Lincoln Center, pianist and bandleader, Terry Waldo leads his Gotham City Band in authentic versions of the music of such ragtime and jazz pioneers as Scott Joplin ("The Maple Leaf Rag"), Jelly Roll Morton ("Wolverine Blues"), Fats Waller ("Ain't Misbehavin'") and Louis Armstrong ("What a Wonderful World"). Terry has made over 50 highly acclaimed albums of ragtime and early jazz and brings to the stage the very best trad jazz musicians in New York.
JULY 18, 8:00 PM
BIG BAND DANCE PARTY!
SAMMY MILLER & THE CONGREGATION
Sammy Miller leads the hottest, most joyful dance party in town, as evidenced by his numerous sell-out engagements at Jazz at Lincoln Center. Comprised of the most sought after young talent in New York, Sammy's 17-piece jazz orchestra has earned a reputation as one of the swingingest bands in the land. They guarantee to bring audiences up on their feet and dancin'. Sammy's Motto: Jazz is joyful. Life should be too.
Sammy has performed and recorded with Wynton Marsalis, Christian Scott, Bobby Watson, Johnny O'Neal, David Benoit, and many others at venues ranging from the Bern Jazz Festival to the Hollywood Bowl to the White House. Among many honors, Sammy received the Los Angeles Jazz Society's Shelly Manne Award, the Dolo Coker Scholarship, the Los Angeles Music Center's Spotlight Award.
JULY 25, 8:00 p.m.
HOT JAZZ!
THE BRIA SKONBERG QUINTET
Trumpet trailblazer and vocalist Bria Skonberg brings her quintet to On Stage At Kingsborough in a set honoring "Ambassador Satch: The Music Of Louis Armstrong". Cited as one of her main inspirations, Skonberg was introduced to the music of Armstrong and the Big Easy through a jazz festival in her native hometown of Chilliwack, British Columbia. Now a 5 year New York resident, Bria is at the helm of a hot jazz revolution, evident by the successful Hot Jazz Festival of which she is co-producer and was named one of the Top Ten Events of 2014 by Jazz Times. Bria also received the New York Bistro Award for "Outstanding Jazz Artist" and swept the 2014 Hot House Jazz Magazine Awards in all categories nominated: Best Jazz Artist, Best Trumpet, Best Female Vocalist and Best Group. She currently tours the world, headlining major clubs and festivals.
Kingsborough''s gates open to the public at 7:00 pm and the concerts begin at 8:00 pm. Reservations are not necessary. A limited number of seats are available, but all are welcome to bring blankets and folding chairs for the grassy areas.
More information can be found here.