Freddy's Owner Donald O'Finn On Brooklyn's Bar And Art Scene
Freddy's Bar owner Donald O'Finn is a painter at heart, knows how to pour a good cup of beer, and has battled real estate developers, but most importantly, he continues to provide talented artists with a creative space at his bar after its reopening.
"These are all the people that couldn't make it in their field," O'Finn said in a recent Mixcloud interview with Mike Cobb, a local musician and Freddy's regular. "They're insanely talented people, but were short of making it."
Freddy's original location on 485 Dean Street at 6th Avenue has always been about the artists. But it first served as a cop haven in the Prohibition Era, and in later years, it became the eminent domain poster child in the fight against real estate developers.
Freddy's closed its doors to make way for the Barclays Center under developer Bruce Ratner. Soon after the bar reopened in 2011 — O'Finn's place proved resilient and more cutting edge than ever.
O'Finn's Bar Journey
The San Francisco native O'Finn has worked in the bar business for decades — witnessing people come and go — old and young — while bartending in New York. He learned their stories of love, tragedy, war, and heroism.
"I've always been a hardcore bar guy," O'Finn said. He found his calling at a San Francisco bar that played Frank Sinatra jukebox tunes. There, he understood the essence of serving the artist community in a saloon.
But what whatever you do, don't call Freddy's a "dive bar."
"I couldn't believe it when we were called a dive bar," O'Finn said. "I was really offended." He defines a "dive bar" as a "cool" place "because the owner is absentee and everything that's happening is accidental."
"Nothing in Freddy's is accidental." he noted, but realized that New Yorkers use "dive bar" as a way to describe saloons or a "real bar."
O'Finn landed a job at the original Freddy's, called the "CBGB of Brooklyn" or a "cultural institution" by locals — compliments he finds flattering — after working at O'Connor's bar across the street.
He left because the owner "cleansed" the bar of jazz musicians, writers, painters, and poets — people he considered his friends. "I couldn't stand it, so I took on Freddy's," O'Finn said.
At the time, Freddy's new owner brought in O'Finn to switch up the vibe. He changed the paintings, designs, and replaced the jukebox from Van Halen to blues and country — a real saloon as he imagined it.
Freddy's took 90s Park Slope by storm — a "rough" area along a "dicey" Fifth Avenue and bodegas with bulletproof windows, describes O'Finn.
The mahogany bar stood for more than 70 years, but when residents learned the Atlantic Yards Project had acquired Freddy's land, it devastated the community.
The Atlantic Yards Battle
"Nobody came in and said 'Hi, we're going to knock your bar down'," O'Finn said.
Freddy's battle against developer Bruce Ratner's controversial $4.9 billion Atlantic Yards Project, which includes the Barclays Center and 15 high-rise buildings, lasted seven years.
All eyes were on O'Finn and the working class Prospect Heights community who were forced to move elsewhere. "The monster that is commercial industry just grows," he said, referring to people being priced out of their homes.
"In the end, everyone got what they wanted," O'Finn said. Freddy's former owner Frank Yost took Ratner's deal and ran. "I knew we weren't going to win the war."
Demolition announcements prompted community support where people met in Freddy's basement to create protest signs. People even cuffed themselves to the bar with the "chains of justice," as O'Finn calls it and still does so.
O'Finn, in a nostalgic voice, remembered Freddy's last night on April 30, 2010, as "surreal." He poured the last glass of Brooklyn Lager beer, and that was it. "That bar died as an entity," he said.
Freddy's Lives On
O'Finn explored several venues in South Slope and eventually found Freddy's a new home at 627 Fifth Avenue (17th and 18th Streets).
It took two months to open up shop. O'Finn, along with co-owners Matt Kuhn and Matt Kimmett, brought in old bar parts to install it into the new. O'Finn's girlfriend New York artists Nancy Drew designed the bar's custom wallpaper.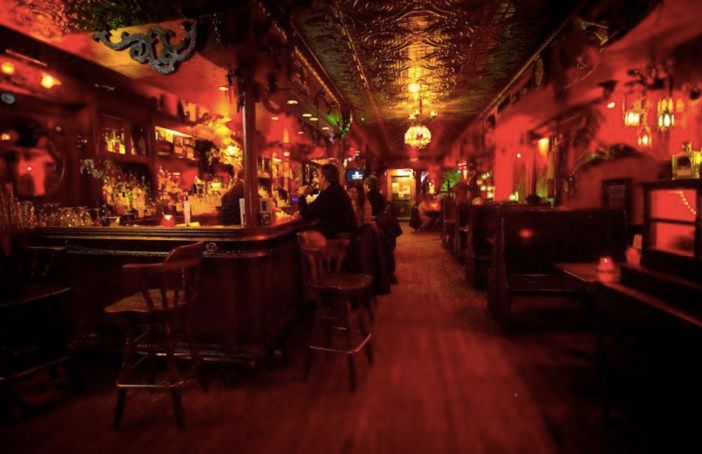 Freddy's reopened in early 2011 to cheers from old and new bar enthusiasts. "Everyone was so happy to see us," O'Finn said.
With at least 100 events a month, residents enjoy Comedy Mondays, opera nights, live music in the backroom, and international acts as well. A mashup of strange B-movies courtesy of O'Finn also transports people back to the 50s and 60s era.
"That was the main thing for us — the core foundation for great community," O'Finn pointed out. People would come to O'Finn with ideas to improve the bar or propose a theme of the night.
One patron suggested a "cringe thing" where people would read their embarrassing high school letters in front of the crowd, an idea O'Finn called "brilliant!" with excitement.
"This neighborhood that we're in now feels like old Park Slope to me," he said. "A mixture of artists and the original community."
Beers at Freddy's start at $3 and cocktails at $5. You can find the list of events and grub here.