Brighton Corner Renamed In Memory Of Devoted Civic Activist Frances Kaplan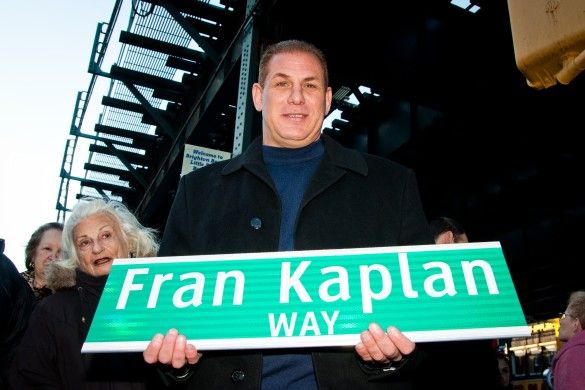 Dozens of friends, loved ones, community leaders and elected officials came out Friday afternoon to witness the unveiling of a new street sign on the corner of Brighton Beach Avenue and Brighton 1st Place, renamed "Fran Kaplan Way" after Frances Kaplan, a kind-hearted community stalwart who owned the dry cleaning establishment, York Cleaners, with her father Louis Levine for more than 60 years.
Kaplan, who lived just up the block at 3111 Brighton 1st Place, dedicated her time to volunteering for innumerable civic groups, including the Shorefront Senior Center, the Brighton Beach Business Improvement District (BID), the Brighton Neighborhood Association (BNA), the Older Women's League, and Friends of the Boardwalk, as well as with the 60th Precinct, the United Jewish Appeal, JASA and the Coney Island Democratic Club.
According to Kaplan's spirited son Eric, 47, his mom "was an amazing person." The Las Vegas businessman, who flew in for the occasion, was presented with a proclamation from a representative of Brooklyn Borough President Marty Markowitz, declaring December 1, 2011, "Frances Kaplan Street Re-Naming Celebration Day in Brooklyn, USA."
Reflecting on the amazing accomplishments of her childhood friend, with whom she frequently dined along with three other friends at Primorski Restaurant on Brighton Beach Avenue, Gladys Tripodi, could not agree more. After the ceremony, in which community leaders such as former Assemblywoman Adele Cohen, Brighton Beach BID Executive Director Yelena Makhnin (who organized the event), BNA Executive Director Pat Singer, BNA Board Member and former President of the 60th Police Precinct Community Council Judd Fischler, Assemblyman Alec Brook-Krasny, Community Board 13 District Manager Chuck Reichenthal, and Councilman Michael Nelson shared their memories of Kaplan over the years, Tripodi — who went to Lincoln High School with Kaplan, and knew her since they were both in first grade — told Sheepshead Bites that all the kind words spoken about her friend "were 100 percent true."
Brighton resident Frances Gerber also remembered Kaplan as "a devoted friend of mine and many others. She was there for many of us during good times and bad." Recalled Gerber of her friend:
She would do all kinds of things for the sick and needy. She would shop for us, take us to doctor appointments, sit by our hospital bedside, etc. If you needed a helping hand, Fran was genuinely there for you. Most important, she got involved because she loved her friends, family, and community. Perhaps, her sudden passing underscored G-d's need for her as soon as possible. So much work for Fran to accomplish here and everywhere. Spiritually, Fran is still very much involved. To say that she will be sorely missed is an understatement.
Kaplan also gave generously of her time as an electioneer, and got involved with dozens of activities in Brighton and beyond. According to a release, the ginger-haired activist with an infectious laugh and inquisitive personality "loved any opportunity to get out of the house with friends and take advantage of all the city's free cultural events. Frances had her hand in everything and tirelessly worked to ensure her neighborhood was cared for — from fixing the smallest pothole to ensuring adequate business development."
Frances Kaplan passed away in February 2010 at 81 years-old. Fittingly, she was on her way to a civic meeting. Since that time, friends, family and those whose lives she touched rallied to get the street renamed in her honor.