Fort Greene Video Artist Talks about Her First Feature, "Towheads"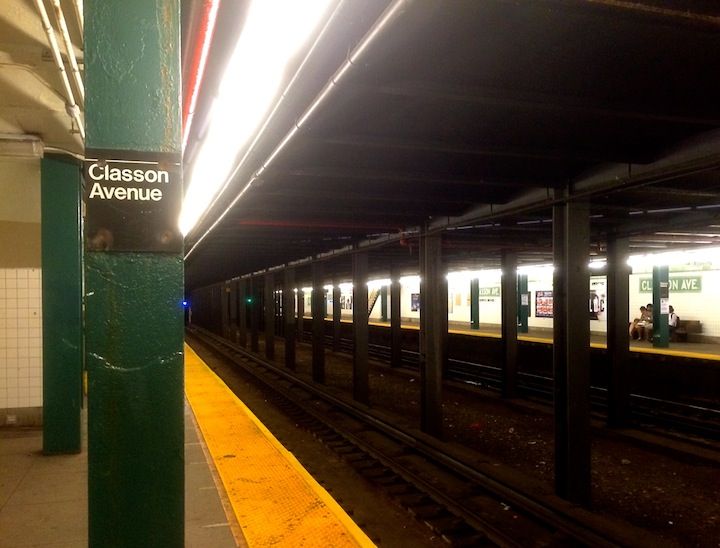 Fort Greene resident Shannon Plumb makes works of video art in which she portrays comic and fantastical, but also recognizable versions of everyday characters: the sunbather in the park, the businessman on the busy Manhattan corner.
In 2012, she directed her first feature-length film, "Towheads," in which a fictional Fort Greene resident, Penelope, struggles to find acting roles while raising her two young children without much help. Unwilling to continue accepting a stifling situation, she retreats to an attic room in her home, where her commitment to self-expression and interiority bends outer reality—her children and her busy husband—towards her.
"Towheads" was a family affair: Plumb's husband, filmmaker Derek Cianfrance, plays the role of Penelope's husband, and the couple's two children are the towheads of the title.
Rooftop Films, a Brooklyn nonprofit organization that shows movies outdoors and helps filmmakers develop their projects, screened "Towheads" atop the Trilok Fusion Center for Arts and Education at 143 Waverly Avenue on Thursday, July 25. The audience numbered about 200, with some standing with umbrellas after it started to rain.
Last week, we emailed Plumb several questions about "Towheads" and about life in the nabe as a mother and an artist. Here are her responses, which we've edited for length:
Like your character in "Towheads," you're raising a family in Fort Greene. For you, what are the benefits and challenges of being a mother here?
Plumb: The benefits all involve the community. The playgrounds are filled with moms all going through similar pleasures and sacrifices. Once you become a part of the neighborhood the support becomes very strong. When they say it takes a village to raise a kid it's true. The lessons are everywhere on the streets, at the basketball courts, at the stores where owners talk about their homelands. It's on the stoops as you push your stroller by.
The challenges are mostly [about] protection. You hope you think of everything your kid needs to know to walk alone. Whatever you don't teach him your neighbor will.
How does living in Fort Greene and Clinton Hill inspire you as an artist?
Plumb: The comedy and situations are everywhere. It's a field of ideas. The ways people relate to each other are so amazing. You find tensions and joy and awkwardness and anger and compassion. It's alive in Brooklyn. So alive.
How was making "Towheads" similar to making a piece of video art, and how was it different?
Plumb: [The movie] had so many possibilities, there were so many choices. It seemed to be a world inside a world that was even bigger than the world I lived in. My video art is a tiny world. I live in it for less time. It never feels like a space is fully formed. But with a feature there is a beginning and an end to get to. I enjoyed having more space to play with. More time. More connections.
The spontaneity that I love in the video art found its way into the feature. There were scenes that were written with some breath. There was room for the unexpected. That's the way my videos are. They are ideas used as traps for little bits of magic.
As described by Meryl Streep in the "Fresh Air" interview excerpt you use in the film, your character faces difficulty finding work as an actress in her 40s. Do you think that middle-aged women also face adversity when it comes to finding work as directors?
Plumb: I think there's a freedom for women being directors because it's about their smarts and creativity, not about their faces and breasts. But whenever I ask people to name 10 directors there's usually not a woman on their list.
What did you learn about adult life and creativity during the making of "Towheads?" Which scenes are particularly important for you in this respect?
Plumb: I realize you have to do that "growin' up" thing when you have kids. But you also have to preserve your Peter Pan too. Balancing maturity with your own silliness is not easy but too much of either one is no fun.
The scene where Matt tells Penelope "I'm living in the real world" surely stands out for me. (In this scene, Penelope's husband, a theater director, explains that he earns money to pay rent and buy food.) I think artists have trouble living in reality. It's not where they want to put their energy. Most of the time I just want to make enough money to buy enough time to write another script or create 10 short videos.
Have your children seen the film? What do they think of the story you've told?
Plumb: The boys have seen the film on a small computer. I don't take them to screenings because seeing yourself that big on screen is not normal. We're trying to be normal.
How can people see the film now?
Plumb: "Towheads" was chosen as one of two features to be shown on the New York Times website from Sept. 3 to Oct. 2. It will be streaming for the whole month. Everyone with access to a computer or iPhone will be able to see it.
You can watch the trailer for "Towheads" here, and see some of Plumb's short videos on her website. Visit Rooftop Films to see its schedule of August screenings.