Fort Greene Park's MulchFest 2015 Sets Record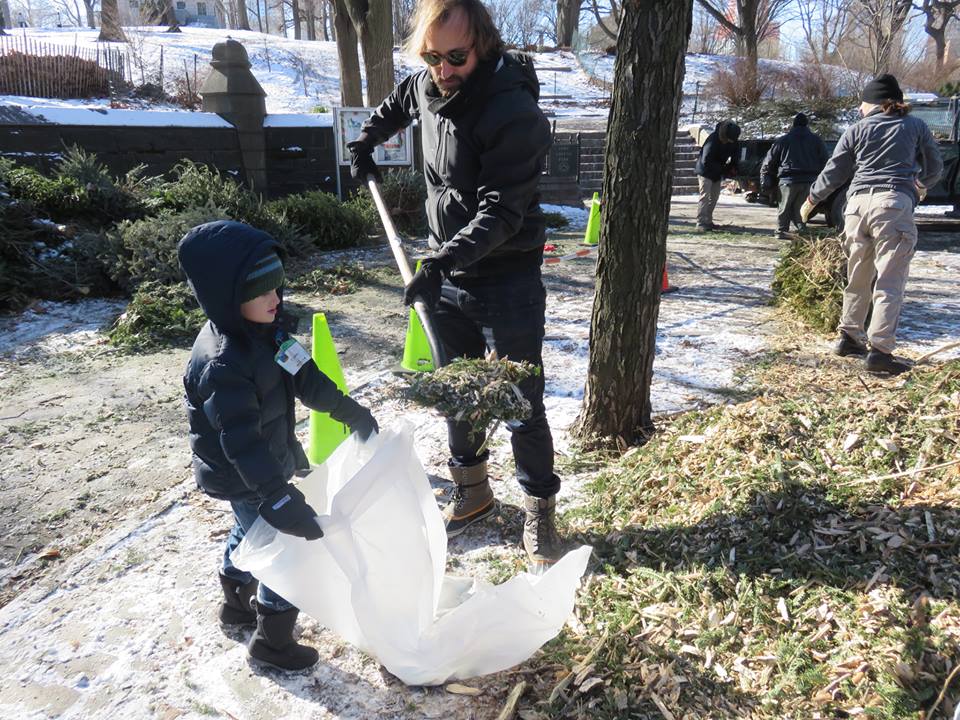 MulchFest 2015 was a smashing success at Fort Greene Park this past weekend, with a record 1,743 trees mulched — the most of any park location in Brooklyn, according to park director David Barker.
The good news doesn't end there, though, as the freshly cut — and wonderfully fragrant — piles of wood and pine needles have already been and continue to be distributed throughout the park in garden beds, around tree pits and in common areas.
Barker explained the benefits of mulch, stating that "the mulch helps the soil retain moisture, adds a pleasant color and smell to the winter landscape, and reduces the impact of the constant freeze/thaw cycles on park plants."
A big help was that "this year, we had the Million Trees NYC initiative volunteers on hand, who directly moved the mulch out to where it was needed right on the very first day, instead of having a huge pile of mulch waiting," said Charles Jarden, chair of the all-volunteer Fort Greene Park Conservancy (FGPC).
In the end, "we had the best turnout we've ever had," Jarden said, noting that he initially wasn't sure how it would be since this was the first year that MulchFest was moved away from the Willoughby entrance (which is still under renovation) and placed instead at the Myrtle Avenue/Washington Park entrance. "
According to Jarden, the Fort Greene Park holiday tree was the first to be mulched and there were no tears amongst the youngest participants to see the holidays end.
"The kids in attendance absolutely loved "the action of the chipper cutting through the branches and dramatically throwing out chips and smoke and fragrant, clean wood," marveled Jarden.
Adding to the festive atmosphere was the fact that local business The Greene Grape yet again provided hot apple cider for everyone, plus hot coffee — too invaluable donations during a weekend that saw 17-degree-Fahrenheit weather.
That huge turnout proved that MulchFest 2015 was a truly community-wide event. Not only did many residents take home bags of mulch to use in home gardens and even as potpourri — over 1,000 trees mulched also means over 1,000 families/households who participated — but neighborhood community garden Myrtle Village Green also received two truck loads of fresh organic material for their plantings.
Located on Myrtle between Franklin and Kent Streets, Myrtle Village Green is one of the first empty asphalt sites allowed by the city for use as a community garden, which has been operational for a few years now.
"Our mulch is for organic material on top [of the asphalt], so we have something a little nicer in common areas than walking on pavement," explained Sam Tresler, a volunteer with Myrtle Village Green. "If anyone wants to volunteer, we're going to be doing a community agriculture growing bed this year and volunteer days throughout the year."
"We have great, generous partners to make this a success," said Jarden, referring to The Greene Grape and the Myrtle Avenue Brooklyn Partnership, with whom FGPC also collaborates with on Wallabout Tours and kids concerts.
"It was a lot of fun," he exclaimed. "It's exceeding our expectations."