Fort Greene Institution Frank's Cocktail Lounge Marks 40 Years On Fulton Street

New bars and restaurants open in Fort Greene and Clinton Hill on what feels like a daily basis, and how long they will last is anybody's guess–but few will span generations and become neighborhood institutions like Frank's Cocktail Lounge, which will celebrate its 40th anniversary on Fulton Street this October.
Frank Perkins opened his establishment (660 Fulton Street, between Lafayette Avenue and South Elliot Place) in 1974. It was a family business, and it wasn't Frank's first–his son Tyrone, who now manages the bar with brother Terry, says the family has had various businesses in the area for about 60 years.
The neighborhood was different back then, with the area around Frank's considered something of a red light district. Many of the bars along what was then dubbed "The Strip" accommodated the appetites of thousands of Brooklyn Navy Yard ship workers who were often looking for more than just booze, whether for drugs or illicit companionship–but from the beginning, longtime patrons remember, Frank Perkins never let that element into his place. Robert "Bob" Adams, who frequented the lounge back in the 1970s and 1980s, says Frank's stood out from the competition. People got dressed up to go to Frank's, and Frank kept the drugs and prostitutes out.
"It was a friendly atmosphere," Bob recalls. "Frank was very, very friendly. But I knew he didn't like bullshit."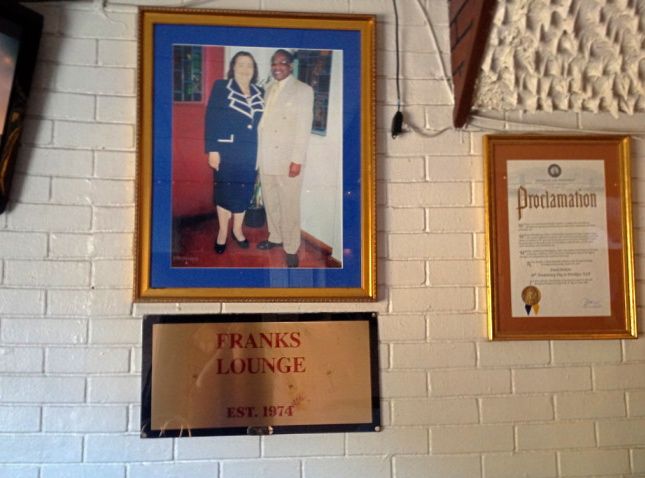 Frank's broad appeal has endured through the decades, with the bar keeping effortlessly true to its original character. Longtime patron Brendan Bliss, who has been coming to the Frank's for the better part of ten years, appreciates its history and authenticity.
"In a neighborhood where you can't make a dollar selling a beer without hookahs or other gimmicks, Frank's looks unchanged. That's refreshing in a neighborhood as ever-changing as ours," he says.
Brendan is onto something–today, the area's not like what it was when Frank's first opened. Tyrone has witnessed the transformation, too, but is determined to see what the next 40 years are like.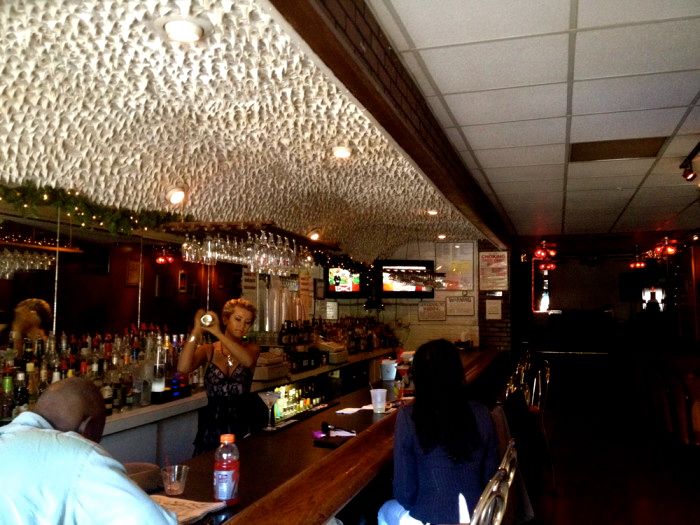 "I've seen the neighborhood change a few times," he says. "It's always different the people that come in. Everybody gets tired of doing the same thing after while–but, you know, something happens and you just want to keep doing it."
Today, Frank's has karaoke on Wednesdays, DJs on weekends, and one of the best jukeboxes around with its heavy dose of hip hop, R&B, and soul singers like Aretha Franklin, Percy Sledge, and Jimmy Ruffin. And, of course, all are welcome to stop in.
"We're real, genuine, and very inviting, so people feel at home–like they're regulars," Tyrone says. "Come by; check it out."
By Paul McCaffrey