Fort Greene Honors Jazz Legend Betty Carter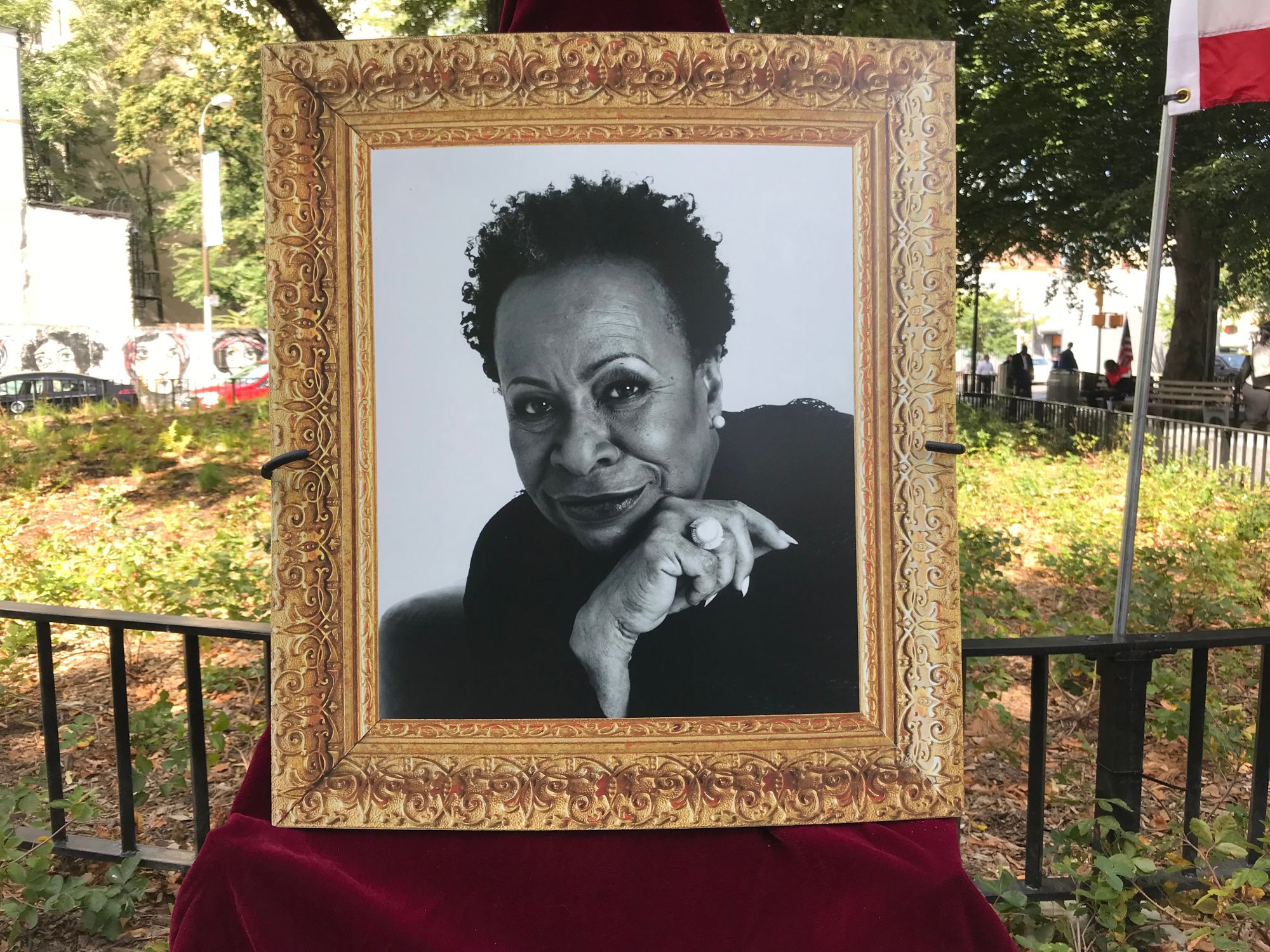 FORT GREENE – Fort Greene was alive with music and excitement Friday morning as NYC Parks, Downtown Brooklyn Partnership, and Majority Leader Laurie Cumbo hosted a ribbon-cutting ceremony for the official opening of Betty Carter Park.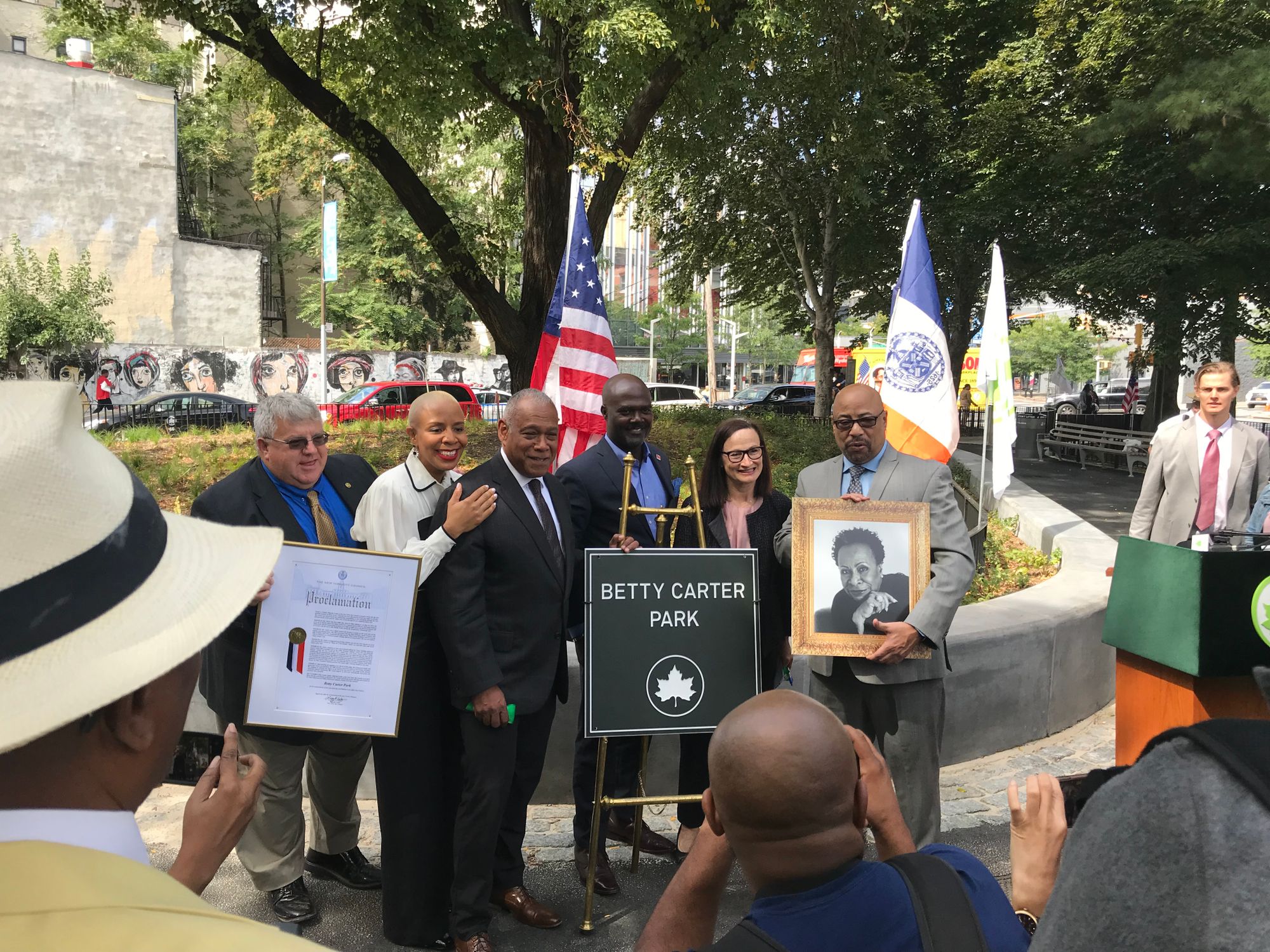 "I am so excited that this day is here," Cumbo told the large group gathered at the green space. "This has been a long time coming and I just couldn't be happier to see all of the energy and the enthusiasm that has gathered here today for the renaming."
Located across from the Brooklyn Academy of Music (BAM) and bordered by Fulton Street, Lafayette Avenue, and St. Felix Place, the space was previously known as BAM Park. NYC Department of Housing Preservation and Development formerly owned the park space, originally opening it in 1985, but after years of neglect and disrepair, closed it in 2005.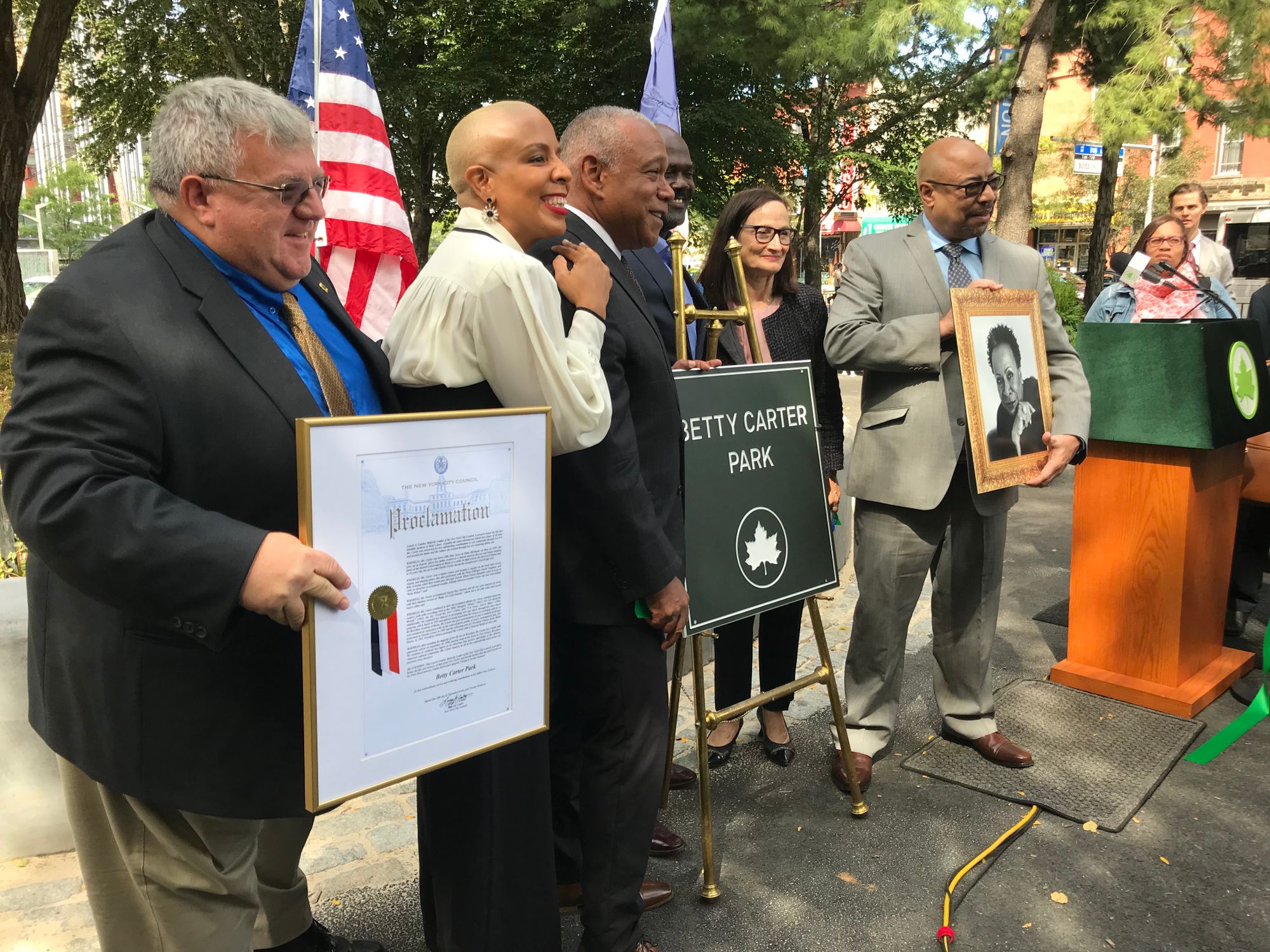 The Downtown Brooklyn Partnership managed the construction of the project to upgrade the 10,000-square-foot triangular park. Work began last October with McKissack & McKissack serving as the construction manager and Quennell Rothschild & Partners overseeing the design which includes new plantings and pathways; new water fountains; new sidewalks; the removal of high fences surrounding the park; new seating areas; and a raised deck area on the eastern corner for performances and programming. NYC Parks reopened the space in August.
Along with the $3.2 million in upgrades, the park also received a new name—Betty Carter Park—honoring the renowned jazz vocalist and former Fort Greene resident.
"This is really huge because when we think of how we name things and how we recognize the accomplishments of those that came before us, a park is a beautiful way to immortalize someone's legacy, their history, and to pass that down from generation to generation to generation," Cumbo said. "This is such a huge honor and it's going to be such a delight to be able to teach our children about Betty Carter and to explain to them who she was."
Carter was a Grammy Award-winning artist who performed with jazz icons including Miles Davis, Dizzy Gillespie, Charlie Parker, Ray Charles, Max Roach, and many more. She also performed with Lionel Hampton, added Cumbo. "Lionel Hampton fired Betty Carter seven times, but he knew that this was a sound that he needed and he knew that this was a woman that could not be controlled," she said. "As they say, well-behaved women seldom make history."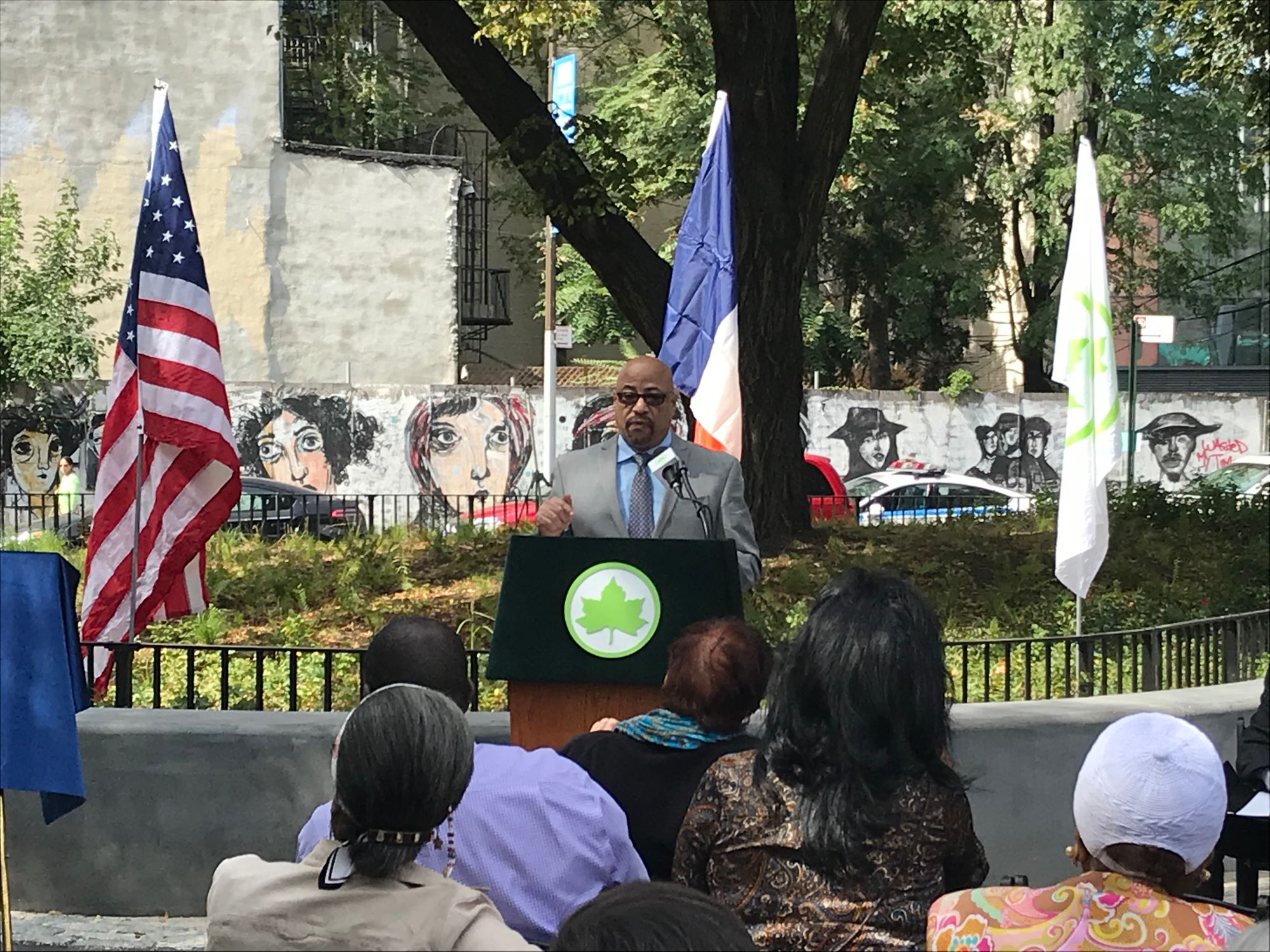 Myles Redding, one of Carter's two sons, remembered his mother at the ceremony. "Mom loved Fort Greene, she fully embraced the community and received much love in return," he said. "Around the world she was known as legendary jazz artist Betty Carter, but here in Fort Greene, she was just Betty or Ms. Carter."
Though an internationally renowned performer, Carter remained humble. "She lived without pretense," Redding continued. "She shopped at the old Pathmark for her groceries. When she needed supplies to work on her house or her garden—both which brought her great joy—she would walk right up to Seven Corner Hardware (710 Fulton Street), which is now a beer garden, to get what she needed. When she had to be in the city, she would go right over to Atlantic Avenue station just like everybody else."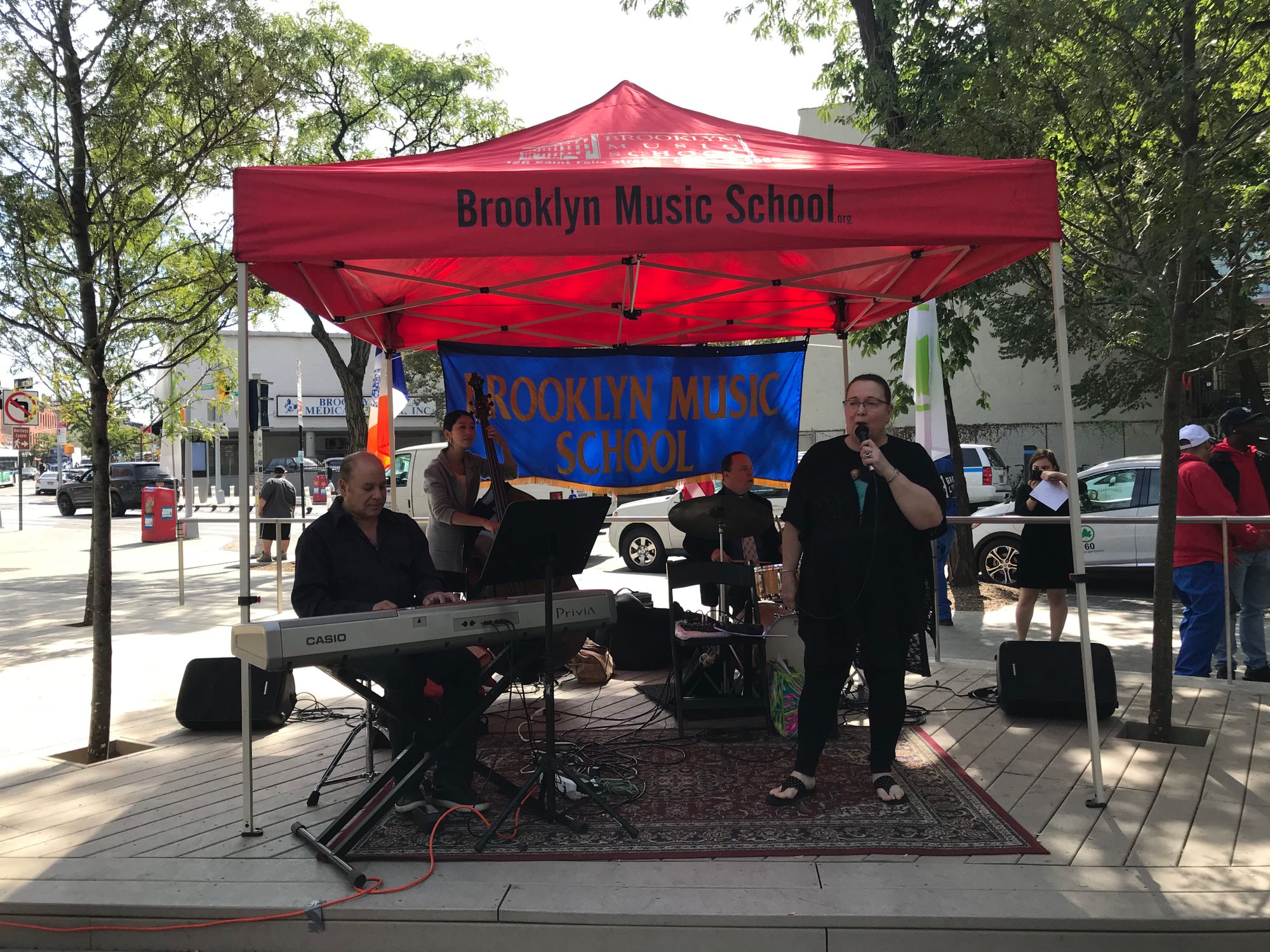 Carter received the National Medal of Arts from President Bill Clinton in 1997 and founded Betty Carter's Jazz Ahead in 1993, an international jazz residency program that trains emerging young jazz artists and composers.
"She committed herself to inspiring and teaching future generations of young musicians by launching her critically acclaimed jazz program right here in Fort Greene," Redding noted.
Another accomplishment during Carter's "wonderful and powerful career" was the launch of her independent record label Bet-Car Records in 1969, Cumbo noted. "We're talking about '69 and a black woman created her own record label, putting her own music out there at a time when nobody thought a woman could do that."
"We recognize throughout New York City that people of color—and particularly women—have been under-recognized in terms of their accomplishments to the city of New York, and we are beginning the process of righting that wrong," Cumbo said.
Redding fondly said that he could picture his mother's smile of approval during Friday's ceremony. "I feel her spirit today," he said. "Thank you so much for honoring her with this wonderful park."
.