Former Knicks Star John Starks Visits Kings Bay Y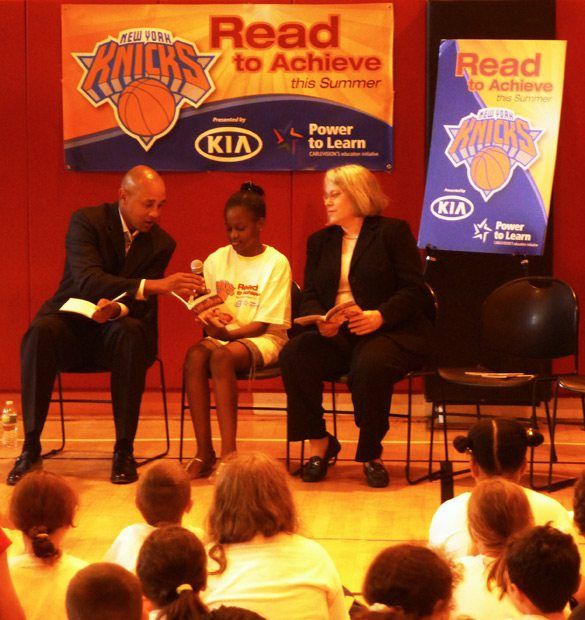 Former New York Knicks icon John Starks stopped by the Kings Bay Y (3495 Nostrand Avenue) on Thursday, but instead of showing off his basketball skills he came to show some local youngsters the importance of reading.
The New York Knicks Read to Achieve program, in partnership with Cablevision's Power to Learn education initiative, teamed up with the Kings Bay Y Summer Camp to host several dozen campers for a reading of Cam Jansen's "The Basketball Mystery."
The reading was followed by a prize giveaway, where a few lucky campers won Knicks tickets, hats and t-shirts. Afterwards, the basketball star signed autographs and took time to answer questions and talk about the program.
"Reading is so important to becoming successful and to know what is going on in the world. Growing up my mother encouraged me to read, and I wouldn't be where I am today without that encouragement," said Starks, who has participated in Read to Achieve for the last seven years.
The former Knicks ball handler will always be remembered most for his dunk over Michael Jordan in the 1993 NBA playoffs, and although he played for several teams, he maintains his connection with New York.
"I played for four different colleges and a few different NBA teams, but New York CIty has always been my favorite place to be."
The event was made possible by Assemblywoman Helene Weinstein.
"Getting kids to read in the summer can be tough. We're thankful that Cablevision and the New York Knicks decided to bring their reading program to our area," said Weinstein.
Starks has been traveling around New York with the Read to Achieve program, and was happy to visit the Y. "I grew in a gym like this. It's great that kids in this area have a facility like this where they can get off the streets and play some games."