Forget Wall Street, KBCC Occupies Pancake Breakfast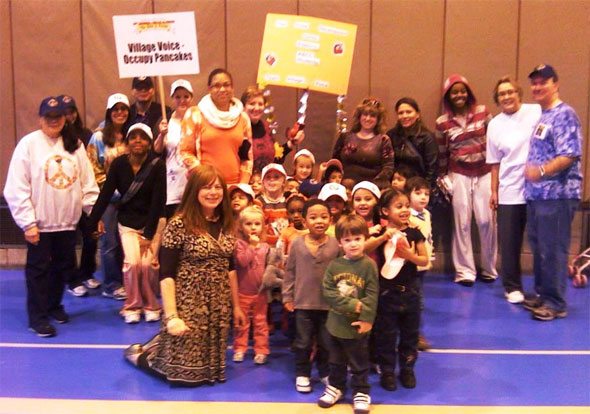 There's a new twist on Kingsborough Community College's annual walk-a-thon fundraiser: walking AND occupying a breakfast table.
Despite the rainfall on November 16, The Occupy Pancake Breakfast and Walk-a-Thon successfully raised more than $20,000 for Kingsborough Community College student scholarships.
Chants of "Hey, hey, enough with Goldman Sachs, give us some of those golden stacks" echoed through the hallways, as participants marched along.
The breakfast, which was held from 8:30 a.m. to 11:00 a.m., took place at the Academic Village Terrace Room in the college. It fed almost 200 people, while nearly 700 people took part in the walk-a-thon by walking indoors through the campus and donating $7.
The Continuing Education Program, which is housed in the Marine Academic Center (MAC), was represented by Team MAC & Cheese in the walk-a-thon.
"It was kind of a play on what is going on. It was to highlight the positive things we are doing here for students," said Michael Goldstein, the event planner and MAC & Cheese teammate.
And, before anyone gets all riled up about parallels between this and what's going on in downtown Manhattan, there's another Occupy Pancake Breakfast motto for you: "Pancakes before politics." So chill out.