Food Stuffs: Khachapuri & Khinkali From We Are Georgians
Food Stuffs is a column exploring the gastronomic landscape of Bensonhurst and the surrounding neighborhoods. Each entry will cover anything and everything remotely related to food. Because here in Bensonhurst, food is always news.
The first time I tried Georgian dumplings, or khinkali, I did it all wrong. I know this, because I was suddenly being tsked gently by two women.
"If you eat traditional food, you must eat traditionally. You must taste the juices inside to get the full taste," said Marina Olivo, owner of We Are Georgians, located at 230 Kings Highway.
Apparently, cutting the steamed dumplings open with a knife is sacrilege in Georgia. When I tentatively bit into a whole dumpling, I finally understood, savoring the hot juices exploding in tiny bursts, the thin, pasta-like dough, and the vibrantly spiced pork mixture.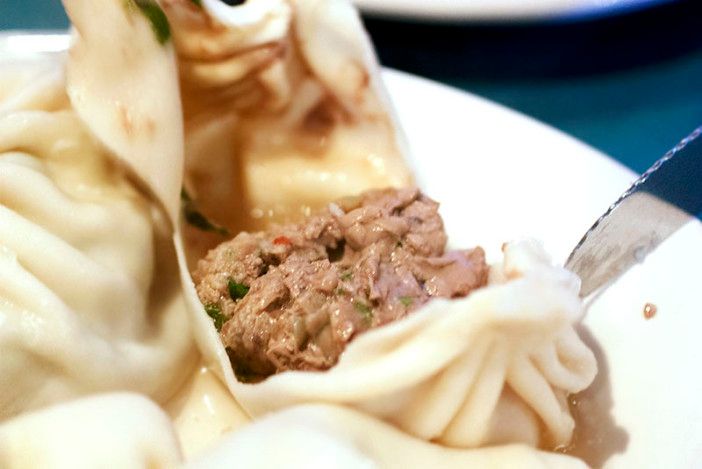 Georgian national pride is evident, not just in the eatery's name, but also in the loving way Olivo talks about her home country.
"Most people associate Russian culture with Georgian, but nothing — no language, no alphabet, no food — is similar," said Olivo, who was a seismologist before getting into the food business.
But that hasn't limited the restaurant's appeal in Bensonhurst. According to Olivo, Russian locals of a certain age gravitate towards Georgian food, because it reminds them of childhood vacations their families used to take to Georgian resorts along the Black Sea.
"What they remember when they come is the unique Georgian hospitality," she said. "Georgia is known for being the most hospitable country ever, and I'm very proud of it."
Indeed, eating at We Are Georgians feels like being invited into Olivo's home. The casual dining tables offer a clear view of the kitchen, where Olivo and her nephew cook up traditional dishes and bake brick-oven bread exactly the way Olivo's mother used to make them.
As for the most popular dishes at We Are Georgians? The aforementioned khinkali, and also khachapuri ($10.50), Geogia's national dish, which looks like an oblong thick-crust pizza with a very runny egg trembling in the center.
A thick chunk of butter sits beside the yolk. The farmer's cheese melted onto the boat-shaped pie is salty and rich. Just stir the yolk and butter around the concave middle, allowing it to seep throughout the crusty bread, and eat.
Pair the gooey dish with a Georgian salad ($7) — tomatoes and cucumbers bursting with red onions and cilantro — for a delicious, hearty, and well-balanced meal.
Visit We Are Georgians at 230 Kings Highway or call them at (718) 759-6250. Check out their reviews on Yelp here.