Food, Shopping, Music & Fun At The Fabulous Fifth Avenue Fair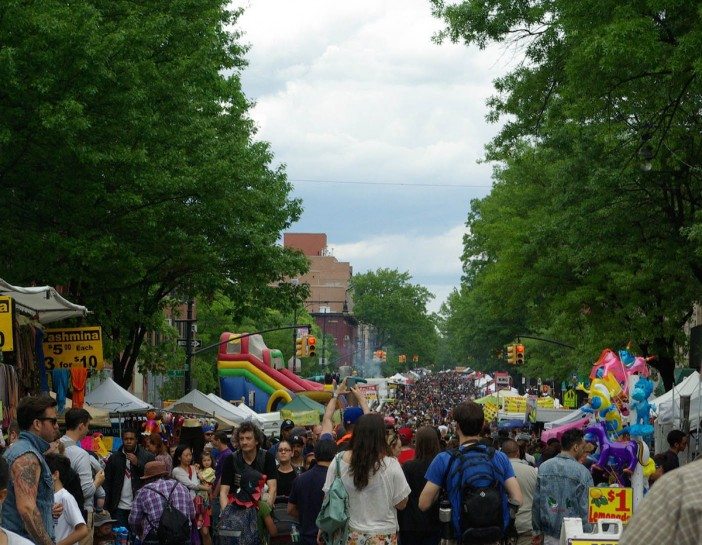 Perfectly sunny, spring weather combined with fantastic entertainment made for a lovely day for all to enjoy at the Fabulous Fifth Avenue Fair from the Park Slope Fifth Avenue BID!

Rosanna Peña, seen above with her daughter Alyssa Parra, is from Sunset Park, and she says she loves to visit each year to enjoy time with her family while shopping and finding fun activities for her daughter.

The crew from Le Petit Chandelier Salon — Nicolby Westover, Joanne Manfredi, Gina and Christine Verrengia — were out and about, enjoying the fair and looking festive, colorful, and lovely.

Vera Obias from Du Jour Bakery provided an impressive selection of her famous pastries.

The talented young students from the Brooklyn Music Factory treated the crowd to their rendition of the song "Happy."

Among those entertained was Ruby from La Belle Crepe.

Luke's Lobster, which hopes to open sometime this July, set up a little pop-up in front of what will soon be its location at 237 5th Avenue at Carroll Street. Ben Conniff (pictured above, right, with Lauren Carter from Grimm Artisanal Ales), who has been a Park Slope resident for about seven years now, is really excited about the Park Slope location. He says their menu will offer "really fantastic Maine lobster rolls, crab rolls, and shrimp rolls. A really great New England clam chowder with fresh, wild clams. Probably the best clam chowder you've ever had."
Ben says that they're doing their best — as they do with all of their locations — to fit in with the fabric of the neighborhood, and will therefore be offering delivery service and garden seating. The cozy spot will have about 20 seats inside and 20-30 outside.
Another exciting factor is that for the first time they'll be offering tap beer. "Part of that is also having Grimm Artisanal Ales on tap," Ben says. "They're founded in Gowanus and they live in Gowanus. So we're bringing a little local flavor to the beer selection also."

Lauren and her husband Joe Grimm started Grimm Ales just less than a year ago. As a self-described "gypsy brewery," which means that they are a nomadic brewery, they don't own their own commercial brewery, so they phone existing ones in the northeast and beyond to ask if they have the capacity for Grimm to come in a brew a batch in their facility. When they get the green light, they go in for a brew date and leave it there onsite to ferment for three or four weeks. Once it's finished, they bottle it and bring to New York State.
Each recipe is unique, and each batch is a limited edition. At the moment they're serving up their newest variety, which is a  Belgian Triple IPA. Always ready to experiment with wonderfully balanced and flavorful beers, next month they will offer a smokey and sour German-style beer.

Bay Ridge resident Charissa Manners, who works in the neighborhood, visits the fair each year to check out the different concessions and vendors. We caught her enjoying a beer from Grimm Ales, which she said was refreshing, delicious, and not too hoppy.

Shiro & The Raw Dogs are "whiskey soaked, greased up rockabilly insanity." They rocked out and entertained the crowd in front of Guvnor's Vintage.

The Windsor Terrors, a local British Invasion-inspired band, performed in front of The Chip Shop.

Brownstone Dog Walkers, and a very big pooch, were on hand, as well.
How'd you enjoy the fair?