Flatbush Council Race Splits Democratic Party Into Establishment Versus Reform as Election Day Approaches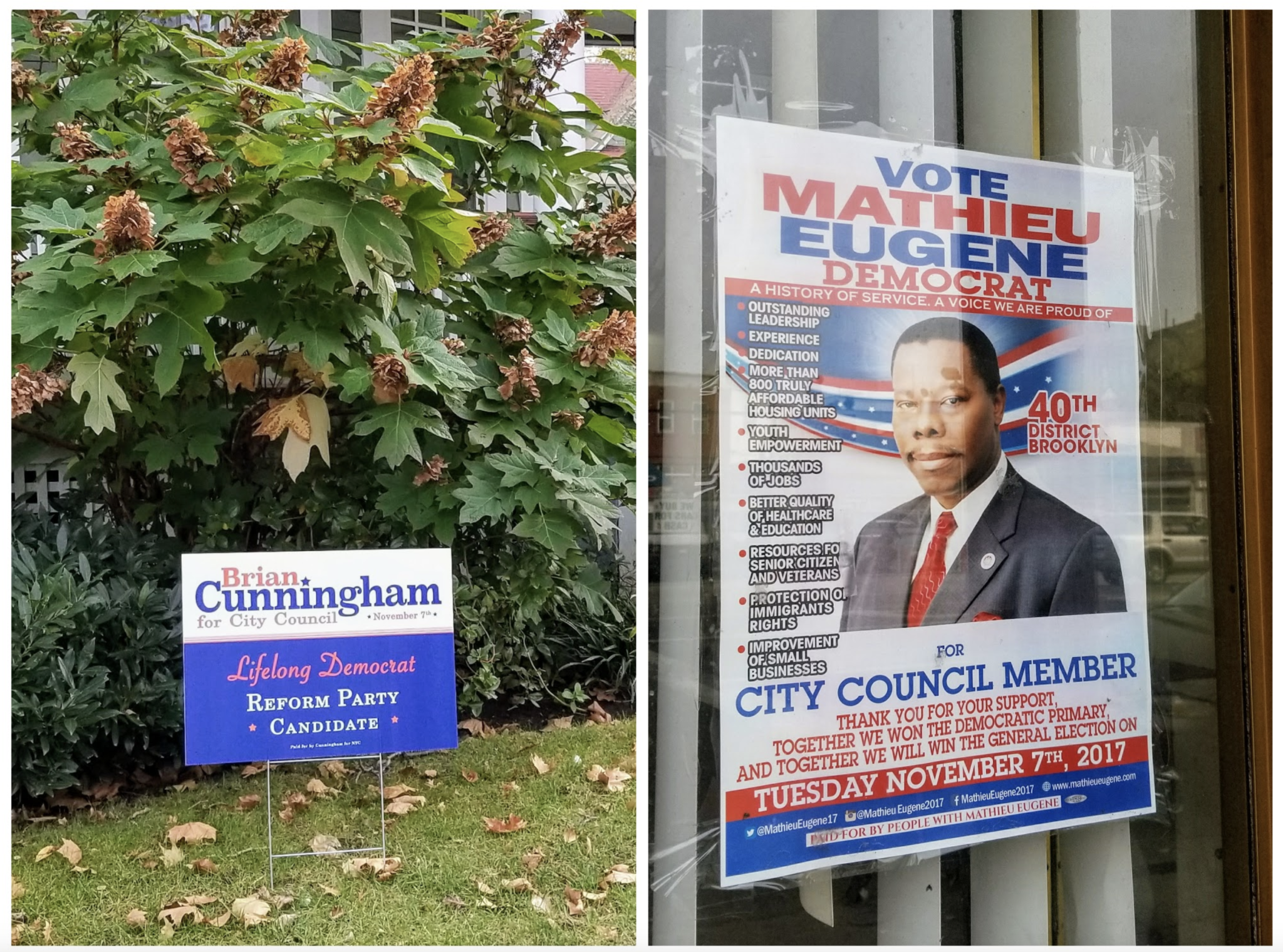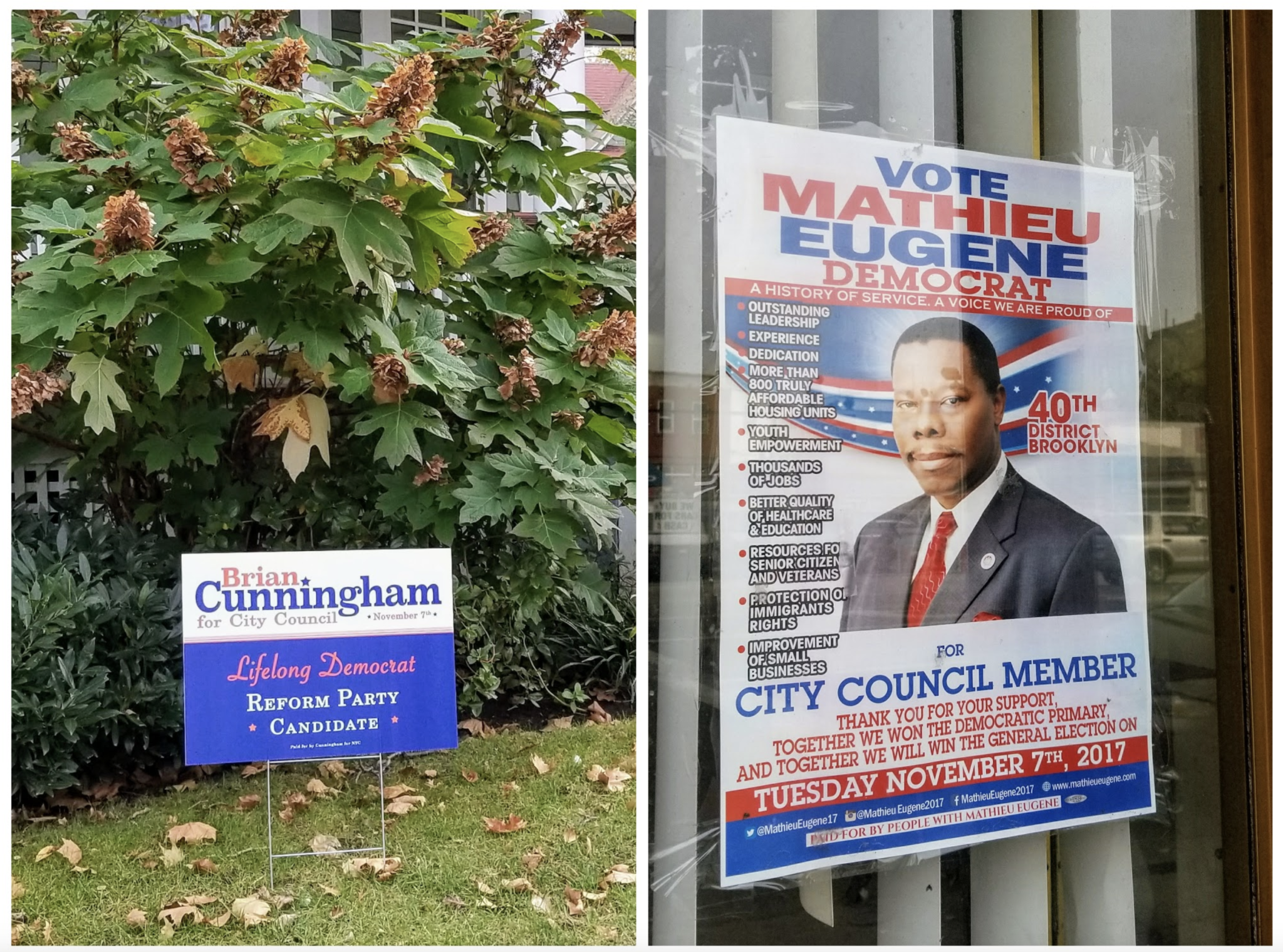 FLATBUSH – A surprise endorsement of Brian Cunningham by the Working Families Party has shaken up the 40th district council race in central Brooklyn.
After representing parts of Crown Heights, Prospect Lefferts Gardens, Kensington, and Flatbush since 2007, Dr. Mathieu Eugene hopes to win a final four-year term that would make him the city's longest-serving council member. To do so, he must again defeat Cunningham, who lost to Eugene in September's Democratic primary but will appear on the on the Reform Party line in the November 7 general election.
The labor-affiliated Working Families Party endorsed Cunningham in mid-October. Party co-chair Dorothy Siegel had told Kings County Politics in September that the party would probably decline to endorse a candidate.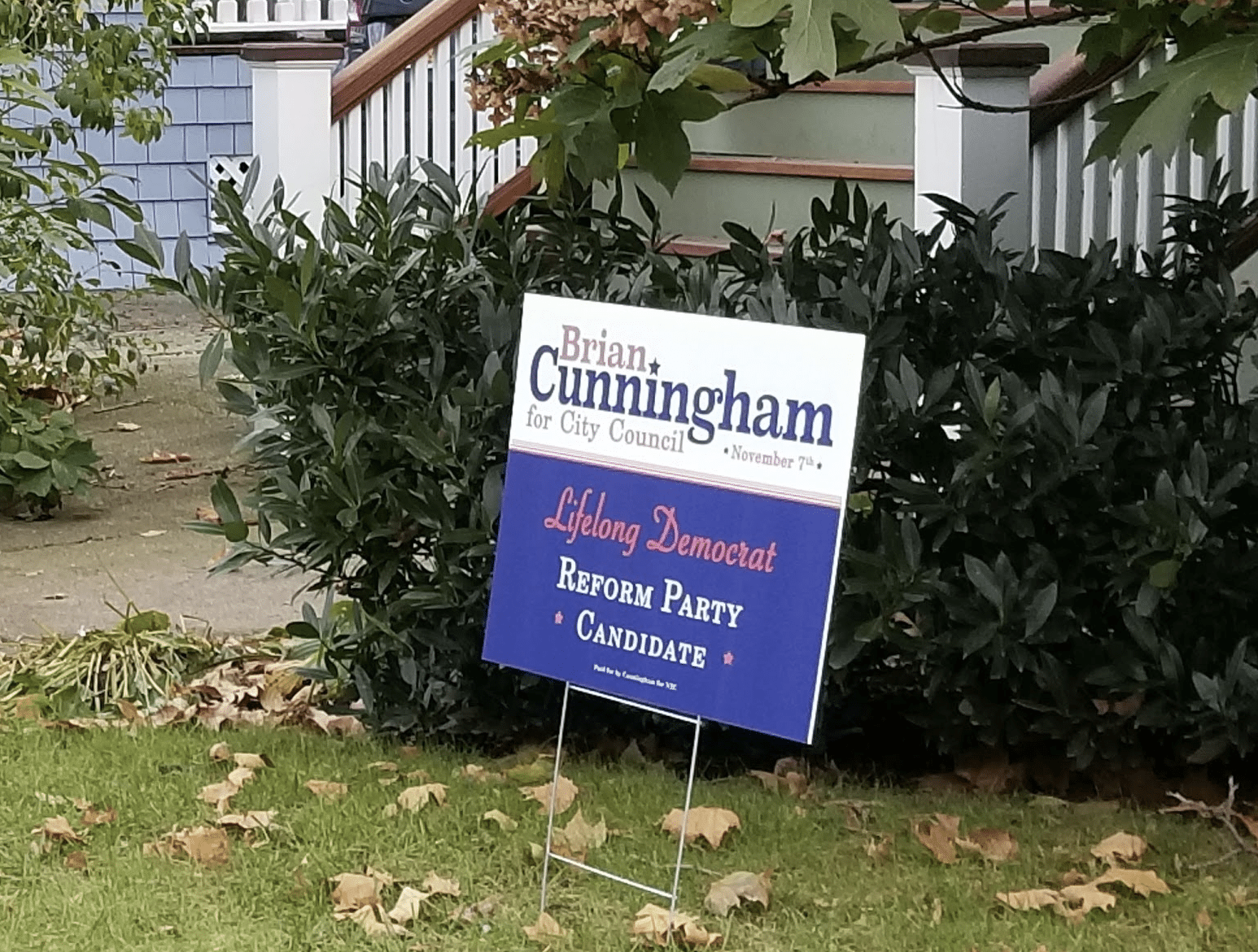 "Brian Cunningham has proven to be the candidate that inspires progressives in the 40th District," said Working Families' Dom Leon-Lewis in an email. "The energy his campaign and platform have stirred up made it clear that he is the progressive choice."
The late endorsement bothers Eugene, who claims that the endorsement caught him and his supporters off-guard.
Most of Working Families' electoral successes have come in central Brooklyn, where it played crucial roles in the candidacies of former councilmember Letitia James and state Assemblymember Diana Richardson.
The endorsement pits factions of the city's Democratic establishment against one another. Labor unions are split between Eugene and Cunningham, who has sought to define his candidacy by appealing to the district's progressives.
Eugene, the first Haitian-American elected to the city council, has the backing of many of the city's most prominent Democrats. He secured big-name endorsements including Mayor Bill de Blasio, Congresswoman Yvette Clarke (whose council seat he won in a 2007 special election), and Senator Chuck Schumer. According to documents filed with the New York City Campaign Finance Board, Eugene's campaign has received contributions of at least $2,000 from five other city councilmembers' campaigns and five organized labor groups. Cunningham hasn't received any donations larger than $1,500.
Despite these advantages, Eugene won the September Democratic primary with just 41 percent of the total vote. Cunningham won 30 percent, and Pia Raymond won 22 percent.
"I think Eugene is vulnerable," said Dr. Christina Greer, an associate professor of political science at Fordham University and author of "Black Ethnics: Race, Immigration, and the Pursuit of the American Dream".
Greer believes some in the community may have soured on Eugene's legislative record in contrast to neighboring councilmembers Jumaane Williams and Laurie Cumbo. According to the Council's Legislative Research Center, Eugene has passed seven laws as first primary sponsor during his decade in office. Williams has passed 41 since 2010 and Laurie Cumbo has passed 15 since 2014.
Though he voted against extending term limits in 2008, Eugene is among the last councilmembers eligible under the legislation to serve a third term. A victory would allow him to serve on the council for over 15 years in total—a uniquely long tenure since the city first imposed a two-term limit in 1993.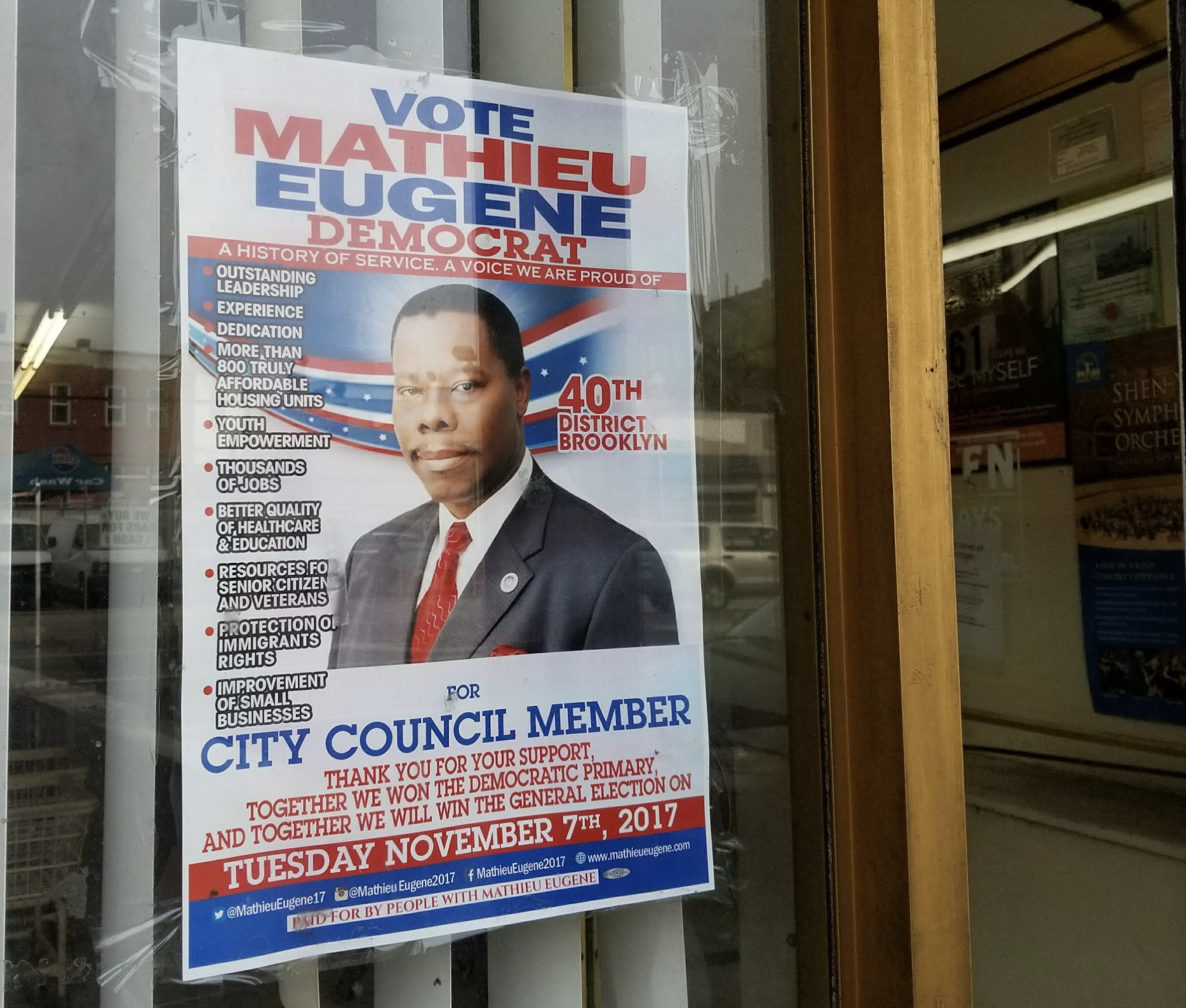 "That's the law of the City of New York," Eugene said by phone when asked about his decision to seek a third term. "I just have to abide by the law. In addition, the people of my district know that I've been doing so much to improve quality of life and they say that I deserve another term."
When roughly three in five primary voters voted for someone other than Eugene, Cunningham decided to continue his campaign on the Reform line. In an interview at the Bklyner offices, he said that the decision should not come as surprise to anyone, as the Reform Party was one of his earliest endorsements.
Eugene disagrees. "They went through the primary election, they lost and they flipped parties," he said. "They don't respect democratic principles, they don't respect our core democratic values."
The Reform Party is a result of New York's unique fusion-voting election laws. As a Republican gubernatorial candidate in 2014, Rob Astorino received over 50,000 votes on a ballot line he began called "Stop Common Core". The vote total established the line on the ballot moving forward, and it changed its name to the Reform Party to broaden its appeal.
Last year, the party was subject to a hostile takeover by Guardian Angels founder Curtis Sliwa and Frank Morano. Since then, the party has endorsed Democrats like Westchester County's George Latimer and mayoral candidate Sal Albanese.
Eugene, 63, described the race as a choice between experience and ambition. "If you compare what I've been doing and what my opponent have been doing, there's no comparison at all," he said citing his work to expand summer job opportunities for youth and consistent support for the district's King's County and SUNY Downstate hospitals.
"I think this race is about a community that's been underserved for the past 10 years and become aware of how other communities are benefiting from having leadership in City Hall," said Cunningham, 32, by phone. "I certainly am a candidate who comes into this race far more experienced than the incumbent was when he came in 10 years ago."
District voters will have another chance to hear the candidates make their case in person in a debate at St. Paul's in the Village of Flatbush at 157 St. Paul's Place on Sunday, November 5 at 4:00 p.m. Polls for the general election are open Tuesday, November 7 from 6:00 a.m. to 9:00 p.m.