Meet the Neighbors at Flatbush Community Garden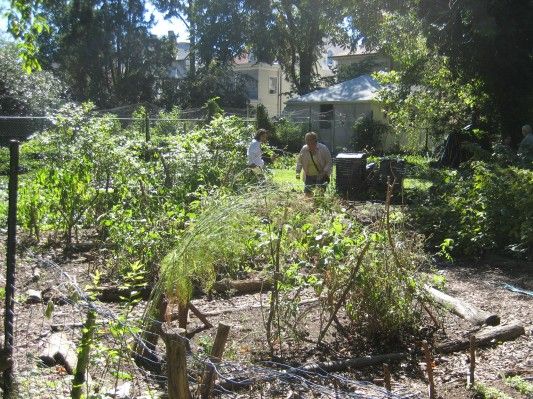 Pumpkin vines sprawl over the mounded remains of an enormous tree stump. From beneath its wide leaves sprouts an asparagus plant, its fine stem and needle-like leaves creating a misty veil over the pumpkin plant. Nearby, raised beds teem with tangled tomato vines, towering okra stalks, and low clumps of nasturtiums.
Tucked away on private acreage, the Flatbush Community Garden (on the corner of Albemarle and Buckingham (E. 16th St) Roads) is a big breath of green south of Prospect Park. There, in individual beds and communal plots (pictured above), members cultivate fruits, vegetables, herbs, and even mushrooms. They make compost from household scraps, garden refuse, and other organic material.
The garden is far more than just a renewable source of produce and dirt. In this wooded haven, members find peace and satisfaction, an education in gardening and organic food, a vibrant community, or sometimes, just a cool and quiet place to read on a hot summer's day. On Sunday, the garden, which began in 2008, opened its gates for an open house, granting the public a glimpse of the life within.
We'll be speaking with neighbors in the garden every day this week. Today, meet Maikel Carder and Madeline Nelson.
"I am an avid enthusiastic gardener," says Maikel Carder, above, a member since the garden's second year. He grew up in England at a time when community gardens were commonplace. These days he comes to the garden two to three times per week and appreciates the fact that the space is as communal as it is individual. "You build community by doing things together."
Maikel jams a pitchfork into a varied mixture of used horse stall bedding from the local stable, household scraps, and sawdust. He turns it up and lets steam escape from the middle, where at times temperatures can reach 140 degrees. The heat is a by-product of the first step of composting, in which bacteria and fungi break down the organic material for about two to three months. After the pile cools off somewhat, insects and worms feast on the matter.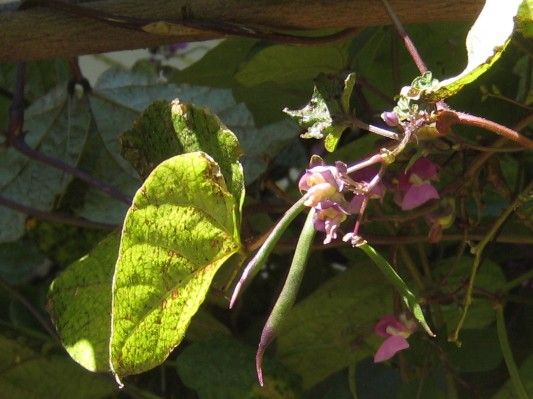 In a shadier area a short ways away are the logs of mushrooms his partner Madeline Nelson is overseeing. Sheaves of fungus seep little by little from within the log—eventually they'll form into shiitake mushrooms.
"I really like being able to spend time in an area with some nature," Madeline says, fingering a purple heirloom pole bean. Nurturing plants and experimenting with permaculture "never stops being exciting."
Below, close-ups of the compost at different stages—the early stage and one of last stages, where worms and insects further decompose the material.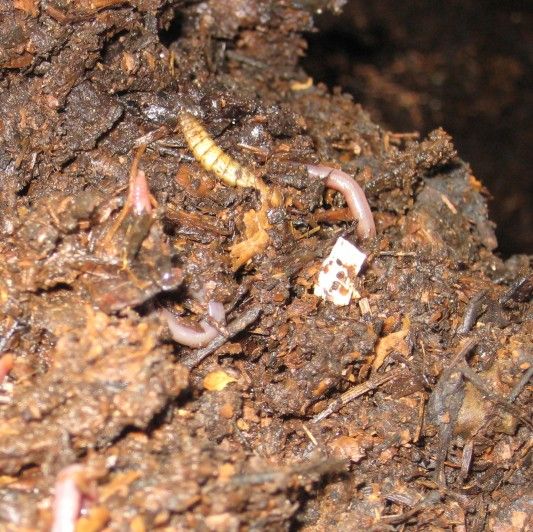 Elizabeth Whitman is a freelance journalist living in Brooklyn. She has written about issues ranging from participatory budgeting in New York City to the uprising in Syria and has also reported for Inter Press Service out of the agency's United Nations bureau in New York.