Five Borough Green Apple Taxi Cab Plan Sours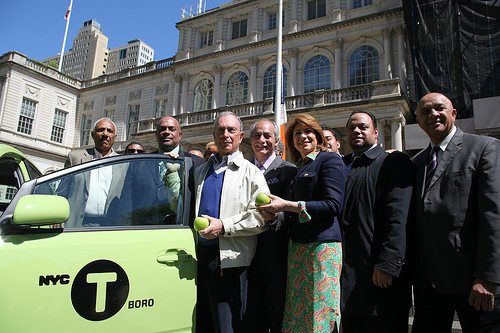 The hotly-debated plan to sell 18,000 permits for cabs and 2,000 new medallions for wheelchair-accessible cabs to service the five boroughs has crashed.
Last Friday, a judge rejected the Taxi and Limousine Commission's "Five Borough Taxi Plan," which would have allowed livery cabs to pick up street hails in upper Manhattan and the outer boroughs.
The Granny Smith-colored cabs were the apple of Mayor Bloomberg's eye. They were set to bring in a much-needed $635 million, although other sources have listed the revenue as high as $1 billion, for this year's budget.
"The reality is we now have a $635 million hole in our budget because we lose projected revenue from the sale of taxi medallions," said Manhattan Borough President Scott Stringer. "More importantly, New Yorkers beyond Manhattan, the people who live in our boroughs, are going to be treated like second-class citizens."
The plan would have opened up cab service to all five boroughs for the first time ever. However, State Supreme Court Judge Arthur Engoron said the city violated the state constitution by circumventing the City Council and getting Albany to approve the taxi plan instead of its own legislature.
The medallion-holding yellow cab drivers are thrilled the judge ruled in their favor.
"We applaud the judge's decision and we believe we are going to find a solution but not a solution that hurts two industries, that divides two industries," said Fernando Mateo of the New York State Federation of Taxi Drivers.
City Hall plans to appeal the decision.