Dyker Heights Street Could Be Renamed After Slain Cop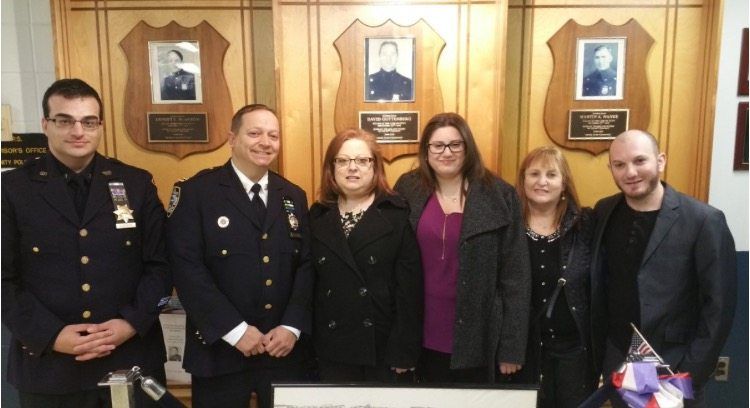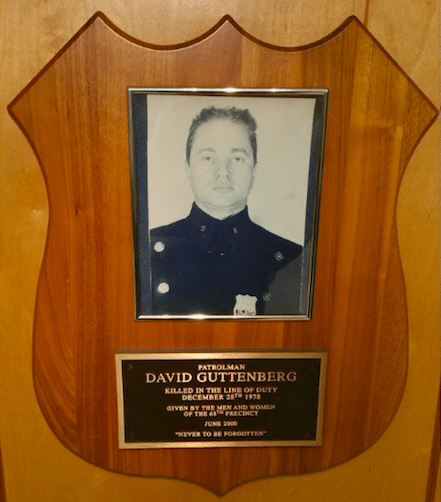 A small memorial display is the first thing people see when they enter the lobby of the 68th Precinct, which serves Bay Ridge, Dyker Heights and Fort Hamilton. There, plaques of three fallen brothers in uniform and their respective tribute books remind people of their dedication to the city.
For the last six years, Christian Durante, a volunteer NYPD auxiliary police sergeant, had made it his mission to honor one of the predecessors beyond the precinct memorial section, which he created. He filed a motion in March for the city to co-name the northwest corner of 86th Street and 7th Avenue, "Patrolman David Guttenberg Way."
Last week, Community Board 10 voted unanimously on the application. Board member Carmen Feliciano said she felt privileged to have read the letters of support prior to the board's decision.
"It's not just a street naming," said Feliciano at the meeting. "I was introduced to a person that I think, if he was around today, I'd be honored to know."
Officer Guttenberg is the only police officer of the 68th Precinct to have died in the line of duty since it was first established in 1973. Durante also said Officer Guttenberg's death played a key role in why cops throughout the city now wear bulletproof vests. The Patrolmen's Benevolent Association (PBA) began a fund afterward for the then-15,000 on patrol officers to be protected on the streets across New York City.
"There is no doubt that if Patrolman Officer David Guttenberg had been wearing a bulletproof vest when he was shot, he would be alive today," then PBA President Samuel DeMilia told reporters in January 1979, after the officer's death.
Now nearly 40 years later, Durante believed Officer Guttenberg's life and service had gone unrecognized in Bay Ridge, and that he deserved to be remembered.
"Ever since arriving in the 68th Precinct as an auxiliary police officer in 2007, I felt the need to honor this man. I never knew David nor was I alive when he passed away, however, I feel a connection to him," Durante, 27, said. "I've patrolled the same area as he did, and his face is the very first and last one I see whenever I go to the precinct."
Officer Guttenberg served in the U.S. Army as a machinist sergeant and was a U.S. postal worker before he joined the 68th Precinct in 1975. His 'end of watch' came on December 28, 1978, after he and his partner spotted a double-parked car outside what was then the Dyker Auto Supplies store at 7th Avenue and 86th Street.
According to reports, Officer Guttenberg entered the store to find the driver and walked into a robbery-in-progress. He was shot three times in the chest by 33-year-old Luis Torres and died about an hour later at the old Victory Memorial Hospital, just six blocks away from the scene.
The shooter and his lookout Pablo Costello were both convicted of murder and sentenced to life in prison, with Torres dying in confinement in 1986 and Costello being paroled in 2014.
Officer Guttenberg was 49 years old and left behind a wife and four children who were between the ages of 12 and 21. Officer Guttenberg served 19 years on the force, and was just one year away from retirement.
"He didn't want to give the owner a ticket during the holiday season," Durante said. "His good heart killed him."
Durante received permission from his precinct commanding officer, Captain Joseph Haywood, in February to pursue this effort that would honor the officer's legacy. He contacted Helaine Guttenberg-Ginsberg, one of the late officer's daughters, via Facebook for her family's support, and worked with her to push the initiative forward.
"I was very appreciative to hear about all the work that Christian has done and to know about the effort he's making to keep my dad's memory alive," said Guttenberg-Ginsberg, who was 18 at the time of her father's death.
According to Durante, the two received 30 letters of support from family, friends, elected officials and fellow police officers in less than a month. The letters were combined with collected evidence, such as newspaper articles and pertinent information, to push the application forward to Community Board 10 for consideration.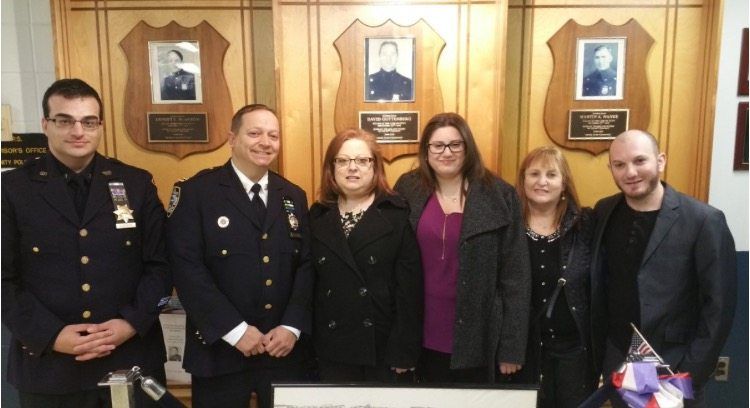 "It is often said, 'A hero is a hero for the way he died,' but David is a hero for the way he lived," Durante wrote as his tribute to the board.
The motion will now move to a vote in the New York City Council, and if approved, will be forwarded to Mayor Bill de Blasio for his signature. Then the Department of Transportation would put up the new sign within six months.
This street co-naming effort for a slain officer is not the first to have been proposed in the last few years in Brooklyn. Officers Wenjian Liu and Rafael Ramos, who were shot and killed after an ambush in December 2014, were memorialized with street corner co-names nearby their respective Brooklyn residences in June 2015.
Guttenberg-Ginsberg reached out to Liu and Ramos' families after their deaths to offer support. Her hope, with her father's street corner co-naming in particular, is that residents would learn who her father was and why he is memorialized.
"My hope is that, if my dad's name appears on a street sign and a mother passes with her young child, they might ask who was David Guttenberg and why is his name on a sign," Guttenberg-Ginsberg said. "I hope that they might go home and Google his name and find out about the sacrifice he made. And this might one day inspire some young child to try to make a difference in his or her community – or maybe the world."