First Annual Puppetry Arts Festival Comes to Park Slope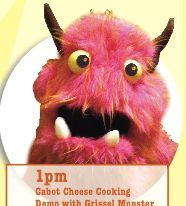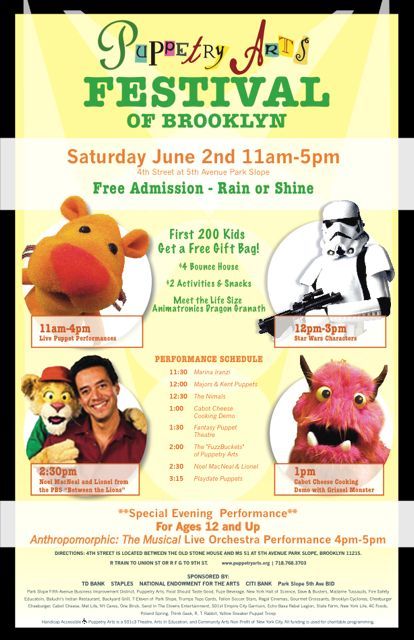 Tim Young has unofficially appointed himself  ambassador for muppets and marionettes across the five boroughs. As the executive director of Brooklyn's Puppetry Arts, the Park Slope-based puppeteer has spent the last 14 years bringing his characters into the community with youth puppetry workshops, in-school performances, and free family programming. Today, he'll be staging his latest effort: 11am marked the first annual Puppetry Arts Festival of Brooklyn, which features an all day line-up of performances by puppeteers and puppet companies from around the city. (There will also be a live, non-puppet appearance by borough president Marty Markowitz, who will present Puppetry Arts with "a proclamation." A proclamation of what? "We'll find out that day," Young says.)
Young, whose formal background is in acting and in sculpture, fell in love with puppetry early. "As a child, growing up with the Muppets and the Star Wars, they influenced me, and as an adult, I got more involved in the art form of construction and performance of puppetry," he says. "It's a kinetic sculpture. I'm a sculptor, and to me, [a puppet] is a kinetic sculpture, and I appreciate that."
And so while Young's primary work with Puppetry Arts (and the bulk of tomorrow's festival) is geared at kids — there's something undeniably special about the way "kids and puppets connect together," Young says — he stresses that there's nothing inherently childlike about kinetic sculpture. Puppetry is "a clever and artistic and intimate way to convey information, and so the industry has exploited that to create programs for children. You feel like puppets are for kids. But puppets are not. It's just that people don't consider that they see puppetry outside of children's programming in all kinds of things every day, in movies and on television. They're just not aware." He's working on that.
In addition to the various youth-oriented performances featured in today's line-up — among them, headliner Noel MacNeal, of PBS's "Between the Lions" fame, at 2:30– Young will be workshopping selections from his decidedly more grown-up puppet musical, "Anthropomorphic," which is performed with a live orchestra. (The full version will premier in October  at the Leslie-Lohman Gay and Lesbian Museum of Art in SoHo.)
The first annual Puppetry Arts Festival of Brooklyn runs from 11am-5pm along 5th Avenue between 3rd and 4th Streets in Park Slope. You can check out the full performance schedule here.