Finally! Southern Brooklyn Gets Its Own Micro-Brewery… Like, Really Micro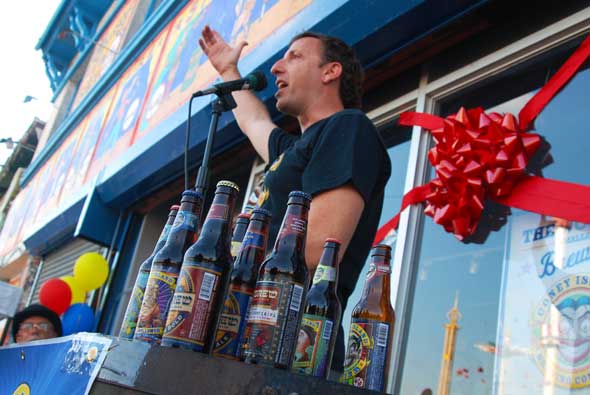 An itsy-bitsy man cut a teeny, weenie ribbon on a yellow-polka dot bikini the doors of the world's smallest brewery in Coney Island yesterday, as the Coney Island Brewing Company officially opened at 3008 West 12th Street.
Borough President Marty Markowitz and representatives from the Guinness Book of World Records were on hand – as well as a crowd of about 100 – as owner Jeremy Cowan served up some chilled beers and unveiled the company's process of producing lager one gallon at a time. The brewery itself is located in a 175-square-foot room, operated by Coney Island Brewing Co., a subsidiary of Shmaltz Brewing Company.
"The history of Coney Island from the 1800s to the present, it's America's playground so we feel we fit right in with that spirit, that innovation, that fun, that sense of whimsy," Cowan told NY1.