Finalists Announced For Brooklyn Public Library's 2018 Literary Prize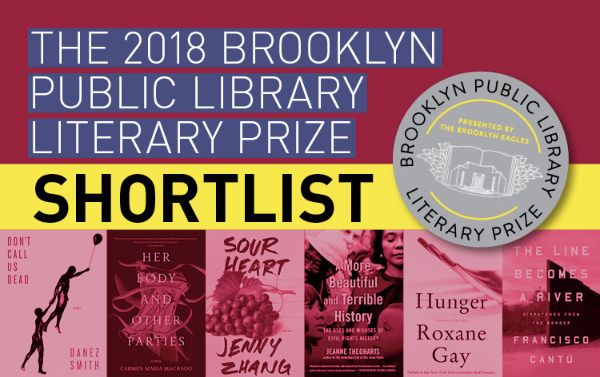 Last week the Brooklyn Public Library and the Brooklyn Eagles announced the list of finalists for the fourth annual Brooklyn Public Library Literary Prize.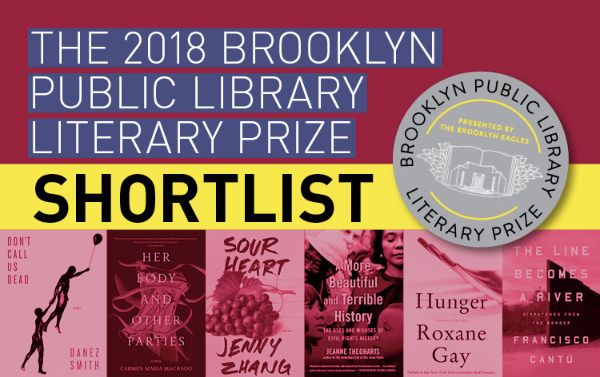 The BPL Literary Prize was launched in 2015 by the Brooklyn Eagles, a group that supports the Brooklyn Public Library system by raising funds, hosting events, and promoting all the resources the library branches have to offer.
The nominees on the Literary Prize shortlist were culled from a full list announced in July. Each year a panel of BPL librarians compile the lists based on their knowledge of literature and contemporary writing as well as their experience working with library patrons every day. The BPL Literary Prize is one of the few major literature prizes selected by librarians and awarded by a public library system.
The 2018 shortlist titles address "complex social, political, and spiritual" issues, span diverse "experiences, geographies, and generations," and include two debut short story collections, two memoirs, and a poetry book. See the selections below.
Nonfiction Nominees
Fiction & Poetry Nominees
The winners of the 2018 Brooklyn Public Library Literary Prize will be announced in late October and will receive a $5,000 prize on November 2 at the Brooklyn Eagles' annual fundraising event held at the Park Slope Library.
Last year's Nonfiction winner was Richard Rothstein's The Color of Law: A Forgotten History of How Our Government Segregated America and the Fiction & Poetry winner was Tommy Pico's IRL.
Learn more about the Brooklyn Public Library Literary Prize at bklynlibrary.org.