People Called The NYC African Food Festival A 'Scam' & Are Demanding Refunds
With temperatures at nearly 100 degrees over the weekend, foodies still made their way to the first annual New York African Food Festival at the Brooklyn Navy Yard on Saturday, but some people were disappointed by the overpriced small food portions, tickets sales, lack of entertainment and false advertisement.
New Yorkers are passionate about their food and ruining their appetite is one way to fuel them up especially on a scorching summer day. People on social media expressed their frustrations at how disorganized the festival was and some called it a "scam" by accusing festival organizer Ishmael Osekre of ripping them off from their money.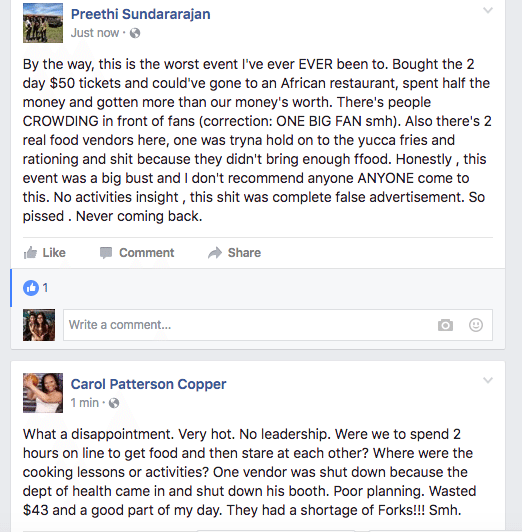 People were promised mini-cooking lessons, live entertainment, and VIP ticket holders had the opportunity to mingle with celebrated African chefs, but attendees say the festival didn't live up to the hype.
Festival goer Juan Ramirez poked fun at the event on social media by stating how hungry he was and pointed out the lack of entertainment organizers advertised.
"The organizers should be ashamed of themselves and refund people's money, I paid $30 for this?" said Maya Hayes, who purchased her ticket in June and traveled from upstate New York for the Brooklyn event.
Hayes said at about 3:05 p.m. on Saturday, entertainment started to arrive and two more food vendors started to serve food, but the music was unbearably loud inside the sauna type facility.
"I asked the door guard if he'd keep the door open to get an airflow and he said that security head told him he had to keep the door closed," Hayes said.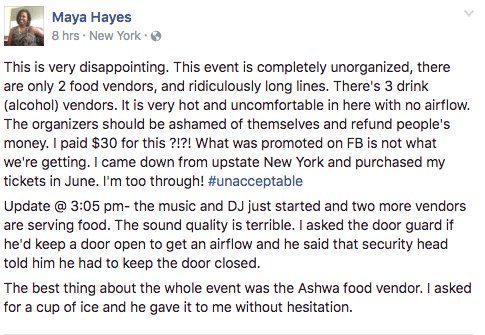 One attendee documented the long lines at the event and it appeared to show limited food vendors.
And others said the chefs arrived late, they were given the wrong address, and that New York City Health Department inspectors started handing out food licenses.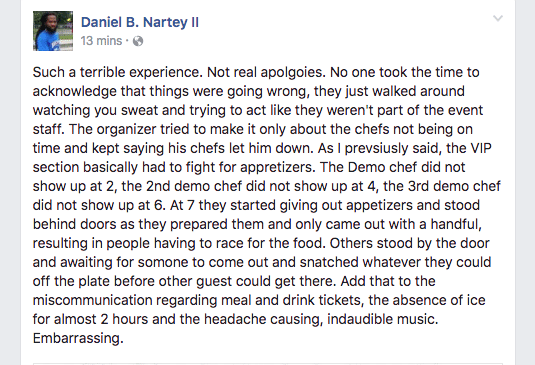 Osekre later apologized via Facebook stating that he takes full "responsibility for the challenges" people faced on Saturday.
"I wanted to create a space for an interaction and discovery for folks, local or abroad, who love, and are curious about or know about, or miss African food. I wanted to use the opportunity to showcase our culture, poke fun at each other through jollof wars(which Liberia won by the way), and even more, have us, (afropolitans and folks who are madly in love with the continent, whether born there or not), sit in a welcoming atmosphere that allowed us to get to know each other better, engage, connect and share," Osekre said.
OsekreI said he secured the greenhouse as the prime location in hopes of avoiding rain, but it was not ideal to hold people inside during the heat wave. He acknowledged that there should have been more food vendors and should have communicated with them in a timely manner instead of informing them of last-minute plans. Ticket confusion was another flaw at the event where people paid between $20 and $150, and now are demanding refunds.
"I hear you," Osekre said. "I want to ask that you direct all your frustration towards me, as my team only executed based on my directives and that all faults are mine."