Federal Sandy Aid Dollars Coming This Summer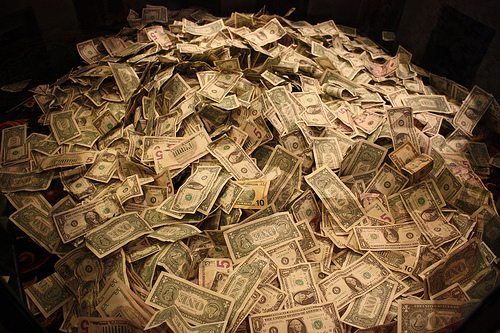 The piles of money are coming, just not right away. The New York Times is reporting that the first round of federal aid totaling $1.77 billion will be distributed to rebuild homes devastated by Superstorm Sandy in the early summer.
As we reported earlier in the month, the money, coming in the form of Community Development Block Grants (CDBGs), has been approved. The Times explained how the money will be divided and who is getting it.
The biggest chunk of money, $648 million, will go to programs to rebuild homes and make them more storm-resistant, according to the city's plan. That amount also includes $9 million for rental subsidies for up to 24 months intended mostly for low-income renters and people at risk of homelessness.
The rest of the money approved by the federal Department of Housing and Urban Development will be spent in several ways: $360 million on city infrastructure, $294 million on investments to make the city more resilient to storms and $293 million on loans, grants and other programs for businesses.
The money is not expected to address all of the recovery expenses but more federal dollars are on the way later in the year. This first round of spending is designed to allow the city to spend the cash on those who need it the most.
"The most significant portion of the funding is for housing recovery programs," Caswell F. Holloway, the city's deputy mayor for operations, told the Times. "The biggest step forward in bringing neighborhoods back is to help people get in their homes."
If you want to apply for grants you can do so by calling 311 or by visiting nyc.gov. Applications for business owners will be up on the city website starting this month and in June for homeowners.
Those who apply for the housing programs will be assigned a "recovery specialist" who will determine eligibility and financial need, a process which city officials promise will only takes a few weeks.