Feces And 'Hate Mail' Sent To Cobble Hill Professor Involved In Ivanka Trump Plane Flight Dust-up
Cobble Hill resident and Hunter College professor Matthew Lasner received two pieces of "anti-gay 'hate mail'" delivered to his office at the college located on Manhattan's Upper East Side, the New York Post reported.
The mail is suspected to be a response from a December 22 incident on a San Francisco-bound Jet Blue flight departing from JFK airport.
Lasner, his husband Dan Goldstein, and their child were escorted off the plane after Goldstein shouted "Your father is ruining the country!" to the President-elect's daughter, as reported by witnesses to the event.
The couple and their child were moved to a different flight.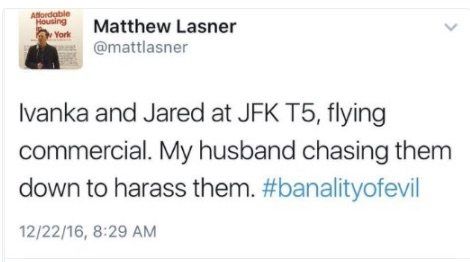 The Cobble Hill couple have been on the receiving end of a series of backlash incidents, including the hostile mail sent to Hunter College.
A police spokesperson said they received a call on Tuesday, January 3 at approximately 3:00pm saying that the mail received contained unknown substances in their contents.
Sources told the Post that one letter contained white powder and the other contained feces.
Cops said the white powder was "deemed safe" and was sent to the Department of Health for further testing.
Cops confirmed that the letters included photos which said: "God hates fags" and "Next time you and your fag husband die."
A spokesperson said police have listed the event as a "possible bias incident" and the Hate Crime Task Force is currently investigating.
Cops say no arrests have been made as of today.
Lasner was the winner of the 2013 Abbott Lowell Cummings Prize for his book, High Life: Condo Living in the Suburban Century (Yale University Press, 2012).
The book has received one-star reviews on Amazon since the incident. Previous to the plane flight, it received five-star reviews.
Negative comments on twitter have been posted criticizing the couple:
Lasner's address has been published on social media with the statement "Send Ivana's stalkers a message."
In addition, a petition on change.org was started by a group called Right Wing Millennials titled "Petition for Matt Lasner to be removed from the Hunter College Administration."