FDNY's Local Marine Unit To Rebuild Headquarters After Being Wiped Out By Sandy
The fire eaters of the FDNY's local marine unit will have to rebuild their summer headquarters – or find themselves homeless, thanks to Superstorm Sandy.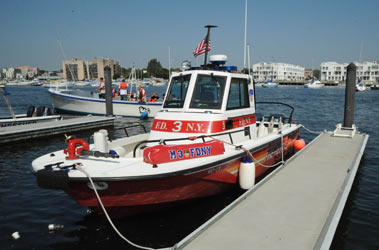 The unit – FDNY Marine 3 – operates a summer base at the tip of Kingsborough Community College (2001 Oriental Boulevard) in Manhattan Beach. When the waters whipped through the campus, it ravaged the unit's four-year-old quarters, rendering them useless.
"Marine 3's quarters sustained damage from flood waters," confirmed an FDNY spokesperson.
It wasn't alone. Several firehouses were damaged and many have not reopened since the storm. All are in the process of being repaired, and trucks have been stationed throughout the affected communities to provide quick response.
Marine 3's headquarters will also be rebuilt, the spokesperson said, although he was unable to provide a timetable or estimated cost for the repairs.
In the meantime, local mariners need not worry. Marine 3's vessel – used only during the summer, when boating and other water sports are at their peak – was pulled out of the area ahead of the storm, and was unharmed. When summer rolls around, it will again be stationed at Kingsborough, whether the headquarters are rebuilt or not.
"There is no impact to fire protection or fire service in that area," the spokesperson said.
The Marine 3 headquarters opened in September 2008, featuring 24-hour security, a new kitchen and bathroom, and a state-of-the-art floating concrete dock. The location also became a training center for members of the Fire Department's Marine Division, which was given access to Kingsborough Community Colleges' Maritime Technology Program, a high-tech sailing simulator that puts students at the helm of various vessels to prepare them for careers on the water. It helped grow the city's small vessel program, which FDNY brass lauded as allowing them to provide faster, more efficient responses to water-related emergencies.