FDNY Engine 281 & Ladder 147 Celebrate 100 Years Of Service In Flatbush
In 1898, when much of Flatbush was still farmland, the then-Brooklyn Fire Department joined the city of New York. As the early 1900s approached, the structures and population of Flatbush were growing drastically, necessitating more fire protection in the area. While Engines 240, 249, 250, and 255 were already serving Flatbush, the FDNY ordered that seven new engine companies be added throughout the city — and Engine 281 was born.
Fires at the large Victorian houses being built on and around Cortelyou Road in the early 1900s were difficult to extinguish — even more so since engines in the area were still of the horse-and-carriage type, slowing response time considerably. Taking this issue into account, the FDNY chose to open Engine 281 at 1210 Cortelyou Rd on March 20, 1913. The fire house had been built with future extension in mind, and so with more fires in the area, the FDNY moved Ladder Company 147 into the Engine 281 house on May 14, 1914.
One hundred years later, company members Jim Cooney and Josh Lomask took the time out — between multiple runs — to talk to me and Mary Bakija about the past century of Engine 281 and Ladder 147, what life is like at the house today, their upcoming centennial celebration, and what they expect to see in the future.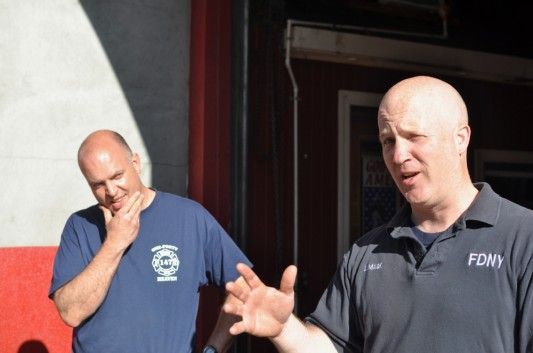 Jim Cooney casts a skeptical glance at Josh Lomask.
Even between the fire house bell ringing and, you know, saving the world, "Big" Jim Cooney and Josh Lomask don't take themselves too seriously.
"We've both been here about 12-and-a-half years," Josh says.
"Yeah," smirks Jim. "He followed me."
Before coming to Cortelyou, Josh, who now lives in Ditmas Park, was at Engine 33 in lower Manhattan. Jim, who lives in Marine Park, was in EMS. The two, along with their colleagues, cover a huge area — Borough Park, Midwood, East Flatbush, Lefferts, Park Slope, and Windsor Terrace are within the normal response radius.
"Most of the morning is just keeping the house from falling down," Josh says about what they do in their 'off' time. "Fire Department buildings don't have custodians, so we have to take care of things ourselves. Fix the plumbing, fix the lighting — the firemen do it."
"So you're not just firemen," Mary says. "You're also handymen?"
"Some of us are handier than others," says Josh. "We have the Centennial coming up, so there are paint jobs, plumbing, scraping paint, waxing floors… Recently it's been a little busier. After the morning's done, we prepare for the meals."
"You're a good cook, right?" Mary asks. "You were in a cookbook, weren't you?"
Josh turns slowly to Jim. "Close your ears."
"Do tell, do tell!" Jim raises his eyebrows. "I had no idea, and I see you every day. That's fascinating."
Josh gives a heavy sigh, and looks at Jim. "There's a recipe for milk-braised pork. And then there's the old standby, the roast chicken — the barometer by which competency is determined."
"Good roast chicken is really hard," Mary says.
I'm with her. "Yeah, I can't do that."
"It's not as easy as you'd think," Jim is swaying back and forth with his arms crossed.
Josh turns back to Mary. "You should read Anthony Bourdain's preamble to roast chicken."
Jim is trying to keep it together. "I'll be sure to check it out."
The fire house kitchen is through the door.
"So who does most of the cooking?" Mary asks. "Do you guys have to take turns?"
"Well, we've got 45 guys in the firehouse altogether," Josh says. "Fifty with officers and everything. At any one time, there are only 11 guys — nine firemen and two officers. But that rotates, so every shift it'll be somewhat different, from day to day, tour to tour — and then they just decide who's a good cook. It's survival of the fittest."
"There's never really a bad cook," Jim says.
Josh gives Jim a hard look. "There've been some."
Cooking, of course, is not the most important skill of the job. While Engine 281 and Ladder 147 were perfectly busy through the first half of the 20th century, action picked up dramatically with the rise of abandoned buildings and crime in the area in the late 1970s, when the moniker "Da Pride 'A' Flatbush" came to be. The men of Engine 281 and Ladder 147 quickly became known for their skill, receiving numerous unit citations and honors at FDNY Medal Ceremonies.
That unique experience and skill comes with age, however, and that's something Engine 281 and Ladder 147 aren't shy about. Members joke that working in the house has been, in previous years, like visiting Jurassic Park. Even the relative newcomers have often had over 20 years at the house — and today, eight firefighters, including Jim, are second generation at the company.
Another veteran of the company is their articulated Tiller-rig truck, one of only 11 left in NYC, which was out for repairs when we visited. The truck's dual front-and-back steering wheels allow the vehicle to contort quickly around tight Flatbush turns, and it seems almost like the men regard it as another member of the team. They're hoping to have it back for the centennial celebration.
"The guy who drives the front has to go to chauffer school," says Jim, "but then we train everyone else for the back inside the house. If we get a new guy, he starts training in six months. You want him to understand how the thing works. But some guys are better at that than others."
The speed at which the company members back the truck into the house from narrow, congested Cortelyou is a constant source of wonder for me, Mary, and seemingly all neighborhood kids (you can see an example of the quickness in the video above, from 1988 — not much has changed).
"It's really fun sitting across the street eating or drinking," she says, "and then the truck comes and pulls into the house like, ZOOM! I've never seen anyone have to take too many turns."
Josh looks up. "Stick around, you haven't been out there long enough."
They were vague about the bad cooks, but I figure this is my in. I want to see some of the good old ball-busting fireman hullabaloo I always figured went on behind the red doors. "Who's the best at backing it in and who's the worst?"
"Awww," says Josh, "we can't give out names! You can't fool us with your circular logic."
As for the ongoing issue of getting the company dedicated parking spaces, Josh hopes there's a solution that won't take anything away from the current parking available on Cortelyou.
"On the other hand, I live in the neighborhood and drive in the neighborhood all day long. This really isn't the problem on Cortelyou. Even if we are double-parked, there are still only two lines of cars blocking Cortelyou Rd, and that's no different from any other part of the road. When you get people parking on the other side, pick-up and delivery vans — the real problem is the trucks," he says, gesturing east, "and that's the one that really bottlenecks everybody. It's also just a huge business road. Buses, deliveries, it's a hard street to navigate — so I'm not sure any solution to this is going to alleviate that."
I make a comment about trailers for a Liam Neeson movie taking up the already-messy block of Cortelyou between Stratford and Coney Island the day before. "If they were dedicating all that parking, they could probably spare you a couple spaces."
"And we didn't get an autograph," Josh says, shaking his head. "Neeson."
Like any real heroes, members have seen darker times. On September 11, 2001, the company lost former Ladder 147 members Captain Timothy Stackpole, Mark Whitford, and Retired Captain James J. Corrigan. Engine 281 was held up on the way into Manhattan that day, while Ladder 147 was relocated to Downtown Brooklyn Ladder 118, whose regular men had responded to the call at the World Trade Center. None of the firefighters from Ladder 118 — Leon Smith, Vernon Cherry, Scott Davidson, Peter Vega, Joey Agnello, and Lt. Robert Regan — returned home that night.
Thankfully, the company hasn't lost any members on the job in recent years — though in 1996, former Engine 281 and Ladder 147 member Louie Valentino died of injuries suffered while searching for victims of a fire in Canarsie, and in 2005, Jimmy Young suffered a fatal heart attack off duty. Their memories are commemorated annually at the Louie Valentino flag football tournament and the Jimmy Young Pitch and Putt.
Other fallen former company members include Lt. Charles Hunt of Staten Island Engine 166 who died on duty in 1977, and Capt. John J. Drennan Jr. of Greenwich Village Ladder Company 5, who along with company members Christopher Siedenburg and James Young, died as a result of 1994's infamous Watts Steet Fire.
But the men of Engine 281 and Ladder 147 pick up and keep going, keep joking, seemingly unfazed by the alarms that go off several times in the middle of our chats throughout the afternoon, because what else can you do?
Incidents close to home help keep them on their toes. A few weeks ago, a drunk driver sideswiped several vehicles on Cortelyou near the house and tried to flee the scene. Luckily, the firemen were able to stop him before he did any more damage.
"He hit a couple of our guys' cars," says Josh.
"And they were all parked legally!" says Jim.
Being at the house for upwards of a decade at all sorts of hours, we wonder what else the guys must have seen on the street.
"We used to have some shootings and stabbings," Josh says. "One guy got stabbed and crawled into the fire house. We opened the door to have him collapse in. We had the shootout in front about 10 years ago, but you don't see that much anymore."
Josh noted that the calls they get seem to come in waves — right now they noticed an uptick in people reporting the smell of gas, sometimes there are several fires caused by space heaters, sometimes a few car accidents. But do they get the stereotypical calls for cats stuck in trees?
"Sometimes. Actually, one we got was for a bird in a tree," says Josh. And did they go check it out? "Yes, and yes, there was a bird in the tree. It was macaw. We didn't go up to get it out — it flew down on its own, as birds do."
Rescuing birds and preventing drunk drivers from joy riding aside, Da Pride 'A' Flatbush is one of the top companies in the city — but the fire house has often been threatened by budget cuts. The recent population increase and packed high-rises in the area, Jim says, make the fire house more essential than ever.
"Every time we think the action is dropping a little bit, we get another call," he says.
And do people ever come back to thank them?
"Down on Dorchester, two months ago maybe, we pulled out a lady," Jim says. "Her kids and grandkids came by and thanked us. It doesn't happen too often, but it's always nice."
Not content to let Jim bask in the family's appreciation, another company member walks by, telling him to fix his posture for our pictures.
Jim rolls his eyes. "Go back to your pressure washer."
"What do you think will change in the next 100 years?" I ask.
"Hopefully not much," says Jim, "Just the trucks and the guys, and that's it. Same quality of service, hopefully."
Josh smiles, intent on keeping Da Jurassic Park 'A' Flatbush legacy alive. "We'll still be here."
The Engine 281 and Ladder 147 Centennial Celebration will be held this Thursday, May 16, at 11am outside the firehouse. The public is welcome to attend.