Fatal Car Crash Kills One, Injures At Least Two Others On Fulton Street Outside Not Ray's Pizza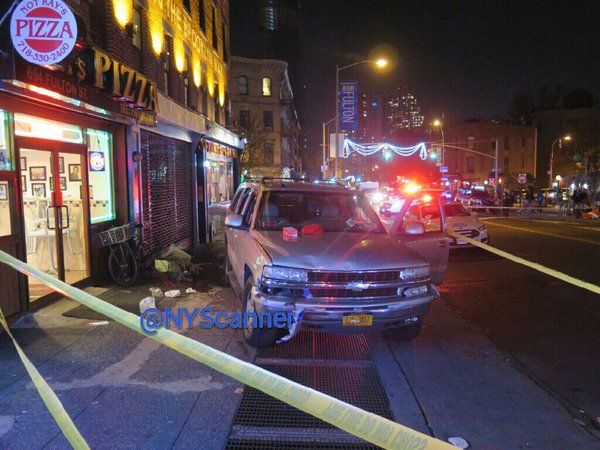 A 30-year-old Brooklyn Heights woman tragically lost her life early Sunday night in a car crash outside Not Ray's Pizza on Fulton Street off South Portland Avenue, and the 39-year-old man who was behind the wheel has been arrested on charges of operating a vehicle without a license or insurance.
Victoria Nicodemus, as well as a 37-year-old man and 75-year-old woman, were rushed to Brooklyn Hospital, where Nicodemus died and the other two victims remain in stable condition. The man reportedly sustained scrapes to his back and an ankle injury, according to the New York Daily News. Witness Anthony Singh told the newspaper that "she lost a lot of blood [and] her body was really pale."
The chaos unfolded shortly before 5:30pm on December 6 when the driver, 39-year-old Marlon Sewell, who was traveling eastbound on Fulton, swerved right to avoid a B25 bus that was slowing down to pull into a bus stop. Instead of hitting the back of the bus, though, the 2004 Chevrolet Suburban jumped the curb and hit the pedestrians. Sewell and his wife, who was in the passenger seat, remained at the scene.
"He was crying. Lifting up his shirt. Wrapping his hands around his head," said witness Andy Timey, 38. "He asked me where he was. I told him … But I don't think he heard me. He seemed real weak. In a daze."
The NYPD Collision Investigation Squad is investigating.
According to ABC News, this is the 22nd pedestrian death in the city in just the last six weeks, since October 31.
Neighbor Sara Pouche said that while she is "not sure what caused the accident, the area is very crowded now, with numerous bars, restaurants and cafes, [so] there is a lot of foot and vehicle traffic. Sending prayers to all affected in this horrible tragedy."
This is a developing story and we will add any updates on an ongoing basis.