Farewell to Flo Leopoldi, Matriarch Of Leopoldi Hardware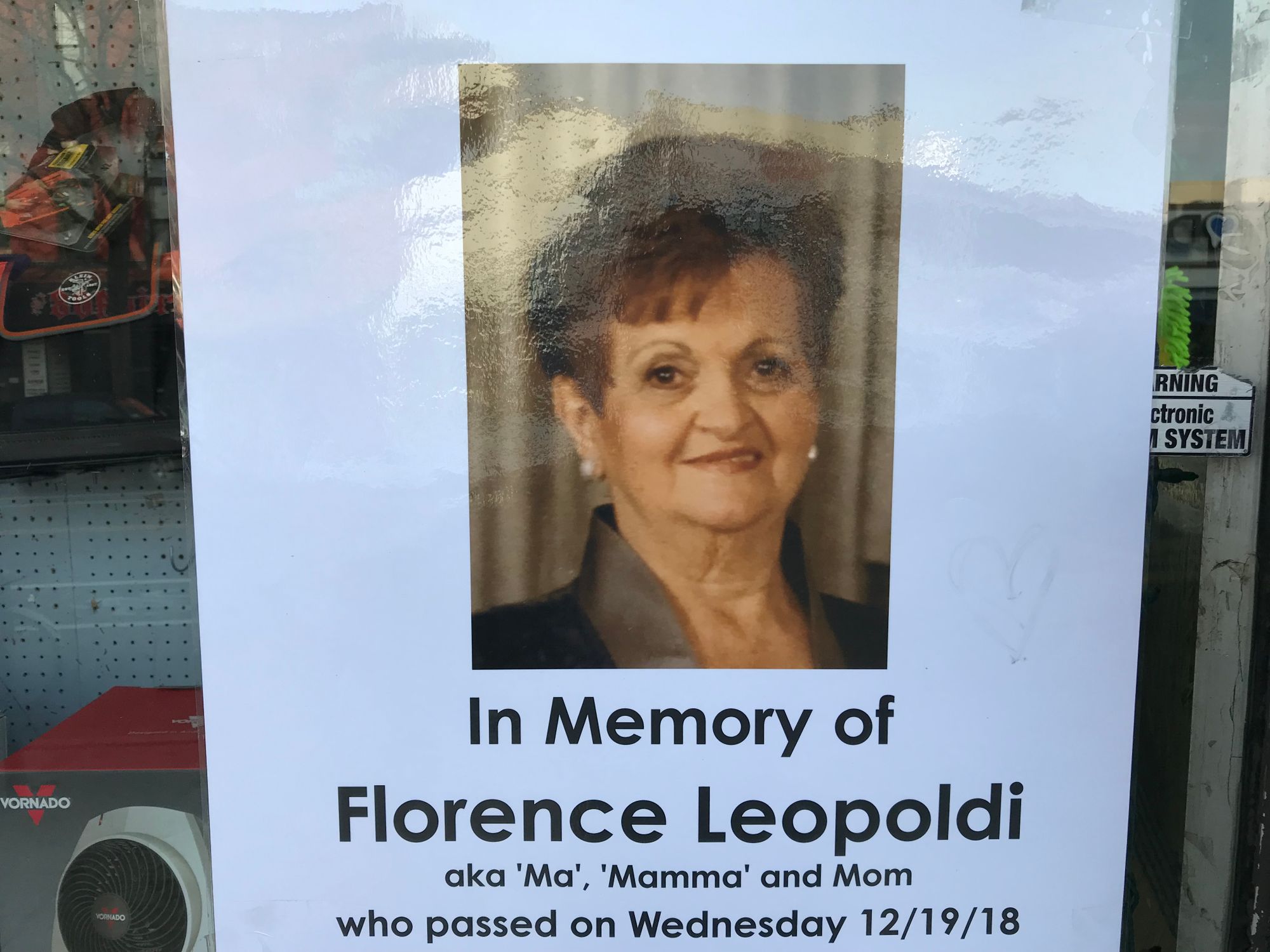 PARK SLOPE – Florence Leopoldi, the matriarch of 5th Avenue's family-owned Leopoldi Hardware, passed away on December 19. She was 83 years old.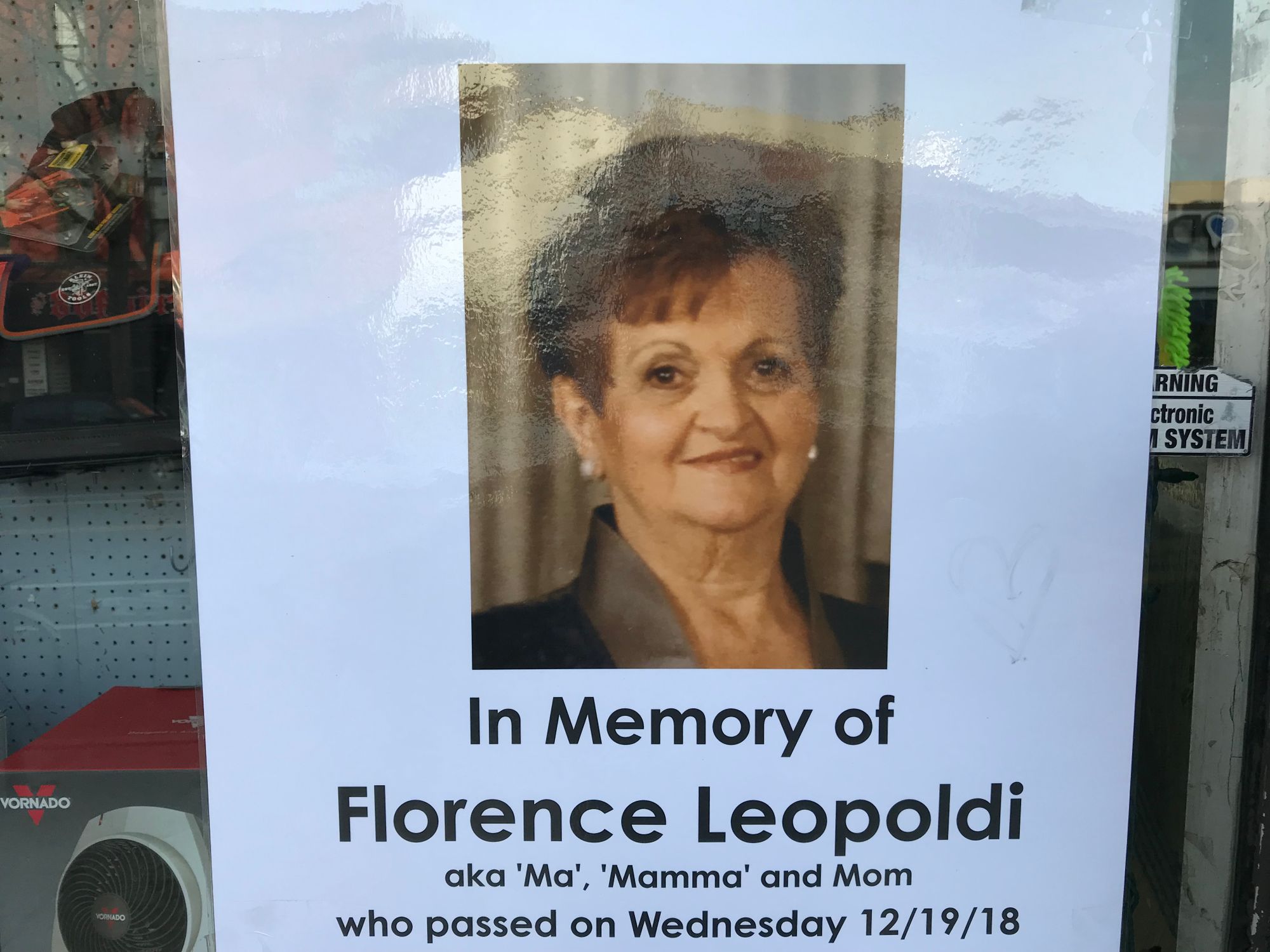 "She had congestive heart failure about six years ago and it just reoccurred," her eldest son, Joe Leopoldi, explained to Bklyner Friday morning, "but she was fine up until about two and a half months ago." Always a strong, hardworking woman, Flo, as she was known, worked until the middle of November. "She would walk down [to the store] every day," Leopoldi recalled. "She lived right around the corner. She still did our billing—manually—didn't like the computer. Never made a mistake."
Born Florence Finamore on September 19, 1935, Flo was "born and raised in Park Slope," and grew up on 5th Street between 6th and 7th Avenues. She married Joseph Leopoldi in 1959 and the couple had five children—Joe, Thomas, Peter, Laureen, and Robert. Thomas passed away in 1988.
The couple owned and operated The Place (also known as Joe's), a luncheonette and candy shop at 363 6th Avenue (at 5th Street), on the corner where Flo grew up. "It was very, very popular in the late 50s, 60s, and early 70s," Leopoldi recalled. "I was just a young one [but] I still have people come in all the time [saying they] learned a lot of life lessons there." The old-school shop was a popular neighborhood hang-out. "They had a jukebox and old-fashioned stools along the counter. They were known for their egg creams," Leopoldi said.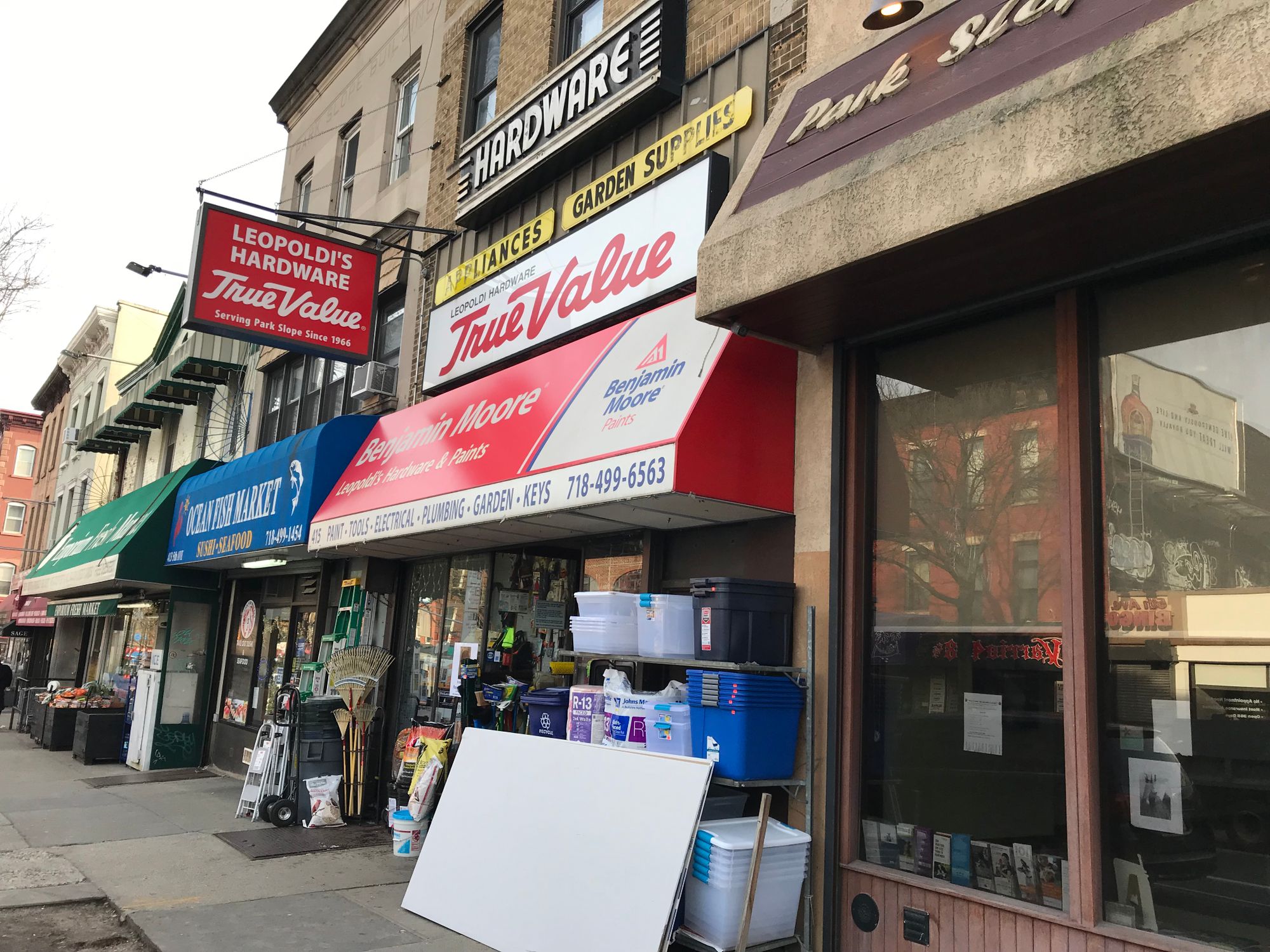 In 1966, his father opened Leopoldi Hardware at 415 5th Avenue (at 7th Street) thinking he and Flo would be able to make more money while working fewer hours than the candy store. "My mom worked both places and she raised five of us," Leopoldi said. When the pressure of running two businesses [and raising a family] became too much for his parents, they closed The Place in the early 70s.
Growing up, the Leopoldi children, who attended St. Saviour and Bishop Ford, began working at the hardware store at an early age. "We started out sweeping the floor, dusting, cleaning the windows. My dad made us all earn our allowances," Leopoldi recalled.
Leopoldi fondly described his parents' warm and friendly personalities, they "welcomed anybody into the stores, into the house…. That's what they were known for." Flo was also very active at her church, St. Thomas Aquinas, as well as in the community. She "tried to support everything," Leopoldi said.
Joe senior passed away in 1989, leaving Flo and sons Joe, Peter, and Robert to run the store. Leopoldi Hardware celebrated its 50th anniversary in June 2016.
Along with her four children, Flo leaves behind 11 grandchildren and three great grandchildren. Services were held in her honor at the Joseph G. Duffy Funeral Home December 20 to 22. "The turnout was unbelievable," Leopoldi said. "Duffy's Funeral Parlor had to open up a second room for the amount of flowers that were sent." Several old friends, neighbors, and customers attended to pay their respects. "She had a great send-off."
Fighting back tears, Leopoldi repeated a message he gave to his beloved mother before her passing. "I told her she was the best mom, best grandma, best great grandma, best mother-in-law, best sister, best aunt, best friend…the sweetest and classiest lady on earth."
In response to the many messages the family has received, Leopoldi says, "Thank you for the tremendous outpouring of emotion, sweet words, and support for us. We'll miss her but we'll continue on. She left us with a good work ethic and we'll try to make her proud."