Far East Meets North & South Of The Border At Grill 7 Seoul
When the Kings Theatre was restored and re-opened in 2015, we predicted that it would boost local businesses and restaurants along that strip of Flatbush Avenue. And it's already happening, with some new additions, too.
Earlier this year, we reviewed the Guyanese restaurant, Island Express, a block away. Last week, Tattoos, a new bar opened a stone's throw from the theater (they don't have a website yet). And about a month ago, a Korean-inspired BBQ Grill 7 Seoul, opened just across the street.
Grill 7 Seoul's window display: "Taco, burrito, quesadilla" followed by "kimchi fries" and "rice bowl" suggests the ethnic fusion you've come to expect in New York City, where take-out Chinese spots serve up southern fried chicken wings as ably as they dole out Szechuan-style chicken.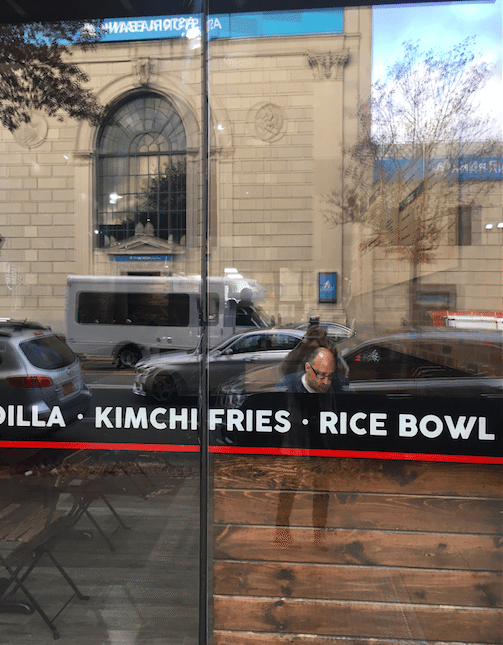 Inside Grill 7 Seoul, this same multiculturalism was showcased by the selection of hot sauces which included Cholula, El Yucateco, Tabasco Green Pepper Sauce, and another Tabasco brand extension that I did not even know existed, Sriracha (a Thai chili sauce).
Whereas a similar restaurant like Kimchi Grill only takes inspiration from the Far East and south of the border, Grill 7 Seoul also looks north of the border. My Bulgogi Kimchi Fries had more than a passing resemblance to Canada's national dish, poutine.
Like poutine, the base was French fries deeply buried under a tasty, massive pile of soy-and-garlic-marinated grilled Black Angus rib eye beef (USDA choice grade), fried green onion, chives, chopped tomato, kimchi, sesame seeds, white sauce, and two cheeses; a melted, gooey mozzarella, and a shredded, ornamental cheddar sprinkled on top.
The dish — deeply layered, multi-colored and textured — resembled a heaping pile of nachos, but its sticky, warm cheesiness, punctuated with potato, meat, and other goodies, brought me back Quebec City, not El Paso.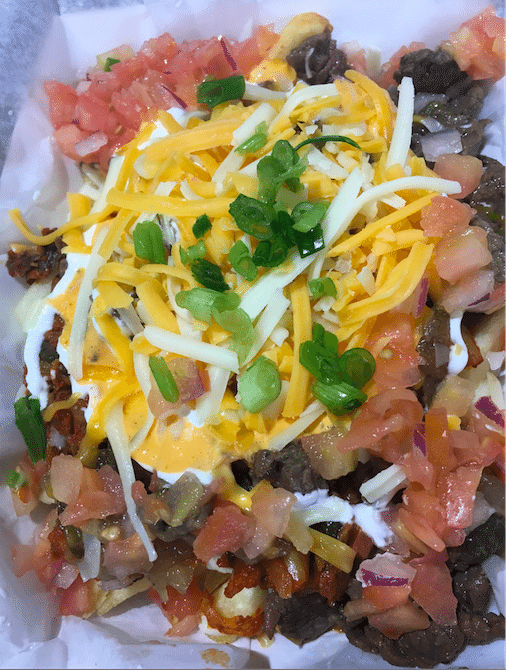 For a more traditional Asian dish, you could order a rice bowl, choosing either plain white rice or kimchi fried rice, and a topping of beef, caramelized spicy pork, lemongrass chicken, or chili lime shrimp.
The baby shrimp, cute and plentiful, sat on a bed of baby greens and a sweet and mildly spicy fried rice, topped with shredded carrot and strips of fried egg. This dish is more refined and delicate than the archeological mess of fries, suitable for a pescatarian or a lighter eater.
In addition to the two main courses we tried two appetizers: fried dumplings, and salsa and chips. The five meat filled deep-fried dumplings were crunchy and served piping hot, ready to dip in a soy sauce flavored with sesame seeds and scallions. The dumplings were crisp and light, avoiding the doughy heaviness that can ruin them.
The Seoul salsa, despite its name, had little to do with Korea. It was more like a fresh, raw Sofrito salsa with origins in Puerto Rico, Cuba, or Haiti or the base of a ceviche minus the fish. Tangy yet sweet, the salsa consisted of chopped onions, diced tomatoes, lemon juice, salt, and a dash sugar. It was served with three large, warm, deep-fried corn chips.
Korean fried chicken wings are also on the menu, with order sizes ranging from 6 to 50 pieces depending on your party size or appetite. But a fair amount of the current menu, like a classified and redacted CIA document, has been scratched out with a black Magic Marker.
Gone are the crunchy tofu and crispy tempura fish fixings, the taco bowl salads, the jarchae (sweet potato noodles with stir fried mixed veggies). Also deleted are some cool dips like salsa verde, chili corn queso, and apple mango (though the chipotle mayo and hand-smashed guacamole remain).
Other than the fried dumpling, all the sides were excised except for the kimchi fried rice. Missing are the tornado potato, the monster dog, and the tortilla chili dog. It's like a prohibitionist has cruelly etched off the mojito, Suju (a Korean sweet potato spirit), beer, wine, and Bokbunja (a Korean wild-raspberry wine).
Jamin, who works the cash register, explained that some of these items didn't sell well or took too long to prepare. The restaurant is working on obtaining its liquor license and a new menu.
Both Jamin and her co-worker Jennifer Yang chatted with me while owner Eugene Chung quietly prepared food in the kitchen behind them. They confirmed the Kings Theatre is definitely good for business.
Grill 7 Seoul is open from 11am to 11pm Monday through Thursday, 11am to 12am Friday and Saturday, and 11am to 8pm on Sunday, and welcomes you anytime — but they're busiest from 5pm to 8pm, show times at the Kings Theater. Despite the changing menu, there's still plenty of great things to explore.