Fall Open Enrollment is just around the corner – Watch out for scams (PSA)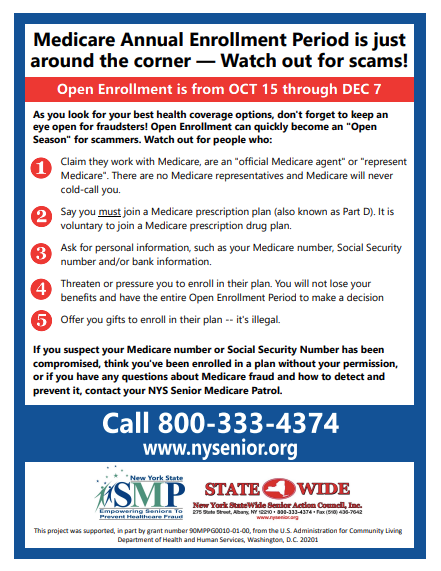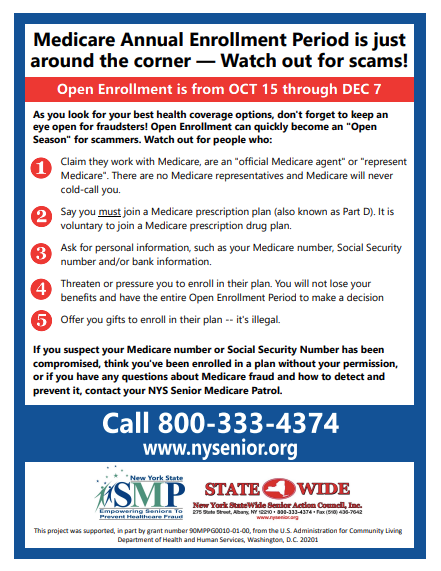 Medicare Annual Enrollment Period is coming up! Running from October 15 through December 7, Medicare Annual Enrollment Period, also known as Fall Open Enrollment, is a period to review your health plan and prescription drug coverage, weigh your options and to make any changes to your coverage to ensure your needs are met.
But as you look for the best health coverage options, keep an eye out for scammers. Fall Open Enrollment Period attracts Medicare fraudsters and can become an "open season" for identity thieves. Brooklyn is especially vulnerable, losing the most to fraud of any county in New York State  – a cost to Brooklyn taxpayers of $600 million per year.
How can you prevent scammers from taking advantage of you or someone you love during open enrollment? Educate yourself and talk to your friends and family about scams – it can help protect Medicare recipients, especially older Brooklynites, from fraud.
Know the common scams to watch out for:
If anyone tries to sell you Medicare insurance while claiming to be an "official Medicare agent" they are a scammer. There are no Medicare sales representatives and you should not give any information to anyone claiming to be an "official Medicare agent."
It's voluntary to join a Medicare prescription drug plan (also known as Part D). If anyone calls you saying you must join their prescription plan or you will lose your Medicare coverage, ignore this call — it's a scam.
Do not give your information over the phone to someone who tells you that you must provide personal information to keep your coverage. You should guard your Medicare card like a credit card, check your Medicare claims summary forms for errors, and do not give your Medicare number to unsolicited requests.
If a caller says they're from Medicare and asks for your personal information or Medicare number — hang up, it's probably a scam. Never give your info on your Medicare card, Medicare number, Social Security card, or Social Security number to anyone except your primary doctor or people you trust.
To avoid these scams know that:
Medicare will not cold-call you.
Medicare has your new number and will never call to ask for or check your Medicare number.
Nothing is free. Do not accept money or gifts for free medical care or insurance.
Communication from the Centers for Medicare and Medicaid Services are typically through the mail.
Medicare Services will only call beneficiaries in two situations:
Though communication is typically through the mail, a Medicare health or drug plan can call you if you're already a member of their plan. The agent who helped you join the plan can also call you.
If you called 1-800-MEDICARE and connected with a customer service representative who said someone would call you back or left a message, a representative from 1-800-MEDICARE can call you.
By sharing these common scams and tips it could help your friends and family avoid scams during Open Enrollment Season. If you suspect your Medicare number or Social Security Number has been compromised or if you have any questions about Medicare fraud and how to detect and prevent it, contact your New York Senior Medicare Patrol (SMP) at 1-800-333-4374.
New York Senior Medicare Patrol (SMP), supported by New York StateWide Senior Action Council and Brooklyn-Wide Interagency Council on Aging, is part of a nationwide education and assistance program working to empower seniors and caregivers to prevent, detect, and report Medicare fraud and waste.