The Fabulous Fifth Avenue Fair Brings Diverse Food, Music, and Family Fun to Park Slope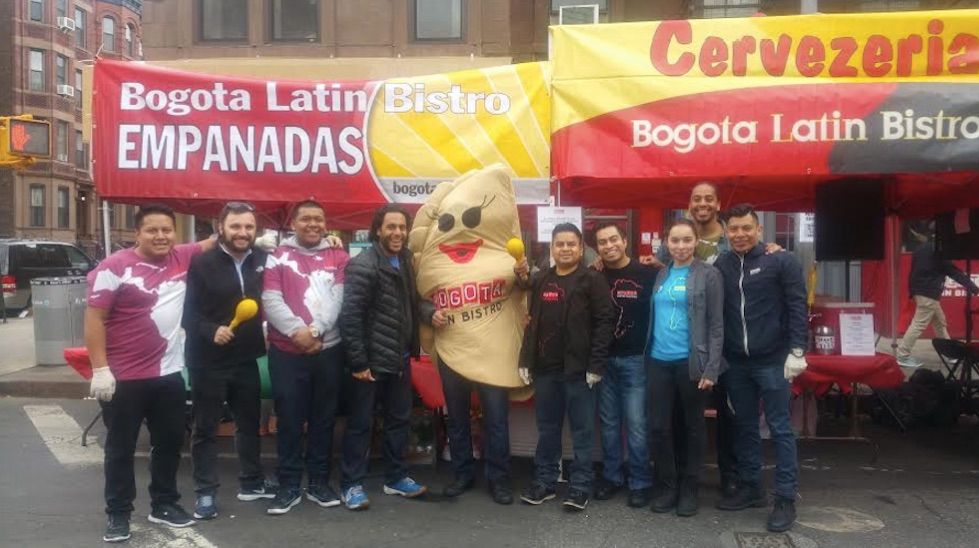 The delicious aroma of festival street food, sounds of live music, and vintage shopping brought a diverse mix of Brooklyn residents to enjoy the Fabulous Fifth Avenue Fair in Park Slope on Sunday.
Our first stop was Bogota Latin Bistro, a Latin American restaurant on St. John's Place, who gave the Park Slope Stoop a taste of what it had to offer.
"What's great about the Park Slope festival is that it's catered to the businesses on the avenue and the diverse neighbors that like good quality food," said owner George Constantinou, who also owns Miti Miti Global Cuisine in Brooklyn.
In its twelfth year at the fair, Bogota has garnered loyal customers from all over the borough looking for flavorful, authentic dishes. "It's very important for us to show presence because people love Bogota," he said. "Street festivals gives us a great opportunity to meet new customers and old customers we haven't seen in years."
Bogota had six different kinds of empanadas on sale. "We have our steak and potato, ground beef, chicken, shrimp, goat cheese, and our guava and cream cheese empanadas," Constantinou added.
"We're also serving two kinds of arepas (corn patties). The sweet yellow arepas and the white arepas topped with butter and cheese," Constantinou pointed out. "People just love empanadas and arepas."
Miti Miti's global cuisine stand had Thai summer rolls, lamb sliders, chicken mole sliders, crispy brussels sprouts, and Mexican street corn for customers. We tried Bogota's traditional empanada dish, and the chicken was juicy, tender and the crunchy dough fried to perfection.
Businesses on Fifth Avenue have significantly grown over the years, attracting people from all over New York City to explore Park Slope's multicultural scene. "This fair is different because we have an amazing amount of participation from our local stores, bars and restaurants," says Mark Caserta, Executive Director of Fifth Avenue Park Slope Business Improvement District.
As we walked down the block, we stopped by an artisan stand guarded by Blanca Tuntaquimba, an Ecuadorian business owner, participating in her fourth year at the Fifth Avenue street festival.
Tuntaquimba receives merchandise from Mexico, Guatemala, Ecuador, and Peru. She says dream catchers, made with leather and feathers, are popular items she frequently sells, ranging from $15 to $45. "It all depends on the customer and what people want," she says.
A few stands away on Sackett Street, Chef Gaeng Sanguanwong from Nahm Thai Kitchen, greeted us with authentic Thai food and imported beer. He even poured us a cup! On his menu for the day was coconut shrimp, curry puffs, fish and ground lamb dishes inspired from his home country of Thailand.
Of course, we can't forget about the music. Pop rockers "Tru Brit" performed classic 1960's British rock n' roll, swaying the crowd side to side with upbeat tunes and smooth guitar riffs. Other musical acts included Brooklyn favorite Bombay Rickey, neo-blues artist Bette Stuy, and fusion band Sister Monk, to name a few.
But what we loved the most were the vintage cars on display. A 1955 Red and White Ford Fairlane and a black Bentley convertible parked on Fifth Avenue brought nostalgia to car lovers and great family pictures.
For more free activities this summer, check out The Park Slope Fifth Avenue Bid's website.
Next up: The Brooklyn Pride Festival and Parade on Saturday, June 11.