Where Everybody Knows Your Name: Italian Dining At Mamma Lucia's
There is a certain type of old-school Italian restaurant familiar to New Yorkers. It's always small, cozy, intimate, and specializes in simple, unpretentious home cooking, just like mama used to make.
Inside you'll find a gallery of photos of famous celebrities, usually Italians (sometimes signed and appearing with the owner) from the worlds of entertainment, sports, and politics. You'll recognize this type of restaurant, often by its name, before even entering. Mamma Lucia's, at Foster Avenue and East 17th Street, is just such a place.
Here, the well-known luminaries lining the walls are Pavarotti, Frank Sinatra, Marlon Brando, Mickey Rourke and Jimmy Smits (his sister lives a block away and he's a frequent guest).
Owner Giorgio, 70, his brother and his mother Lucia came to New York from Ischia, an island in the Gulf of Naples when Giorgio was 22 years old. He worked as a waiter in Greenwich Village for a number of years where he met a man who owned Valenti's, an Italian restaurant in Brooklyn.
Thirty-nine years ago he opened Mamma Lucia's in the very same spot. Lucia eventually retired to Italy and Giorgio's brother has since moved to Florida but Mamma Lucia remains very much a family affair. Giorgio works as the host, his son Luigi cooks the Neapolitan cuisine, and when it gets busy his daughter (Lucia!) lends a hand.
The first thing that arrives at your table is a loaf of sliced white bread warm from the oven and a small plate of briny, firm, green olives dressed with a dab of olive oil and balsamic vinegar, which I single-handedly polished off. When the bread was gone the waiter promptly reappeared, unbidden, with another loaf which we weakly demurred before quickly consuming.
Following these freebies we tried the grilled Portobello mushrooms, a salad-like appetizer special. The three mushroom tops were served warm on top of a bed of shredded iceberg lettuce with cubed tomatoes. Drizzled with balsamic vinegar and topped with finely chopped roasted garlic and fresh basil leaves, the acidity and tang of the dressing nicely offset the mellow earthiness of the mushrooms.
The pasta dishes were straightforward and rustic. My eggplant parmigiana was prepared the traditional way, moons of sliced eggplant buried in a savory tomato sauce and topped with melted mozzarella cheese. The dish was fine but made perfect with a few dashes of Texas Pete Hot Sauce and a swig of Montepulciano, Italy's second most planted red variety behind Sangiovese.
I chose a side of vegetables over pasta, a combination of roasted potatoes and onions mixed with medallions of lightly sautéed and seasoned zucchini. Another order, home-made fettuccini made with fresh shrimp and clams, made for a warm and deeply satisfying dish on a frigid winter evening and a big bowl of Spaghetti smothered by a zesty, chunky marinara sauce rounded out the trio of pastas.
We topped off this leisurely, convivial, relaxed and filling meal with Tortuffo — chocolate, cherry, and pistachio ice cream covered in a thin chocolate shell, a shot of espresso, and a dram of anisette, an intense, sweet licorice liquor.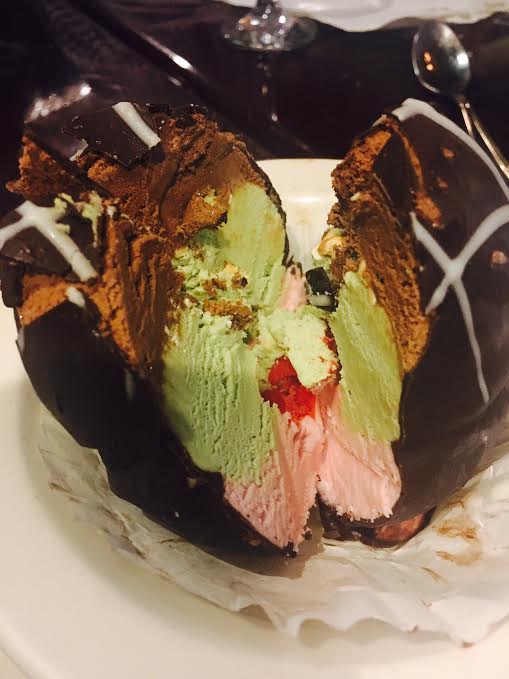 Mamma Lucia's is a lot like the fictional TV bar Cheers, filled with regulars where everyone knows your name. It has its fans. At one table sat a gentleman who dines there every night (and is in three of the restaurant's hanging photographs). At one point Giorgio sat down with him for several minutes and shared a glass of wine and conversation.
A couple in the corner discovered the restaurant in 1980. They said it reminded them of the places they used to frequent in Belgium where they lived prior to moving to New York. Former Daily News restaurant critic and food writer Walter Kaner proclaimed it best in New York and popped in regularly. He was hooked after trying Mamma Lucia's homemade Pasta e Fagioli.
Why, he wondered, was it so much better than what you typically got in a restaurant? Giorgio let him in on the secret.
The good stuff you get at home takes twenty-four hours to make, after soaking your beans overnight. In the restaurant, it takes 15 minutes to make because the beans are from the can.
If you come to Mamma Lucia's and Giorgio takes a liking to you, maybe you'll be lucky enough to be served the real thing.
You can visit Mamma Lucia's for lunch and dinner at 1701 Foster Avenue at East 17th Street, Wednesday and Thursday 3pm to 11pm, Friday and Saturday 3pm to 12am, and Sunday 3pm to 10am.