Spring Events Come to Bushwick's Evergreens Cemetery
BUSHWICK – Heading down to the cemetery on the weekend isn't exactly something the average Brooklynite thinks about. To most, a trip to the cemetery is the last thing they'd like to do—literally.
But the Evergreens Cemetery is trying to change that with a slate of spring programming events that'll attract visitors while they're still breathing.
The idea of opening the cemetery to public events started with history tours of the grounds, which have been operating since 1849. Such tours visit famous residents, like Bill "Bojangles" Robinson, the vaudeville actor and tap dancer who died in 1947. Additionally, participants can sneak a peek into areas of the cemetery normally closed to visitors, like the original 19th-century receiving vault, where the departed would be stored during the winter until the ground thawed enough to allow for burial.
In 2017, the scope of the programming expanded, said Eva Bowerman, Director of Programming at the Evergreens Cemetery, as more new events were scheduled to draw visitors to the lawns and paths of the 225-acre cemetery, located off the Bushwick Ave-Aberdeen stop on the L, or via Broadway Junction, the cemetery between Brooklyn and Queens is a bit of a green oasis in the midst of the city.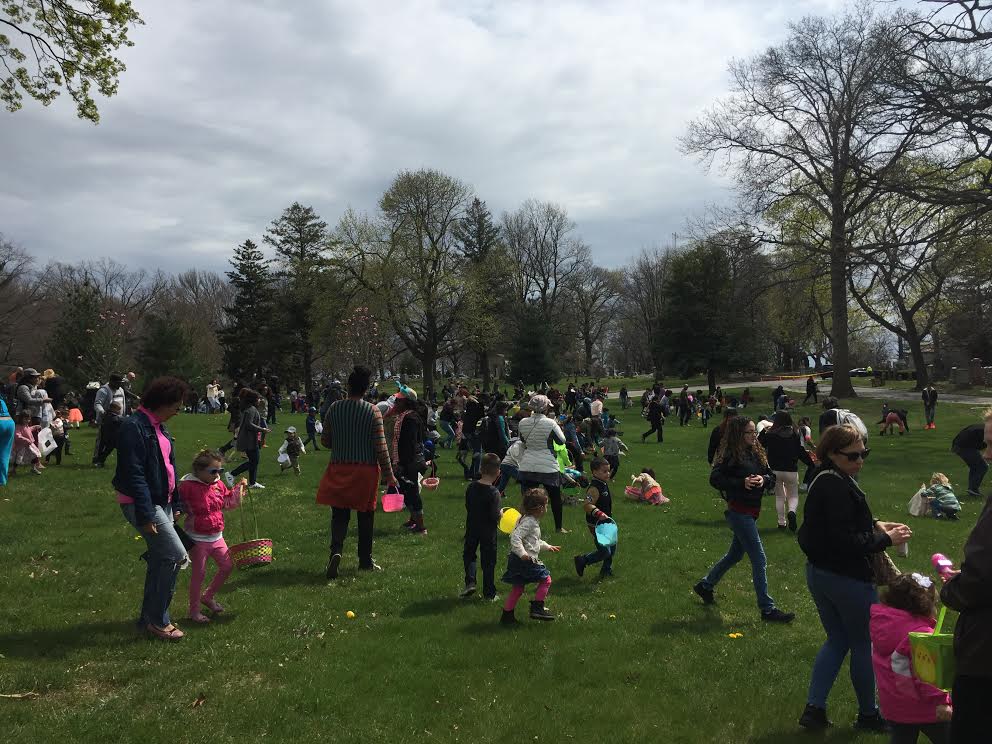 So far, programming has been operating mostly through word of mouth, said Bowerman. Last week, an Easter Egg Hunt at the cemetery drew more than 400 participants. In their second spring, however, the staff hopes to see even more visits from living guests.
Groups like the Amateur Astronomers Association of New York will offer stargazing, while "noted arborist" William Logan will lead tree tours through the grounds. An Arbor Day event on April 28th will combine both education and hands-on activities like a tree planting.
Even yoga and meditation have come to the cemetery lawn, with warm-weather classes slated for Sundays from May into June. Additionally, a bird walk with Corey Finger of NYC Audubon, author of the American Birding Association's Field Guide to Birds of New
York and a birding blogger, will take place later this spring.
The events are often offered free or with a $5 suggested donation, sometimes requiring registration online. Things will slow down over the hot months of the summer, but more programs—including a hit children's Halloween event—will return in the fall. After a cold winter cooped up indoors, an off the beaten path destination like the Evergreens might be just what the doctor ordered as hordes of New Yorkers hit the parks and beaches this spring!