Placard Privilege – Too Good A Deal To Give Up
By Ben Verde and Zainab Iqbal
BOROUGH HALL – Borough President Eric Adams laid out several preliminary proposals to curb the misuse of city parking placards at a town hall meeting Tuesday night, but when confronted with the misuse of placards on the doorstep of Borough Hall, he punted.
Adams showed attendees a slideshow of other municipal buildings, including City Hall, 1 Centre Street and Kings County Supreme Court with cars illegally parked in front and said that he refused to be held to a different standard than other municipal leaders.
"We won't have an 'Eric Adams' rule," Adams said. "I fought my entire life to make sure men that look like me don't have different rules than everyone else. We're not going to have a rule just for Eric Adams, the first African American borough president, that's not happening."
The hour-and-a-half-long meeting was called after Adams was involved in a Twitter dispute with an anonymous account who criticized the Borough President for not doing enough to prevent NYPD officers from parking in a turning lane at Jay and Tillary Streets, one of the most dangerous intersections in Brooklyn for cyclists.
"Not sure what you are talking about but the greatest level of fear is reflected in people who hide their faces while throwing insults, my life work speaks of my courage. Your hidden face is in the tradition of others who hid themselves in white hoods," Adams tweeted, in an apparent reference to the Klu Klux Klan.
On Tuesday night, Adams denied that his tweet was a reference to the southern hate group, but would not elaborate on what he meant otherwise.
"How could you tell me it was? You thinking for me?" Adams asked an attendee who brought up the tweet.
At the meeting, Adams claimed he only allows female borough hall employees who are required to work odd hours to park on the sidewalk, for safety reasons. However, before the meeting, Bklyner witnessed a male individual access one of the illegally parked cars.
"Placards are a professional courtesy for people who believe they are public servants… They park wherever they want," one attendee said. "They park on crosswalks making it so handicapped people cannot cross the streets. They park on sidewalks making it so handicapped people cannot use the sidewalks. They park in front of fire hydrants making it so that if a building is on fire, the fire department cannot hook up with a pump. They park in turn lanes, making intersections more dangerous for people."
"Frankly, the whole thing about 'Well all the other guys are doing it, so I want everybody to stop at once. I am not going to tell my guys to stop.' That's weak," the attendee said, followed by a lot of applause. "You can lead by example and say 'Hey guys I made my people stop parking in front of Borough Hall.'"
NYPD Transportation Bureau Inspector Dennis Fulton explained the process of filing complaints. He said if there was a specific complaint, it is handled by the commanding officer of the specific precinct. Adams said that if people see placard abuse, they should go to their precincts ask to speak to the Integrity Control Officer (ICO). The role of an ICO is essentially to "police the police."
"If you have a picture of a car, you report it to the ICO. That ICO must take action. He cannot 'poo-poo' it," Adams said. "He can't say we're not going to deal with it."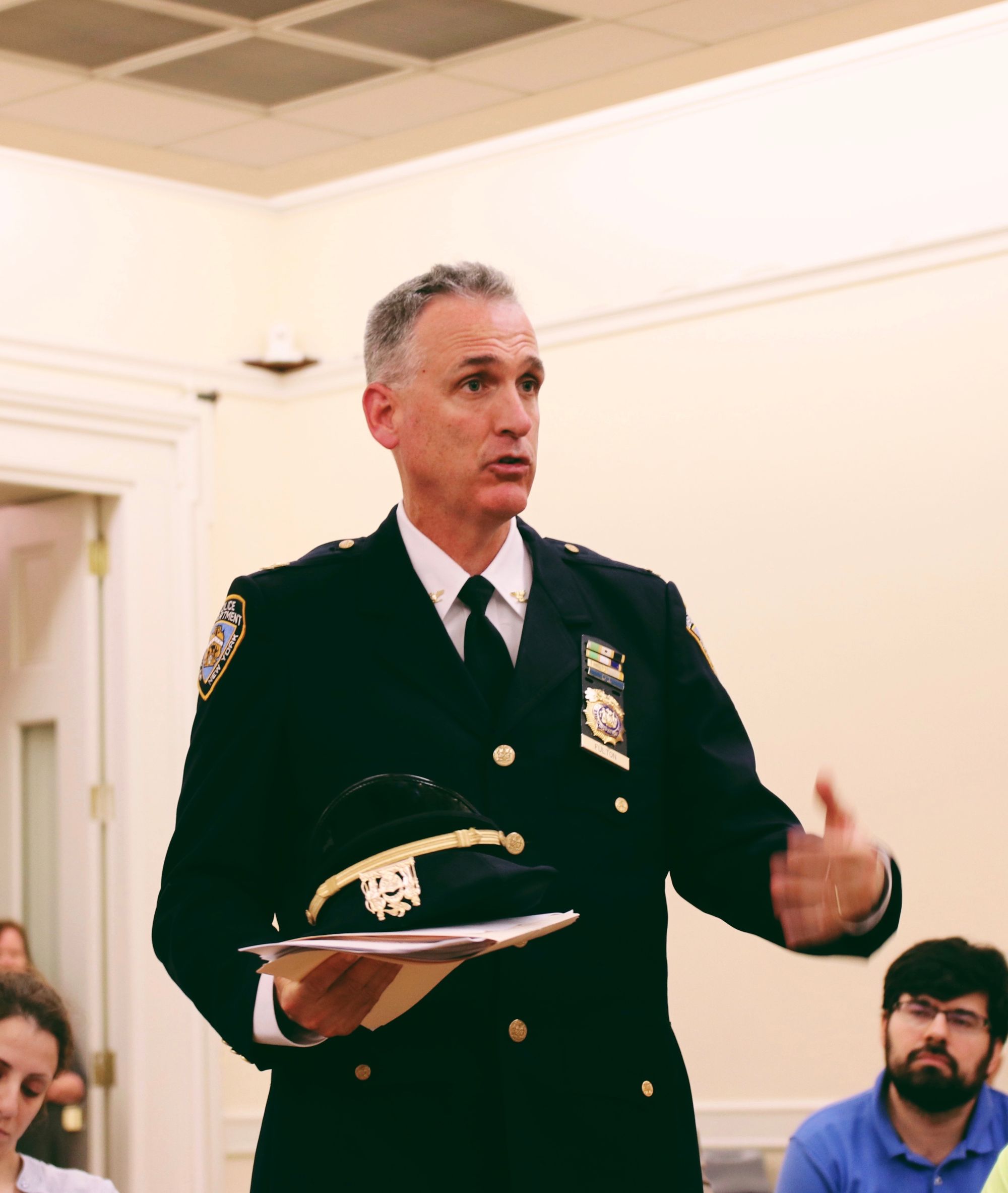 When one attendee noted that the list of ICO's is not published online, Adams said his office will get that list and make it as public as possible.
Blythe Austin, a crash survivor and a member of Families of Safe Streets, spoke directly to Adams and urged him to take action. She iterated the fact that it's not the time to gather data as there is already enough data. This is the time for enforcement, she said.
"I'm your constituent. I'm not the Manhattan borough president's constituent. So I'm coming to you and asking for your help," Austin said in reference to Adams' original statement on placards being abused in various locations in the city. "You're saying that tickets are being issued… it's not doing anything. This is an epidemic in our city."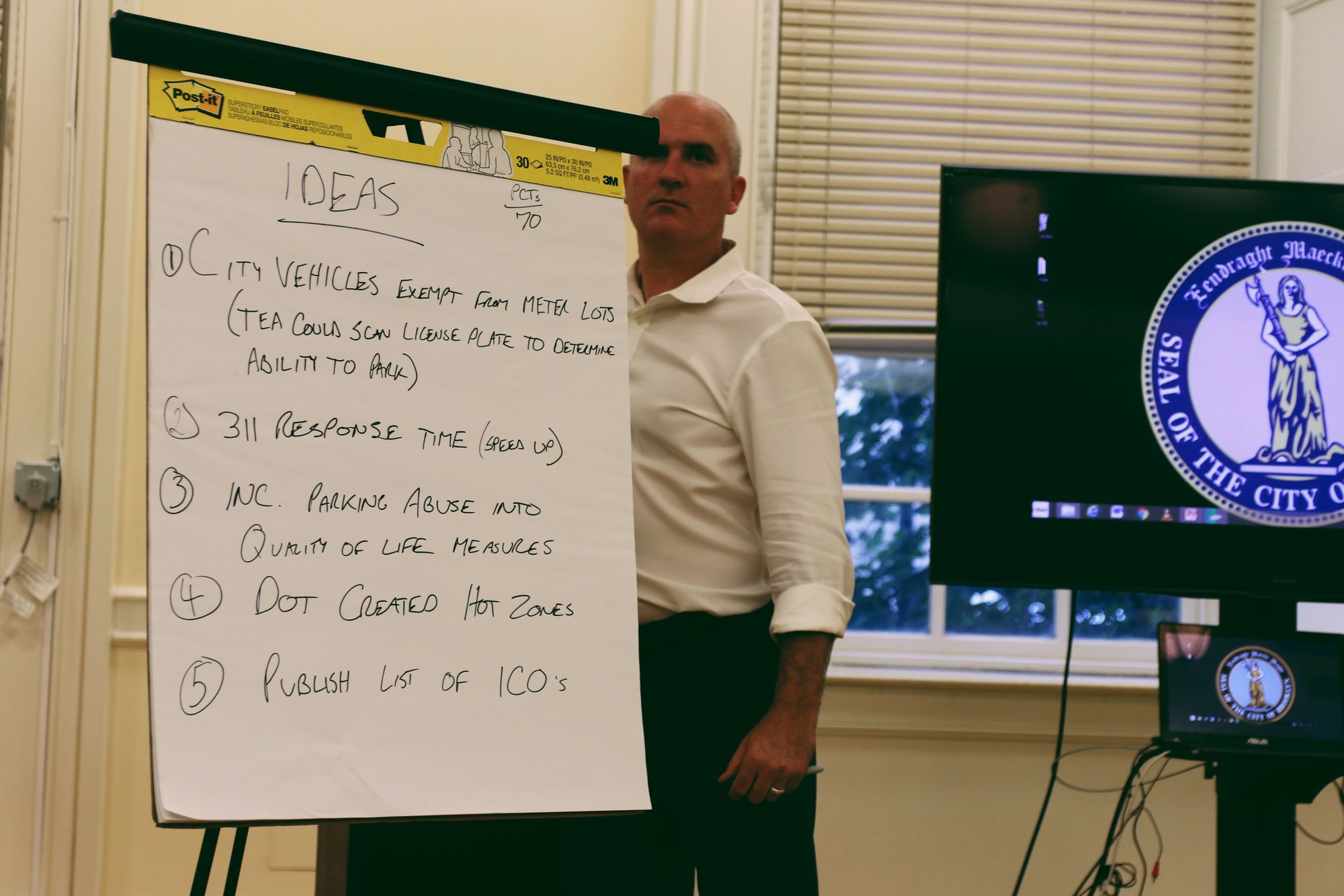 Blythe said she was sick and tired of the constant finger-pointing from elected officials. People are not staying silent on these issues — they post on Twitter, they call 311, and they reach out to whoever they can when they see such abuses, she explained.
"I am sick of the bullshit," she said. "We need enforcement and we need it now."
At the meeting, Adams handed out a sheet with a list of preliminary proposals regarding placard abuse and related issues. The list includes the following:
Commitment to regular enforcement pushes from Borough Hall to local precincts

Utilization of social media to spotlight problem areas

Renewed advocacy for municipal car share system plan

Fast-track City's digitized placard system

Achieve larger placard reduction than the current City plan

Eliminate as many of the 31,159 vehicles as possible

Eliminate take-home cars for Manhattan-based employees

Restrict non-essential fleet usage within Manhattan

Implement car share programs for outer-borough communities

Support passage of City Council legislative proposals on placard reform

Create a singular application process and accountability fr parking permits

Require NYPD traffic agents to conduct at least 50 targetted enforcement sweeps per week

Require that the City's 311 system accept complaints related to illegal parking and placard abuse

Require that enforcement agents notify City tow units to remove any vehicles illegally blocking bike lanes, bus lanes, crosswalks, sidewalks, or fire hydrants

Combat cases of individuals being harassed or prevents from documenting instances of placard abuse by the government of law enforcement officials.
But still, meeting attendees said they felt the meeting was unproductive, and that they were still skeptical that the NYPD was capable of undergoing the culture change necessary to end placard abuse.
"We had a lot of talk about what was wrong, and a lot of talk about tickets that have been issued, but I don't think we issue the tickets to the people with placards who are parking in places like the Tillary and Jay Street turning lane," said Justin Sherwood. "I think most of what we were talking about is tickets for people without placards or people with the wrong type of placards."
Others said it was impossible for Adams, who is running for Mayor in 2021, to be a leader on street safety issues until he takes care of placard abuse in his own backyard.
"Being a leader on something means more than just giving speeches, it involves action, proposing solutions that we can be a part of," Austin said."I did not hear that tonight,"